Managing a network could be a hard task without proper information about what is happening on your network. There are some free Network Monitoring Tools that allow network admins to check out different information about their networks. We are listing the top free network monitoring tools for Windows systems, based on their popularity.
Free Network Monitoring Tools for Windows 11/10
1] WireShark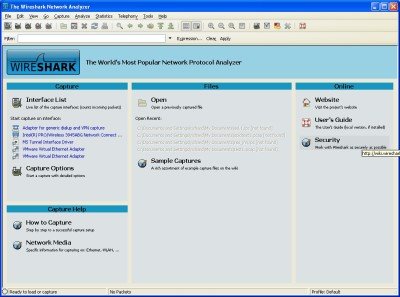 WireShark is, no doubt, among the best network monitoring tools available either as paid or free. WireShark is free and allows you to analyze your network's communications in as many details as you want. You can check up the open connections, click on a connection to see what it is, check out further details such as HTTP, and if HTTP, what is the data being sent to and fro the computers on the network.
It offers you several filters to see just what you want. If you watch all data, you might get confused. You may use one of the many available filters to filter out data you don't want right now. The autocomplete feature of the filter box, lets you know what all filters are available. For example, you type A, and it shows filters starting with the letter A.
Being free and offering highly detailed data about your network, most admins use WireShark for their network analyzing needs.
2] Microsoft Message Analyzer
Microsoft Message Analyzer is the successor of Microsoft Network Monitor. It is helpful for capturing, displaying, and analyzing protocol messaging traffic and other system messages. It is not only an effective tool for troubleshooting network issues but for testing and verifying protocol implementations as well.
3] Capsa Free
Capsa Free is the offering of Colasoft. It allows you to monitor over 300 different protocols. You can customize available options for better analysis. Capsa Free allows for customizable reports based on different things you are monitoring using the tool.
You can set up alarms for different conditions and customize them per your needs. Special feature includes accurate Yahoo Messenger monitoring and auto-saving email. The interface is clean and self-explanatory. The documentation too, is easy to understand just in case you wish to do more with the network analyzer tool.
4] NAST
NAST is another network monitoring tool popular among admins. It is different from others in the sense that it offers GUI-less data. It is not that data is hard to interpret without a graphical user interface as the network admins are provided with enough formatting to recognize the numbers shown on screen. It allows you to build LAN Hosts, check out the different TCP data streams, to find out nodes in the network, scanning ports, and similar features that you will need to properly analyze your network.
5] ZenMap
Zenmap is a GUI based networking monitoring tool through the Graphical User Interface is not pretty attractive. It is simple, and the options are self-explanatory. The main functions of Zenmap include tapping into the different nodes, monitoring data flow through the nodes, check out OS, version detection, and IPv6 support. This does not provide all the data as WireShark does but is enough to monitor networks for admins willing to keep a check on bad packets and network intruders.
6] Zenoss Core
A free software, Zenoss Core is another among the best network monitoring tools available in the market. It is an integrated network and systems management platform that shows you data and metrics on what all is connected to your network; it checks availability, performance, and configuration of different devices on the network. Zenoss Core too offers to monitor of different protocols but does not include filters. But since you get to check data based on devices connected to the network, it should suffice. The software also aims to capture data metrics related to cloud infrastructure such as VMware ESX.
Tip: NetTraffic is a real-time Network traffic monitor.
7] Glasswire Network Monitoring Tool and Firewall
Glasswire is a simple tool for network monitoring with a firewall built-in for allowing/denying Internet access to apps.
8] Moo0 Connection Watcher
Moo0 Connection Watcher shows you a number of processes as and when they try to connect to the Internet for either receiving the data or for sending or both. In either case, it will be listed as a row with a number of columns that give out further information about the processes.
These are my picks for best free network monitoring tools or network analyzers. Everyone has their own favorite. Please share yours with us via the comments section below.
Read next: Free Network & Internet Traffic Monitor Tools.
Some of you might want to take a look at these tools too: