For PC gamers on Windows 11/10, your Xbox Game Pass PC/Ultimate subscription can be shared with your family members and friends. In this post, we will walk you through the steps on how to configure your Microsoft and Xbox accounts.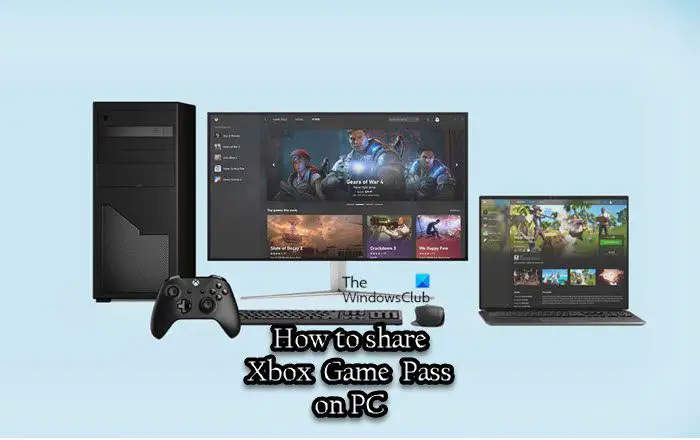 How to share Xbox Game Pass on PC
A single Xbox Game Pass subscription can be shared among family members. A typical scenario is where you have for example 2 or 3 Windows 11 or Windows 10 computers (or Xbox consoles) at home, and you want to play the games from the Game Pass library on all devices. With that said, note that the Xbox App and Microsoft Store accounts are distinct from each other, and all your family members must create their own Xbox App account so they can have their game profiles, saves, and Xbox achievements.
To share your Xbox Game Pass on PC, follow these steps:
Head over to the Microsoft Family management page at account.microsoft.com/family, and invite your family members to the group. Once they have accepted the invite, proceed to the next step. Alternatively, you can set up Family Accounts on Windows 11/10 via the Settings app.
Open the Microsoft Store.
Select the profile icon on the top right.
Sign in with the Microsoft account that owns the Game Pass subscription (should be active).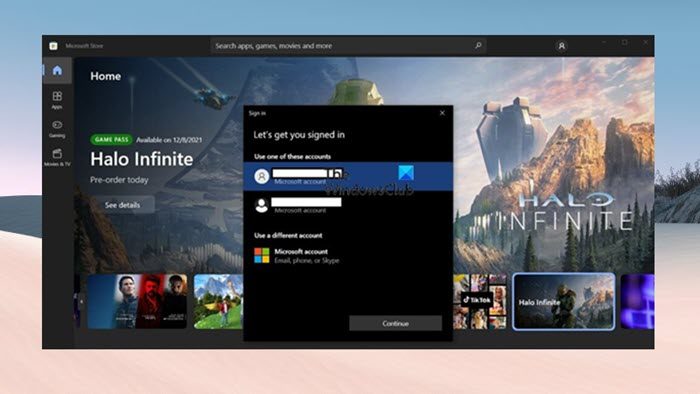 Next, open the Xbox app.
Select the profile icon on the top right.
Sign in with the account of your family member with which you want to share the Game Pass subscription.
You will now get a notification bar in the Xbox app stating Your Microsoft Store account is different from your Xbox account.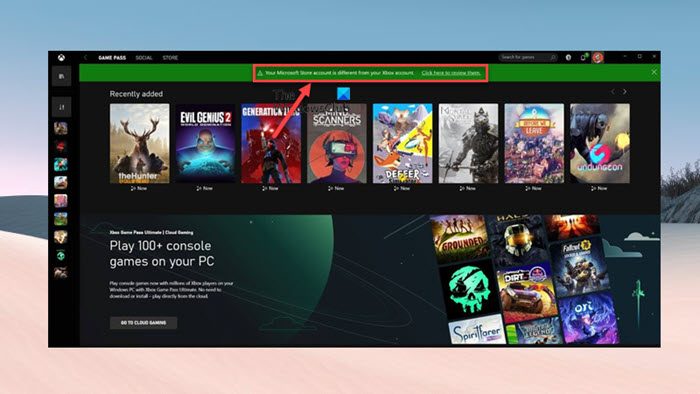 Click the X on the top right to close the message as it does not cause any issues.
That's it!
Read next: Xbox Game Pass not working on Windows
Now, you and your family can access the same Xbox Game Pass subscription. If you have issues getting the Xbox app to recognize your subscription, close it and open it. You may want to go to the Xbox app's settings and disable the option for buying without a password, to avoid unauthorized purchases. You can freely download any game included in the subscription. After downloading the games, you can switch back to the Microsoft Store account, as it is not required to play them. However, every time your family member needs to download a new game, you will have to switch Microsoft Store accounts.
Read: Can't download or install Xbox Game Pass Games on PC
When playing the same game from different PCs, both you and your family member may run into issues whereby the game might detect that there is already an active session on another PC. In this case, to fix the problem, you can enable Offline Permissions in the Xbox app of your family member by following these steps: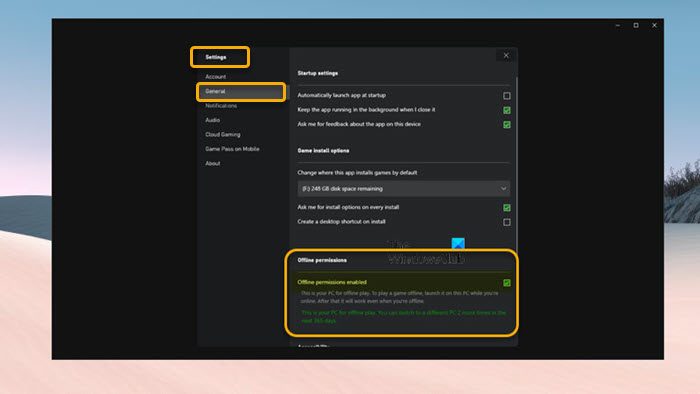 Select your profile on the top right and open Settings.
Go to the General tab.
Now, checkmark the Offline permissions enabled option.
Users can play games at the same time unlike Steam Family Sharing which restricts gameplay to one user at a time, Xbox Game Pass sharing allows multiple users to play games simultaneously. The EA Play subscription (because it can be tied only to a specific EA account) cannot be shared with your family as this only works with the games in the Xbox library – but you can play EA Play with Xbox Game Pass on PC by connecting/linking your Xbox Game Pass PC with your EA Play account.
Read: PlayStation Plus vs Xbox Game Pass: Which is better?
Introducing Xbox Game Pass Friends & Family
With the steps outlined above, you can easily share Xbox Game Pass on PC with your family members and friends. However, as experienced by some PC gamers, this should work for some games, but other games require you to be signed in on the Microsoft store with the same account that you are signed in to on the Xbox app. If that is the case (like Minecraft Java), unfortunately, you will not be able to play the game.
That said, Microsoft is introducing the Xbox Game Pass Friends & Family (currently only available in Colombia and Ireland). This Game Pass plan allows up to five friends and family members to share Game Pass Ultimate benefits, with their unique access to all Xbox Game Pass Ultimate games, content, and benefits, regardless of what device they play on. To learn more, head over to support.xbox.com.
Read: Sorry, we can't show Game Pass games right now
Can I share my Xbox Game Pass Ultimate with my Family?
The standard Xbox home-sharing policies apply for both Xbox Game Pass and Xbox Live Gold. If you have an Ultimate subscription and have designated your Home Xbox, you'll automatically transfer your subscription with any profile signed in on that console. Although if you want, you can share Xbox One games with your family between multiple consoles.
Can you share Xbox Game Pass on two devices?
You can share the subscription on an Xbox console through the Home Xbox feature. You can only set your account as Home Xbox to one device at a time. The Xbox home console applies to only one console (the one you choose to be your home console) – with the Xbox Game Pass Friends & Family plan mentioned above, you can share your membership across multiple devices, and it's not limited to just one console.
Read: How to refresh Xbox Home Screen to fix Dashboard problems.