Gaming is a lot of fun. They give us much-needed relaxation. Xbox has become the famous and easily accessible gaming console on Windows 10 and 11. But sadly, some users are facing Xbox One Games Error Code 0x800c0008.
Whenever some users are trying to buy, play, install or download an update for an existing game, they are seeing Party encountered an error and Something went wrong with your party. Try again later with an error code 0x800c0008. It is making it hard for them to play their favorite games and get relaxed. There are some easy ways to fix it. Let's see what they are and how we can fix the error.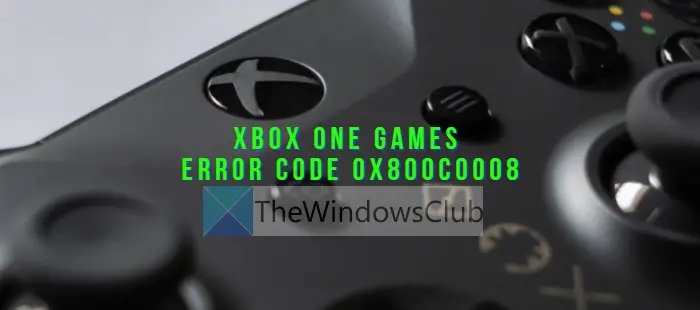 How do I fix Xbox One Error Code 0x800c0008?
These are the methods using which you can fix the error.
Check Your Connectivity
Restart Xbox One
Check Xbox Service Status
Disable Antivirus
Reset Xbox One Settings
Let's see the methods in detail.
1] Check Your Connectivity
The first and foremost thing you have to see is if your internet connectivity is working fine or not. Make sure it is working well and doing what you were doing before seeing the error. Restart your internet router and see if it has fixed the error.
2] Restart Xbox One
If you are seeing the error suddenly without any reason, close the Xbox app and restart it. Then see if it has fixed the error. Also, uninstall any program that you have installed recently before seeing the error and then restart the Xbox program.
3] Check Xbox Service Status
The most important thing you have to check is the status of the Xbox on your Windows 10/11. Check if it running fine. If you see any lapse in its status, fix it according to the issue it has shown. This might help you fix the Xbox One error code 0x800c0008.
4] Disable Antivirus
There is a possibility that the antivirus installed on your PC is acting against Xbox One. Try disabling the antivirus on your PC and see if it has fixed the error. Most of the time, disabling antivirus fixes the issues.
5] Reset Xbox One Settings
If none of the above methods worked, the last option you have is to reset Xbox One settings. You can reset it without losing any games and apps on Xbox One.
Using the above methods, you can fix the Xbox One Games Error Code 0x800c0008.
How do I fix the startup error on my Xbox one?
If you are seeing a startup error on your Xbox One, try updating your PC, Xbox One. and all the related programs. If it is not yet fixed, reset your Xbox one. It might have happened due to many reasons like corrupted or missing files, etc which can be fixed easily.
Why does my Xbox one keep saying something went wrong?
If you have recently updated Xbox One or installed another program on your PC and encountering errors after that, try uninstalling that app or update. Clear the data related to it from your PC using third-party apps like Bleachbit. You have to reset Xbox one if none of the fixes work.