If you are planning to sell your Xbox One upgrade to a different model, there are certain things you need to bear in mind. First, you need to ensure that all accounts are removed from your Xbox before handing it over. Ideally, the best way to achieve this is to reset Xbox One or Xbox Series X settings to factory defaults.
Doing this, remove your games, your previous saves, and all your current profiles, says Microsoft. This, in turn, makes your games and saved games inaccessible to a new owner without your gamertag and password.
How to Reset Xbox One settings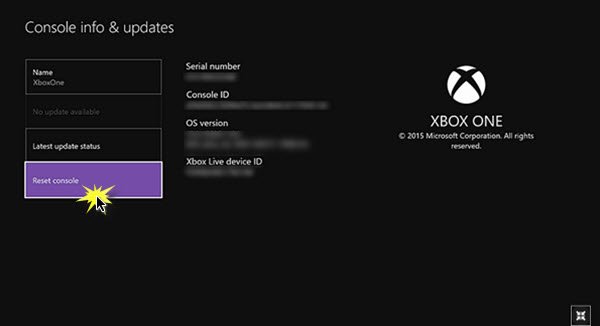 To reset Xbox One or Xbox Series X, go to the 'Homescreen' of Xbox One app. Scroll left on the Home screen to open the guide and select 'Settings' from the list of options displayed.
Next, chose 'All Settings' and then select 'System'.
Now look for 'Console info & updates' and select 'Reset console'.
Please note, when you chose the above option i.e. when you chose to reset the console, you'll see three options as listed below.
Reset and remove everything: This option resets the console to factory settings. All user data, including accounts, saved games, settings, home Xbox associations, and all games and apps will be deleted. You should use this option when selling or gifting the console to someone else. You should only use this option as a last resort in some troubleshooting cases.
Reset and keep my games & apps: You should resort to this option when your primary concern is to fix a troublesome issue. When used, it will delete all potentially corrupted data without deleting your games or apps and reset the OS. The above step will save both, time and efforts in downloading or reinstalling the large game files. In situations where a corrupt game file is causing the issue, you're trying to fix; you may have to choose Reset and remove everything option. However, it is advisable always to start with Reset and keep my games & apps and use Reset and remove everything method only when all the available solutions fail.
Cancel: The option is self-explanatory. It will let you back out of this screen, offering a safe exit from the main screen.
After you select one of the Reset options, your Xbox One console will begin the process of erasing the content and resetting itself to the default settings. A progress bar will let you track the progress.
That's it!