Windows computers are used very extensively for gaming. Thousands of people have their Xbox linked with their PCs. The process of playing Xbox games has been made very convenient with the Xbox app for Windows 10. The library of available games is pretty big and it allows you to play games with your friends while chatting with them. You may have faced an issue while trying to install a game via the app where the installation doesn't go through. In this article, we will tell you how you can deal with problems while trying to install Xbox games on Windows 10.
Fix Xbox games won't install on PC
Restart your device
Uninstall and reinstall the game
Check for available storage
Grant administrative permissions on your device
Check the status of your Game Pass Plan
1] Restart your device
It is best that you first try restarting the device as that helps with things more often than not. Only look for other fixes when this doesn't work out for you.
2] Uninstall and reinstall the game
The game files you have downloaded may have been corrupted by malware. If that's the case, your best bet is to uninstall and download a fresh set of the game's files.
3] Check for available storage
You must have enough storage to fully install the game, so if you're running low on that, make some room. While installing a game you get an option to choose the hard drive where you want the game file to get downloaded. If you haven't provided for a hard drive, the installation won't go through and you'll see a message that says, "Selected drive is not set up to install games". Here's how you can fix that:
Open Windows Settings by pressing the Windows and 'I' keys together. Here, go to System > Storage. Under More Storage Settings, click on Change where new content is saved.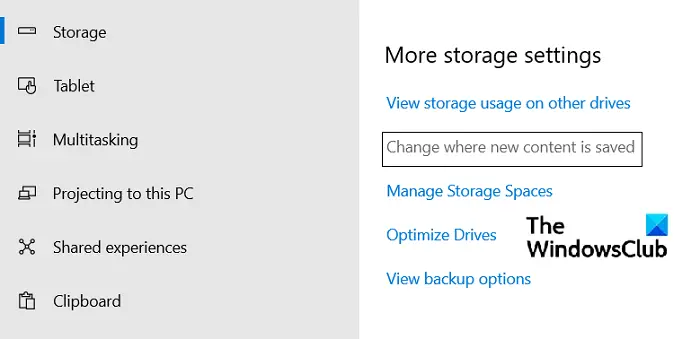 This will open a new window. Click on the 'New apps will save to:' dropdown and select the drive where you want your newly downloaded content to be saved.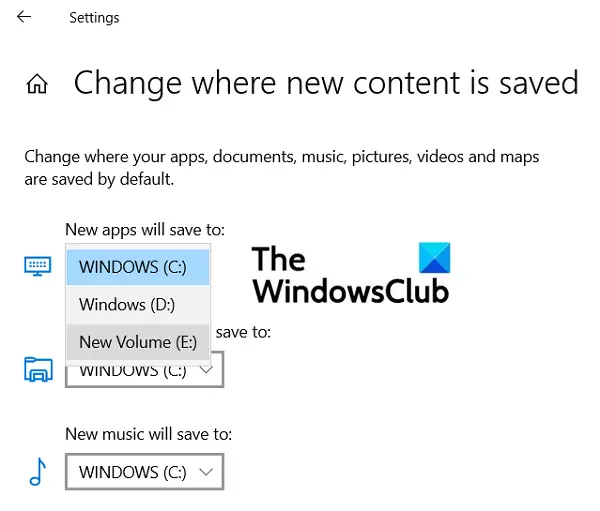 4] Grant administrative permissions on your device
Some games have additional components that are required to be installed for them to work. If these components aren't granted administrative access, the installation process doesn't complete. So, every time there are additional components that ask for administrative rights, you're recommended to grant them.
5] Check the status of your Game Pass Plan
Xbox users are required to have an Xbox Game Pass Ultimate or an Xbox Game Pass for PC plan. So, if you're having trouble installing a game, make sure that your Game Pass Plan is active. Sign in to the Xbox app or the Microsoft Store, whichever one you're using. Also, ensure that the device is online during the installation.
If you're facing a specific error code message, you can browse through the Xbox error code search guide on their online forum, support.xbox.com. There, they've talked about some of the most commonly faced errors by Xbox users and how they can be fixed.
Why can't I install games on Windows 10?
Another bugging issue faced by several users is when their PC doesn't show that it is linked with their Microsoft Account even it is. The error message says, "It looks like you don't have any applicable device(s) linked to your Microsoft account. To install, sign in on a device with your Microsoft account."
If you're facing this issue, try running the Windows Store Apps troubleshooter from the Update and Security Settings. You can also try and reset the Store Cache.
How to fix Microsoft Store 'Get' button not working
If you click on the 'Get' or 'Install' button of an app on Microsoft Store and nothing happens after that, you can try to reset the Microsoft Store to remediate that. Here's how:
Open Windows Settings and click on the Apps section
From the list of apps, scroll down and select Microsoft Store and click on Advanced options
Here you'll find the Reset head. Click on the reset button
Confirm the warning the click on the button again
Relaunch the Microsoft Store and check if the button is working fine this time around
We hope that this post has cleared all your doubts and helped you get rid of the issues you were facing while downloading Xbox games on your Windows PC. If you want to find out how it is that you can fix the issues you face while installing Xbox Game Pass games, read that article where we explain how you can troubleshoot such errors.