It's not very uncommon to have multiple consoles in a family. One for the kids, and one for the parents. Keeping this in mind, Xbox one introduced Game sharing feature. This feature makes it possible for parents not to buy multiple copies of the games, and pay twice. Microsoft accounts have solid family features which span across PCs, and Xbox making it possible for parents to monitor kids activity. However, game sharing is little different. In this guide we give you walk through on how to share Xbox One games with family between multiple consoles.
Microsoft lets you mark your primary console as "My Home Xbox".  When you sign-in to a new console, it is automatically set as Home Xbox. We will learn how to use this feature for game sharing.
Share Xbox One Games with Family between Multiple Consoles
When you buy content or game from My Home Xbox, it lets you share games and other downloadable content from the store with anyone who signs in that console.  This is similar to PC experience. Apart from this, you can also share Xbox Live Gold subscription with your family members who sign in the same console.
That said, before we move ahead into multiple console scenario, let's learn how you can set your primary console as  My home Xbox.
Press the Xbox button to open the guide.
Select System > Settings > Personalization, and then select My home Xbox.
Read what it says, and then select Make this my home Xbox to designate the console as your home Xbox.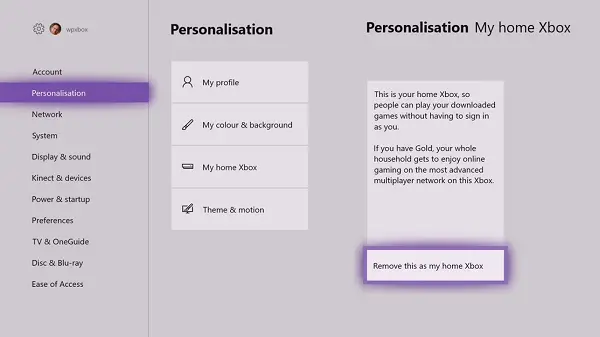 Note You cannot designate more than one Xbox as your home Xbox. You can share purchased games and Gold with other users only on your home Xbox.
Multiple Consoles Scenario
Here comes the tricky part. Even if the kids are part of your family group, they cannot get Xbox Live Gold or Download the same game you have already bought from their account. It is only possible on the primary console which here is your My home Xbox. So what do you about it?
Xbox System also lets you Sign-in to some other console, and download the games you have bought, and play it. You can even go multiplayer if you have Xbox Live Gold. So the reason why you have two consoles is so your kids can have their own time, and you do not get disturbed.  So to pass on the benefit to your Kids, here is what you do:
Add them to your family account first, and set them up for it.
Remove your console as  My home Xbox
Next, make your kids console as your My home Xbox. This makes sure they get all the benefits of your account, and you still have all the control.
Now you can still enjoy all the benefits on your console, and Share Xbox One Games with Family, and they get the same benefits as you.
Drawbacks:
However here is a bit of warning. Any purchase you make should be on your Kids console using your account. If you purchase from your secondary console, they cannot use it.
Secondly, when one of your friends signs with his account in your console, which is not primary, he will not able to play the games installed on this console unless he owns it. Instead, they'll be prompted to insert the disc or purchase a digital copy.
That said, if you want someone to experience a game, except for multiplayer, there are two ways to do it. First is let the person use your account or you can use Guest account feature on Xbox. This lets you create a temporary account and still let the person play games and experience it. We will come up with more details on it soon.