Xbox Game Pass is quite an impressive service, but there was another that came before and it's called EA Play. This particular service from video game publisher, Electronic Arts, has been around for years before Game Pass came on the scene. The service began life on the Xbox One before branching out to other platforms.
What is EA Play from Electronic Arts?
In the early days of the service, it was originally called EA Access, but the name has since changed to EA Play. The service is similar to Xbox Game Pass where subscribers gain unlimited access to all the top EA games. Additionally, subscribers have the option to play new EA games first for up to 10 hours before the official release date. If at any point the player wants to purchase the game, then they'll get a 10 percent discount. Bear in mind that new Electronic Arts games are not released on EA Play on the day of release, so it is not 100 percent the same as Xbox Game Pass.
How to play EA Play with Xbox Game Pass on PC
The question is, how does one make use of EA Play with Xbox Game Pass on a Windows computer? Yes, this is something you can do, and both Microsoft and Electronic Arts have made it super easy for gamers to take advantage of the service. It's very easy to get this done, but it all depends on what is already installed on your computer. So, let us begin. The steps involved are simple:
Download the Xbox app
Log into your Xbox account
Download the EA Desktop app
Log into your EA account
Connect your Xbox console account and your PC
Let's see this in detail.
Download the Xbox app
To begin, you must first open the Microsoft Store, a simple task, if you ask us. To get it done, please click on the Store icon on the Taskbar, or press the Windows key to open the Start Menu and find the Store app from there.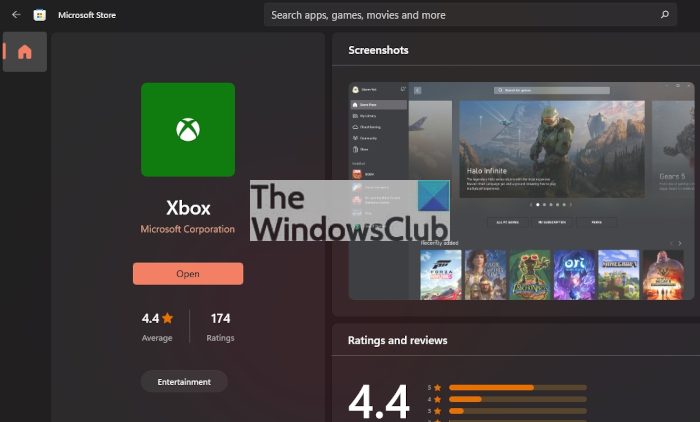 You must now open the app, then type Xbox into the search box and select the correct option that appears. From there, you will need to click on the Get button to download the Xbox app to your computer.
Finally, you are required to fire up the app and log in using your Microsoft account to get started.
You should now have full control over the Xbox app. It comes packed with a lot of features so you may want to play around with it for a short time.
Download the EA Desktop app
To move forward, you will need to get yourself the EA Desktop app, or else things won't work accordingly.
If you haven't yet installed the EA app for Windows, you will want to visit the official page. Once there, download and install the app to your computer promptly.
After you've downloaded the EA app for Windows, you must move to log in by using your official EA account credentials.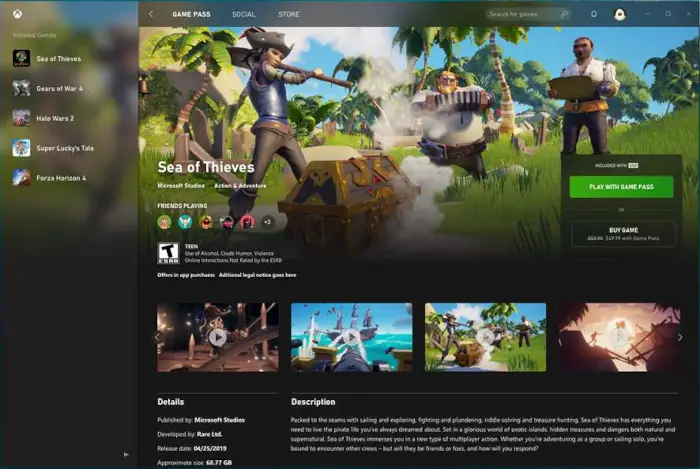 The next thing to do here is to return to the Xbox app and select the Game Pass option from the top.
From within the Game Pass area, you should see a catalog of games, and that includes ones from EA Play. Go on ahead and select the game you want to download and install right away.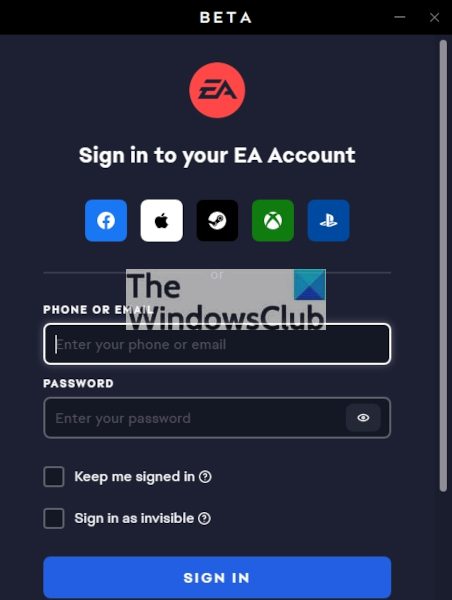 After choosing the game you want to download and install, the Xbox app will automatically open the EA app, and from there, you'll be asked to link your Microsoft account with EA. Do that by clicking on the Link Accounts button, then Get Started to complete the task.
That's it, you now have the ability to download, install, and play games via EA Play with ease. The good news is, that there will be little to no reasons to repeat the steps above. Simply locate the games you want to download from within Game Pass and have some fun.
READ: No applicable app licenses found for Xbox Game Pass
How do I get EA Play to work on my PC?
If you want to join EA Play on your Windows 11/10 PC, then you need to download and install the EA app for Windows. Once installed, open the EA app, and select the EA Play option. After that, click on the Join EA Play option. Select the monthly or annual plan, use the Continue option, enter the payment information (credit card, PayPal, etc.), and use Proceed to review order option. Finally, agree to the automatic renewal of your membership, and click on the Start membership option.
Why can't I link EA Play with Xbox Game Pass?
If you try to link EA Play with Xbox Game Pass and you see a Something went wrong error, then you should try again. Such an error may also occur if your account is already linked. To check this, log in to your EA Account, and select the Connections option in the lower left part. Now, if you see your gamertag, then Xbox Game Pass and EA Play are linked. You may also face this problem if your Xbox gamertag is already linked to another EA account. In that case, you can contact EA support and ask for help.
Hope this is helpful.