If you are having problems with your Xbox dashboard, then your best bet is to refresh the Xbox Home screen. The question is, how does one get this done on the Xbox? Well, luckily the folks at Microsoft made this possible with ease.
Refreshing is a great way to ensure the Home screen applications and layouts function as they should. To be honest, a lot of problems relating to the console can be fixed with this method, but not all, so keep that in mind, always.
There are many reasons why folks may want to refresh their Xbox home screen, and some of them are as follows:
Applications fail to appear or load on the Home screen.
Visuals on-screen experience errors and glitches.
Custom pins have failed to load in the correct way.
The home screen is unresponsive or soft-locked.
How to refresh your Xbox Home screen
For those who want to refresh the Home screen of their Xbox One or Xbox Series X/S to fix Dashboard problems, you need to follow these steps:
Press the power button on the console to boot
Go to the Xbox Home screen
Navigate to the Guide Menu
Press the Menu button
More Options will appear
Select Refresh to refresh the Xbox Home screen
So, the first thing you will want to do here is to find your way to the Xbox Home screen. Let us discuss how to get this done.
Press the Power button on the console to boot into the operating system.
Alternatively, you can do this by pressing the Xbox button on the controller.
Once the console boots up, the Home screen should appear.
After booting into the Home screen, you are required to go over to the More Options section.
To do this, press the Xbox button on the controller.
This will reveal the Guide Menu right away.
Via the main page of the Guide menu, please press the Menu button promptly.
Doing this will launch the More Options area.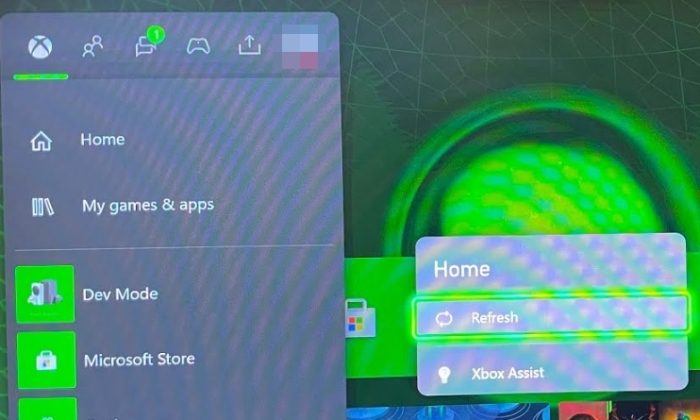 Finally, it's time to refresh the Home screen in order to fix whatever problems you're facing.
Now, the More Options menu will reveal the Home screen options.
From here, select Refresh.
Right away, the entire Home screen will be reloaded, and if all goes according to plan, common issues affecting the Home screen will be removed.
READ: Xbox Game Mode keeps turning off
Does resetting your Xbox delete everything?
Resetting your Xbox video game console will indeed erase all things such as your saved games, all accounts, settings, and more. If you want to have your data returned to the console, then sign in with your Xbox Live account.