If your child isn't worried about you prying into his browsing affairs, and you think you can get away with it, you can set up Family on Windows 10.
This serves a dual purpose:
Keep kids safer
Allows parents to connect their kids' Microsoft accounts in the same family.
Set Up Family on Windows 10
Prior to this, there are certain steps required to configure the settings. For adding adults or kids to your family, you need to go to account.microsoft.com/family and select Sign in.
Then, click on Add a user. If you don't have a Microsoft account, you may want to create one.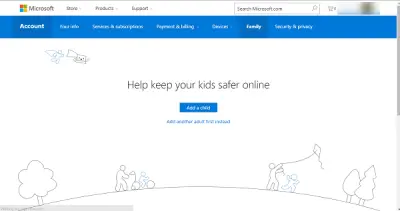 You can then invite your child if he has an email account to join the Family.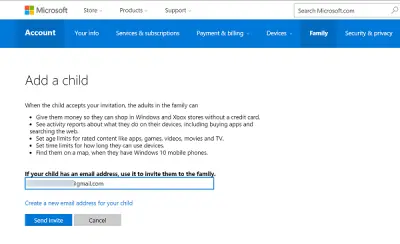 Once you have the accounts set up, you can block inappropriate websites, apps, and games, limit overall screen time, see reports of kids' activity, and add money to kids' accounts.
Add your child's Microsoft account to your family
Your child needs to accept the invitation to join to the family account.
When he or she accepts your invitation, the adults in the family can give them access to:
Money so they can shop in Windows and Xbox stores without a credit card.
See activity reports about what they do on their devices, including buying apps and searching the web.
see their online activity like which websites they visit and what all they do online.
Set age limits for rated content like apps, games, videos, movies and TV.
Set time limits for how long they can use devices.
The best part is that you can track them on a map when they are out with their Windows 10 mobile phones!
If your child demands more time to be spent on the screen and seeks your permission, you are at the discretion to deny or allow an extension of 15 minutes, 1 hour, 2 hours, or 8 hours extension via email.
How to check your child's account
Make your child sign into the PC.
Go to Settings and select Account.
Make sure that the child is signed in using Microsoft account. If not, sign out and sign in with his/her Microsoft account to check the account activities.
Next we will see the new updates and features in Family Safety for Windows 10.