Local User and Group Management snap-in or lusrmgr.msc are one of the features of Windows 10, which allows admins to manage local users and groups in Windows. However, like many other features like Group Policy, Windows Sandbox, Hyper-V, the Local User and Group Management is also missing. But then there is a workaround. The Lusrmgr tool we are talking about will let you access the Local User and Group Management in Windows 11/10 Home or any other version of Windows.
Local User & Group Management in Windows 11/10 Home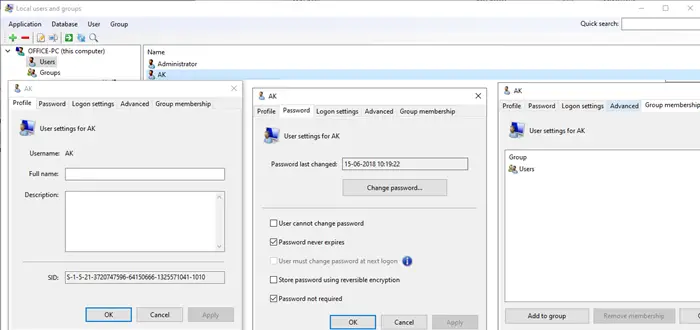 Lusrmgr is a third-party app available for Windows 11/10 Home, which they can use it to get all the features available in the official version of lusrmgr.msc. This tool has been built to offer a lot more features which includes
Password:

Change Password
Store password using reversible encryption

Logon Settings

Displays last successful logon
Number of failed logon
Account expiration date
Logon Script Path

Advanced

Unlock Account if it's in a locked state

Group membership
One of the exciting features of this tool is the option to set access time for that user in Windows. It is useful when you do not want to depend on Microsoft Family, and need something that works offline. You can choose the blocked time for each day, and the time range for the user.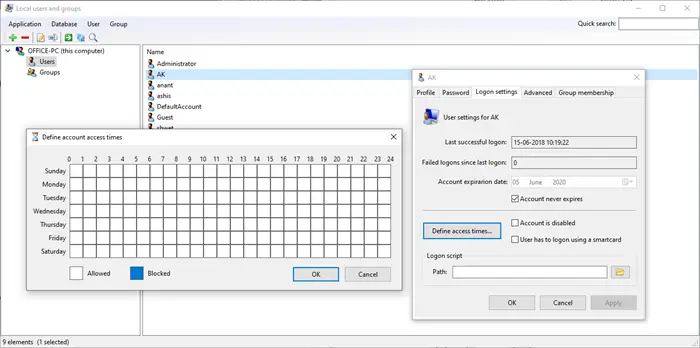 Then comes the search part, which is missing in the official version. It makes it easy to find an account if there are too many on the computer. As an IT admin, you will be able to connect to remote machines as well to manage users and groups remotely.
You can also access the Built-in security principals by activating it from the menu. It is available in read-only mode, but you can copy the name or SID of any of the principals.
Last but not least, you can perform all simple operations like edit, create, delete, add members to groups, and so on. Overall it's an excellent app that is going to be a boon for those tech guys who are still running Windows 11/10 Home.
Here is how the official local user and group management looks like in Windows 11/10 Pro, and it is rather straightforward, and that using the third party tool gives you more access compared to the official tool.
The tool works on all versions of Windows. It requires .NET Framework version 4.5 or newer. When you download it, you will be warned by Windows SmartScreen. Click on More Info, and choose to Run anyway after the download is complete.
Download it from GitHub.
If you do not want to use a third-party tool then, you can open and manage Local User and Group Management using the command line in Windows 11/10 Home.
Related reads: