During installation, one creates a User Account for oneself. If you have a shared computer system, then there should be a separate user account for each user. Windows has always been well-equipped to handle multiple user accounts, and the latest Windows 10 also allows you to create users' accounts namely – Administrator Account, Standard account, Work & School account, Child account and Guest Account. Each account has its own settings and can be set with particular preferences. In this post we will learn about each of these account types in Windows 10.
Administrator Account
Whether you run a fresh Windows 10 install or upgrade your existing version of Windows, you first need to create a user account. This main account on your PC is termed as an Administrator account. You can login to your PC using your Microsoft account or via a local account. One need to be logged in with Microsoft account, to use some typical Windows 10 features like Windows Store, etc. The administrator account gets complete access to the PC and is allowed to make any changes in Settings and customize the PC.
Many people don't know but there is also a built-in elevated Administrator Account in Windows 10 which is inactive by default. This account is required only for some features which ask for elevated rights and is often used only for the troubleshooting.
Work & School Account
Under Your account section, you can also add a Work and School account. Scroll down and you will see the link to create one. The newly added Work Access section in the Account Settings lets you get access to the shared apps, email or notifications from work or school.

Unfortunately this feature is available only on Windows 10 Pro version.
Standard Account
Every new account created on Windows 10 PC will automatically be created as a Standard Account, unless it is a Child Account. A Standard Account user usually gets the permissions which similar to that of an Administrator Account. But this user cannot modify settings or make changes to the system. He gets permissions which are allowed by the administrator. You will be able to create it under the Family and Other Users section in Account Settings. Click on Add a family member to get started and later on select Adult.
Child Account
Under the Family and Other Users section in Account Settings, you can also create a special account for your child where you can restrict the time limits, web browsing, apps and games according to your own preferences. The Child Account settings helps users keeping their kids safe online while using their PC.
Go to Family and Other Users from Account Settings in your Windows 10 PC and click on Add a family member.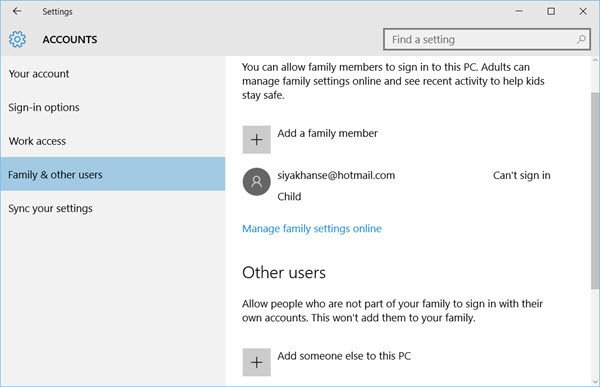 Here you can create a Child or an Adult account. Select Add a Child, enter the Microsoft account email id of your child and follow the steps further. When you create a child account you can you can configure the entire activity on PC including the web browsing, playing games, using apps as well as the screen time.
Guest Account in Windows 10
Here in the same Family and other users section, you can also add Other users as a Guest account. Click on Add someone else to the PC to get started.
Guests Accounts are usually created when we want someone to have a temporary access to your personal computer system. A guest account is a temporary account and the user is strictly not allowed to perform any changes to your PC settings or to access any of your personal files stored in the PC.
Unlike the Standard User or Administrator, Guest account users cannot create a password, install a software on your PC or can't even modify any of your PC settings. All a guest account user can do is to log on your PC, browse and surf on the web and can shut down the PC. Guest Accounts have limited set of permissions, but still it is important to disable it when not being user.
One thing I noticed here that you cannot use the name Guest for creating a Other users account. But if you had a Guest account enabled and created in your earlier OS, it will continue to exist after the upgrade, as you can see in one of my other laptops.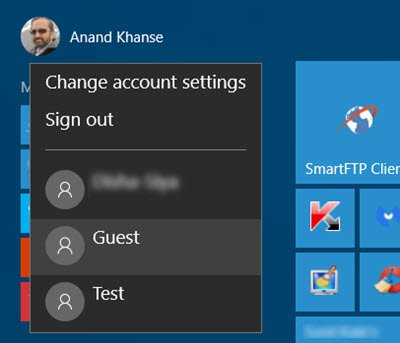 See this post if you want to learn how to create a Guest Account in Windows 10, like the earlier times.
Hope this helps.