A lot of users connect their Work or School accounts with their Windows computers. However, a time may come when you want to remove them. In this guide, we are going to see how to remove the Work or School account in Windows 11/10.
What is Work or School account?
Work or School accounts are the document that the IT admin gives you while joining the company. It will allow the user to access resources purchased by the organization without actually buying them. Also, when you join a Work or a School account, your IT admin will assist you in the process, they will also set up your account depending on the resources assigned to you.
However, once you leave that organization, those resources, be they Microsoft Office, Directory, etc, will be unassigned to you. So, there is no point in keeping being logged into that account. In some cases, the organization even asks you to remove the account in question from your computer.
Remove Work or School account in Windows 11/10
The steps to remove Work or School account on both Windows 11 and Windows 10 are similar, you can just follow the given steps and you will be able to do the job.
Open Settings by Win + I or by searching it from the Start Menu.
Click on Accounts.
Go to Access work or school.
Click on the drop-down menu associated with your account and click Disconnect.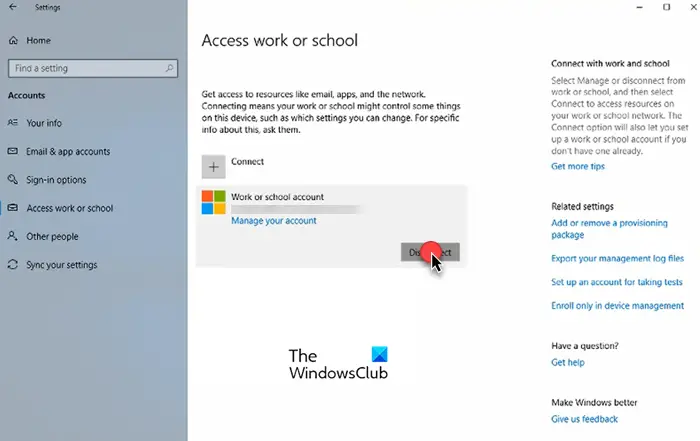 In Windows 10, you will not see the drop-down menu, instead, you have to click on your account once and then click Disconnect.
It will ask you to confirm by making a dialog box pop that says "Are you sure you want to remove this account?", click Yes to confirm your action.
Once, you are done with the process, your accounts will be removed.
To sign back in, just follow the mentioned steps, click on Connect and use your credentials to add the account.
Related: How to use and add Work/School accounts to Microsoft Authenticator app.
Can't remove work or school account from Windows 11
If you can't remove Work or School account from Windows 11, you need to first do this – Open Windows Settings > Accounts > Access work or school > Click on Disconnect button beneath the work account you want to remove, and provide the alternative account information on your system. Having done tghis, reboot the computer and then try.
How do I remove a Microsoft account from Windows 11?
Removing a Microsoft account in Windows 11 is somewhat similar to removing Work or  School account. However, there are some differences, so, just to be clear and not get confused in the middle of the process, you should follow the given steps.
Open Settings by Win + I.
Go to Accounts > Family & other users.
Now, select the user that you want to remove, and click Remove from the Account and data section.
Finally, select Delete account and data.
This is the procedure to remove user account in Windows 11, there are more methods to do the same, so check out our guide to know about them.
Also Check: No Remove button for Microsoft Account in Windows 
How do I change the Administrator on Windows 10?
You can easily make a standard account administrator account and vice versa. You need to follow the prescribed steps to do the same.
Open Run by Win + R.
Type the following command and hit Enter.
netplwiz
Select the account you want to alter and click Properties.
Go to the Group Membership and choose the account type you want to set.
This was how you can change the account type. But it's not the only method.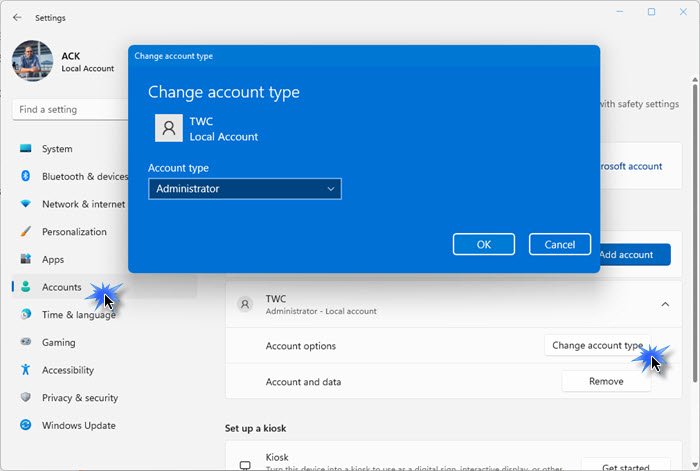 If you are not comfortable with this method, or if it doesn't work, then try to do the same from the good old fashion Windows Settings. For Windows 11 or Windows 10, just follow the given steps.
Open Settings
Click Accounts
Select Family and other users
Now go to the user account and click on it
Click on the Change account type 
Then use the drop-down menu to change the Account type and click OK.
Hopefully, know you know what Work or School accounts are and how you can remove them from your computer.
Also check: Complete Guide to managing User Accounts in Windows.