Want to create a new user account on your Windows 11 and Windows 10 PC? Manage everything about an account?  Set up a PIN instead of a long password?  Welcome to our Windows User Account Guide 101! In this post, I am exploring all possible options around a user account and its management. It will be helpful for those who are new, or even if you are an expert, you can find things that will help you set up another account on your PC and manage it in every aspect.
Manage User Accounts in Windows 11/10
Windows Settings offer a central place under Accounts settings to manage all user accounts where you can configure everything except a few settings, which we will tell you as we go ahead.
1] Using a Microsoft account or a Local account?
When installing Windows 11/10, the Setup process asks for a Microsoft Account or lets you create a local admin account. If you don't remember what you did during the setup, it's time to find out everything about your account – especially if you are still using a local account.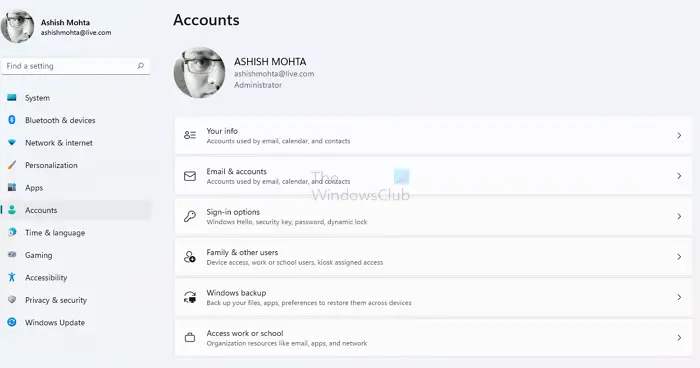 Go to Settings > Accounts.  Here you can view your account details, including Microsoft Account association, Administrator or local account, profile picture, and so on. You will have six sections here:
Your info
Email & App Accounts
Sign-in Options
Access work or school
Family & Other people
Sync your settings or Windows Backup
If your account is a Microsoft account (check if there is an Outlook or a Hotmail or a Live ID), then many things are already sorted, but if it's a Local Account, you should link it to a Microsoft Account. You can create it on the fly if you don't have one at all. There are many reasons you should, and we will learn about it as we move ahead.
2] Link Local Windows Account with Microsoft Account
So if it reads "Local Account" under your username, look for a link that says Sign in with a Microsoft Account instead. Post that, you can enter your email ID and password to link this PC and account with your MSA.  Microsoft may verify your account, new or old, with your phone number to enable features like Sync and File Settings across devices.
Linking your local Windows Account with Microsoft Account (MSA) has many benefits. One of the significant benefits is that it will connect your Windows License Key with your Account. So the next time when you install Windows 11/10 and sign in with your same MSA account, it will not ask you to activate Windows. Apart from this, you need an MSA account for downloading apps from the Store as well.
If you wish, you can always go back from using a Microsoft account to a Local account.
3] Some of your Apps use different email account?
It is possible that you might have used a different email account for some of the apps or even for the Microsoft Store. While it is simple to use the same account for everything, if you choose to have another account for Store and other apps, you can add it without creating a second account.
Under Settings > Email & app accounts, you can add that account to Accounts used by other apps. It will make sure it is not connected with Outlook, Calendar, and Contacts.  You will have to verify your account the usual way, including phone number verification. Once done, if your app asks which account to choose, you can select this one.
4] Multiple Ways to Sign-in to your Windows 11/10 PCs
While the most secure way to log in to your Windows  PC is to use the complex password associated with your Microsoft account, it's also tedious, especially when you lock and unlock your PC multiple times.
Windows Sign-in options page offers you the option to use Windows Hello, PIN or Picture password, and even Dynamic Lock options.  The last option is my favorite. I have it configured with my Fitbit Ionic, and every time I move away from my PC, it locks it automatically. You can also connect to your Bluetooth headphone or even your speaker.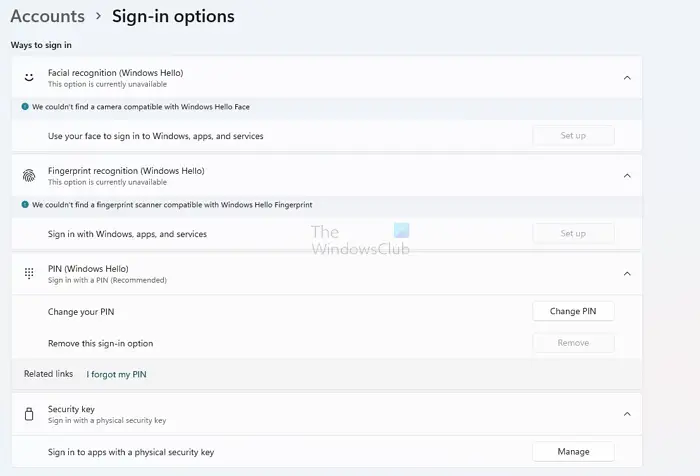 Fingerprint recognition
Facial Recognition
A PIN (Windows Hello) is a four-digit password just for the device where you set it. You can have a different PIN for every Windows device.
Security Key
Windows Hello needs special Webcams.
Apart from these, you have additional settings that include the option to use Windows Hello only authentication, when Windows should ask you to sign again, Dynamic lock, save app states, and more.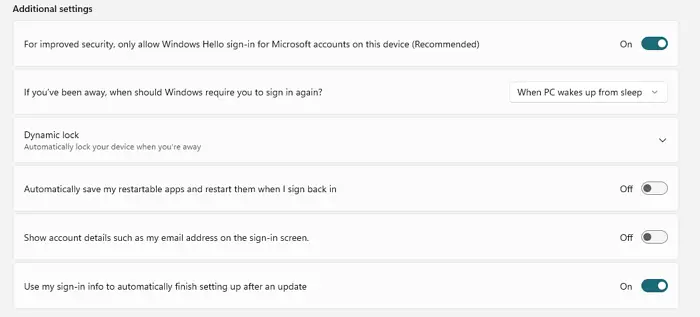 This section also offers you to change your password, but remember it changes your Microsoft Account password. It means if you use it anywhere with Microsoft Services, you will have to use the new password if you change.
In Windows 10, there is an additional option of Picture Password:
Picture Password lets you select a picture and draw three types of gestures on the image. These gestures become your password, but be careful that you remember where you are drawing the gestures.
Read: How to obtain List, Settings & Details of all User Accounts using the command line.
5] Require Sign-in & Privacy
Now that your password is all set, it's time to tighten up security a bit. Windows Sign-in options offer you to option where you will need to enter a password or pin again in case your PC sleeps. It will make sure your PC isn't directly accessible when it wakes up.
Go to Settings > Accounts > Sign-in options > Select When PC wakes up from sleep.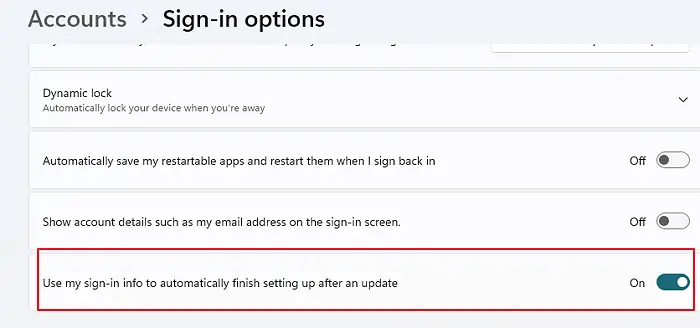 Under Privacy, you can choose to hide your email address on the sign-in screen and let Windows 10 remember your password for an uninterrupted update. The latter is a handy feature if you have to upgrade your PC overnight. This way you will save a lot of time when its time works in the morning.
In Windows 11, both of these settings are available under additional settings.
Read: Advantages of creating separate User Accounts on a Windows PC.
6] Use Work or School Account on Personal PC
Often, you would want to connect to your work or school with a dedicated account assigned to you.  Windows 11/10 has a dedicated setting for "Work Access" that lets you connect to the organization's resources right from home.  You will need to talk to your network administrator to use the School PCs app.
7] Managing Family & Guest Account
We have an extensively detailed post on how you can manage your Family Accounts on a PC; there are few things you should know when you are setting up a second Windows 10 PC.
For each Windows 10 PC, you will have to enable access by visiting Settings > Family & others.
It will make sure all your settings and shared resources under Microsoft Family are honored.
A child account is just like a Standard user account with more restrictions for downloading games and apps.
It's highly recommended not to make your spouse an Administrator unless you are very confident they will handle things.
The ability to add guest account was removed in Windows 10. Windows 10, v1607 introduced Shared or Guest PC Mode. This sets up Windows 11/10 Pro, Pro Education, Education, and Enterprise for limited use in specific scenarios.
8] Adding a Non-Family Member
If you need to let somebody access your PC, it is always a good idea to use Windows 10 Guest Account, but if the person needs access for a more extended time, it's best to add his email id to your PC. This way, he gets a standard account with restrictions.
Open Settings > Accounts > Family & other People > Add someone else to this PC.
Ask the person to sign in with his MSA account, and he will be all set.
You can also create a new MSA account if it becomes necessary from the same screen.
9] Removing and Disabling an Account
Under the Family & Other people section, you can select an account you want to remove and hit the Remove button. If you wish to remove a family member, you will get an option to block the person from Sign-in. This post shows how you can enable or disable a User Account.
10] Sync your Settings or Windows Backup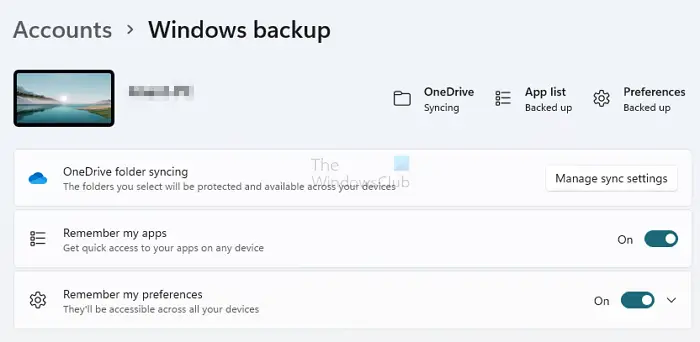 If you wish to have the same kind of themes, language preferences, and other things on all Windows devices, turn on Sync Settings.  This setting has been renamed to Windows backup, where you can configure the following settings:
Manage OneDrive Sync settings
Remember my Apps
Remember my preferences
If you read till here and all the posts we linked in here,  you now know everything about Windows 11/10 User Account management. If you still have a question, do let us know in the comments.
How do I change my account to Administrator on Windows?
Go to Settings > Accounts > Family & other users. Expand the user account you want to change, and then click on the Change account type button. It will then allow you to switch between the Standard and Administrator accounts. However, you need an admin account to switch a standard user to an administrator account.
How do I change my Microsoft Linked Account Picture?
There are two ways of doing this. First is using the built-in camera (Accounts > Your info > Take a photo > Open Camera), and the second is to change it online. Go to https://account.microsoft.com/profile/edit-picture/, sign in with your Microsoft account, and add an image to change.
How to Reset User Account Password?
If your account is linked to a Microsoft account, all you need to do is reset it online and then log in here again. If you have a local account, you need to ask the PC admin to reset your password. If you have forgotten the admin account password, you can enable the hidden admin account and change it.