There are times when we have to share our Windows PC with someone. Having a Guest Account on Windows comes in handy in such situations. Windows 11/10 however, removed the Guest account functionality. But you can still add Family and other users to your computer, whether they have a Microsoft Account or not, and give them limited access to your PC.
To set up Family Accounts on Windows 11, follow these steps:
Press Win+I to open Windows Settings.
Go to Accounts and click on the Family & other users
Click on the Add account button of Add a family member.
Enter the email address of your family member and click the Next
Choose a role (Organizer or Member) for your family member.
Click the Invite.
Although the ability to add a Guest account was removed in Windows 11/10, all the elements required to create a guest account still exist. You can use the net user command in a Command Prompt to set up and create a Guest account on Windows 11/10. We have seen how to create a new User Account – now let us see how to do this.
How to create a Guest Account in Windows 11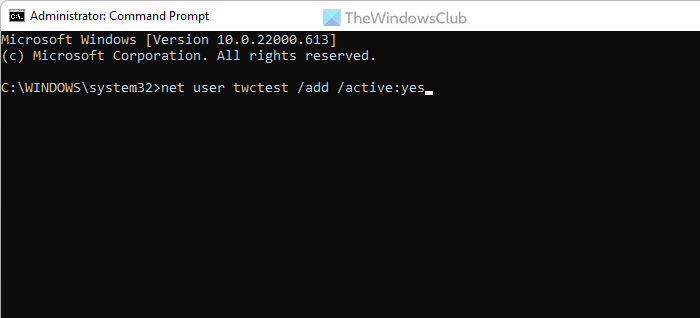 There is almost no difference between creating a Guest account in Windows 11 and Windows 10. Having said that, you need to follow the same steps as above to create a Guest account in Windows 11. However, you may not find the Guest option in the Windows Settings panel on Windows 11. That is the reason why you might need to use the Command Prompt or the Command Prompt instance in Windows Terminal to get the job done.
For that, open the Command Prompt with administrator privilege and enter this command:
net user guest-account-name /add /active:yes
Don't forget to replace guest-account-name with the original username of the account you created earlier. Once done, the desired account will be converted into a Guest account.
UPDATE: Things appear to have changed in recent Windows 10 versions. Windows 10, v1607 introduced Shared or Guest PC Mode. This sets up Windows 10 Pro, Pro Education, Education, and Enterprise for limited use in certain scenarios. As a result, the following procedure may not work in Windows 10 v1607, v1703 and later now including Windows 11.
Read: Disable, Enable Guest Account using Command Prompt in Windows 11/10
Create a Guest account in Windows 10
Before you begin, create a system restore point first. Now to create a Guest Account in Windows 10, you will have to do the following:
1] Open Start and search for Command Prompt. Right-click and then select Run as administrator.
2] Now, we need to add a user account on your computer. Type in the following command to create a new user. 'TWC' here is the name of the user account, you can name it whatever you want. But make sure the name of the account is not 'Guest' as it is reserved by Windows.
net user TWC /add /active:yes
3] Once the account is created, execute the following command. It lets you add a password to the account. Since this is a guest account we do not want to add a password to it, so hit Enter to skip
net user TWC *
4] Now we need to delete the newly created account from Users group and then add it to Guests group. The commands below will let you do that. Enter these commands one by one and you are done for most of the part.
net localgroup users TWC /delete

net localgroup guests TWC /add
Now the account has been created and it is at the Guest level.
The Guest Accounts let users perform all the basic tasks. These accounts have privileges to run apps, browse the internet, play music and etc. But these accounts cannot change system settings, install or remove new programs and make any changes to the system that require permissions. You may read the difference between Admin, Standard, etc. User Accounts here.
Delete Guest Accounts in Windows 10
If you want to delete any of the Guest accounts, make sure you are logged into the Administrator account before performing the steps mentioned below:
Open Settings, then go to Accounts.
Select Family & other people from the left menu.
Now under Other People, you may find the guest account you created earlier. Click on it and select Remove. The account and its data would be completely removed from your computer.
This was how you create and remove Guest accounts on Windows 10. You can also create simple local accounts but then again, they will have slightly higher privileges than a Guest Account. Guest account created this way are more like the guest accounts we used to have in older versions of Windows.
How do I make a Windows guest account?
Creating a Windows Guest account is not that difficult when you are using Windows 11 or Windows 10. Although users need to use Command Prompt to create a Guest account in Windows 11, there is no need to do the same in Windows 10. For your information, you can follow the aforementioned steps to create a Guest account in Windows 11 or Windows 10.
Can you make a Guest account on Windows 11/10?
Yes, you can make a guest account on Windows 11 and Windows 10. A detailed guide is mentioned above, and it is recommended to follow them in order to create the Guest account on your computer. Whether you use Windows 11 or Windows 10, you can follow almost the same steps to get the job done. However, the main difference is the Command Prompt usage, which is required on Windows 11. The command mentioned above lets you create a Guest account on Windows 11.
That's all! Hope this guide helped.