At rime, a user may face system crashes, BIOS issues that they want to fix. If you feel that the issue has been caused after a BIOS update, then the best way to resolve the issue is to downgrade the BIOS. That is why, we have this article, here we are going to see how to downgrade BIOS on Windows computers.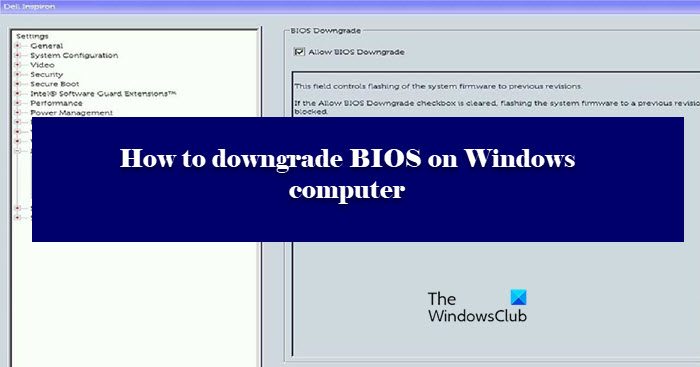 Can you downgrade computer BIOS?
Yes, you can easily downgrade the BIOS of your computers. It works just like updating the BIOS, you just need to install an older version of BIOS from Dell's website and you will be good to go. We have given a detailed guide on how to do the same. So, you should adhere to what is written, because it is a very risky move.
How do I downgrade my BIOS version?
Downgrading the BIOS version is not as difficult as it may sound. Basically, you just need to download and run a file, but, it can get tricky. First of all, you need to make sure that you are downloading the right version of BIOS and you are downloading files for your system only. For that, it's better to check the serial number. There are some other difficulties that one can face while doing the same. Therefore, you should go through our steps, and do everything with your utmost attention.
Post that may help you if your computer does not boot:
How to downgrade BIOS on Windows Computer
Before going through the process, it is advisable to rethink your decision. Downgrading the BIOS should be your last resort, and should only be executed if everything else fails.
To downgrade BIOS on Windows Computer, you need first need to download the BIOS's exe file. Follow the given steps to do the same. In this post we are taking the example of Dell computers, but the process will be the same – except that you will need to go to your respective OEM website to download the BIOS siles. We have mentioned the OEM site download links later on.
First of all, go to dell.com/support.
Then look for your device. You can search it by typing the name of your device in the search bar or by clicking on Browse all products and then selecting your system.
Then click on the drop-down menu (V).
Look for BIOS, if you can't find it, use the Keyword "BIOS".
If you are not able to find the version that you want to downgrade to, click on the Older version button.
Then click on Download.
If you are skeptical of whether you are downloading the right version or not, try searching for the BIOS file with your Serial Number.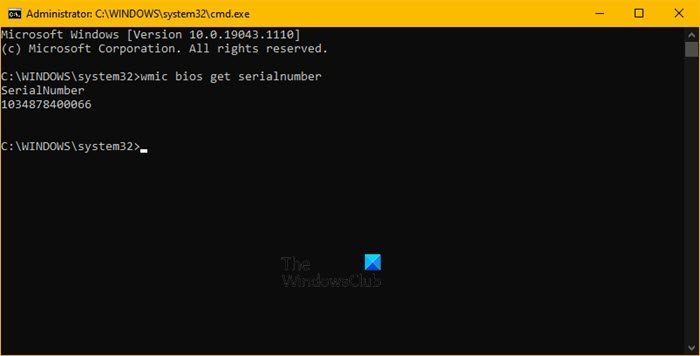 To know your Serial Number, open Command Prompt as an administrator and then execute the following command.
wmic bios get serialnumber
This will give you your BIOS serial number. Then you can use it to find the right file for you.
Now, it's time to downgrade BIOS. There are two ways by which you can do the same. The first one is a bit easy to execute, so, first of all, attempt the first method, if that doesn't work, then try the second. These methods are.
Without USB
With USB
Let us see the first one.
1] Without USB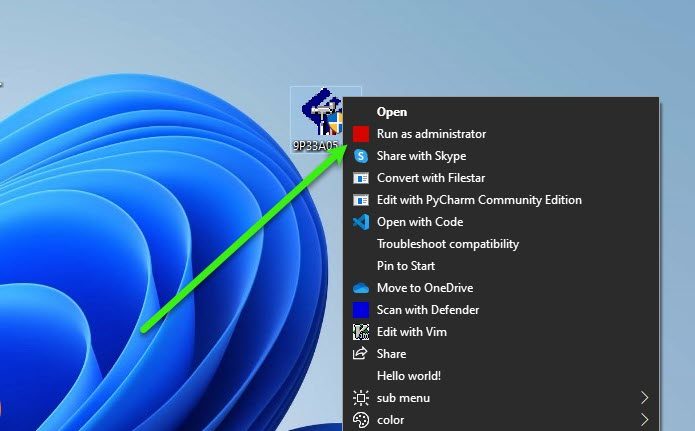 There are two conditions here, do you have a battery or don't (if you are not seeing the battery icon in the Taskbar). If you have a battery then just go to the file, right-click on it and select Run as administrator. Then follow the on-screen instructions to do the same.
If you don't have a battery or if Windows is not recognizing your battery then we need to use the Command Prompt. Copy the downloaded file into the C drive. Then, go ahead and note the name of that file. Then execute the following commands.
cd\

<file-name> /forceit
Note: If your file-name doesn't contain .exe, then add it. For example: 9P33A05.exe.
As simple as it gets.
Read: How to use BIOS settings on Windows computers.
2] With USB
If the first method didn't work, then we need to pull out our USB stick to do the job. Plug your USB. then download Rufus from rufus.ie.
Open Rufus, select your USB, change Boot Selection to FreeDOS, and File System to FAT32. Finally, click Start. Once your drive is ready. Copy the downloaded content to it.
Then restart your computer, and hit F2 or F12 to boot into BIOS, also make sure that you have enabled BOOT from USB or you are getting an option to do the same when you open the computer. Once, you have booted with your USB, you will see a screen asking you to give commands.
If you can see the content of your USB execute the second command, but if you are not seeing the contents, execute the first command prior to executing the second.
dir
<file-name> exe
After executing the commands, you will be asked to confirm your action, click Y whenever prompted.
For Dell computers, tools like the Dell SupportAssist OS Recovery Tool can help you if your computer is unable to boot to the operating system even after repeated attempts. Other brands too have similar tools.
Hopefully, you will be able to resolve the issue by downgrading to the previous version.
Related: Firmware update failed in Windows.
List of some OEMs where you can download BIOS setup files:
You may visit your computer manufacturer's website to download the device drivers. Here is the list.
Some OEM tools that will help you with BIOS updates:
Manufacturers have also released special BIOS/driver download software for their brands:
Dell Update utility will help you download or update Dell Drivers
Lenovo System Update helps you download Lenovo Drivers, Software, Firmware, Update BIOS.
HP users can use the bundled HP Support Assistant.
Reads that may interest you: