The front audio jack is a connector that is used to connect headphones/earphones with a PC. If for some reason, the front audio jack is not working on your Windows 10 PC, then you can try some fixes to resolve the issue. It might have happened after upgrading Windows to a newer version, outdated audio driver, or for any other reason. This post lists some simple options that might fix this problem.
Front Audio Jack not working in Windows 10
Here are the fixes:
Update the audio driver
Set your audio device as the default device
Enable/disable front panel jack detection
Troubleshoot Playing Audio.
1] Update the audio driver
This is a common fix that has helped many users. Sometimes, if there is an outdated audio driver, then it could cause the front audio jack to not work. So, updating your audio driver is a nice option to try. You can update the audio driver in the following ways:
Using Device Manager
Windows Update.
Direct download
Using a third-party tool.
Direct download
Visit the manufacturer's website to directly download the required device driver.
Using Device Manager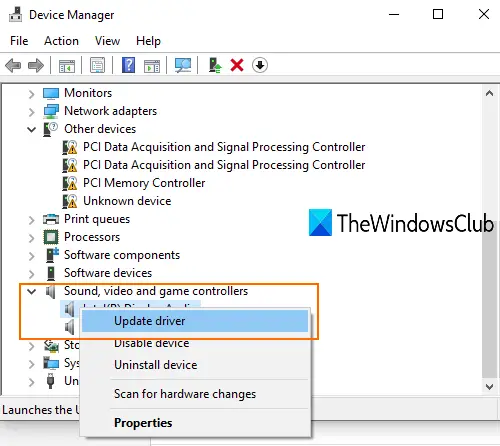 Open Device Manager using the Search box or some other ways
Click on the Sound, video and game controllers drop-down menu
Right-click on your audio driver
Click on Update driver.
In the next step, you will have two options: Search automatically for drivers and Browse my computer for drivers.
Using the first option, Windows will automatically find the best audio driver that you can install on your PC. And using the second option, you can manually install the audio driver if you have already downloaded any.
Windows Update
Open Settings app using Win+I hotkey
Click on Update & Security category
Press the Check for Updates button.
Now Windows will automatically download driver updates (if available) and other updates. When the download is completed, you can install those updates.
You can now run Windows Updates and see if any driver updates are available under Optional Updates. It's a quicker and easier way.
Using a third-party tool
There exist many 3rd party and free driver updater tools that can automatically find various drivers, download them, and help you install those drivers. Such tools are also helpful to find and install audio drivers for your PC.
Read: Headphone jack not working on a laptop.
2] Set your audio device as the default device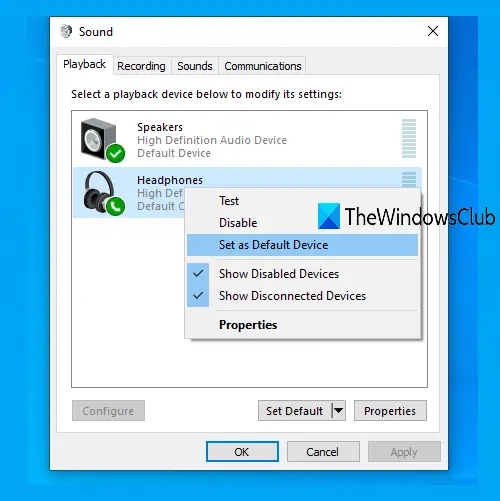 Setting your headphones as the default audio device might also fix this issue. For that, follow these steps:
Right-click on the sound icon or speaker icon available on the taskbar system tray. If the volume icon is missing, then you can first try some fixes and then use that icon
Click on the Sounds option
In the Sound window, go to the Playback tab
Right-click on your playback device
Use Set as Default Device option
Press OK.
Now restart your PC. This might fix the front audio jack not working issue.
3] Turn on/off front panel jack detection
This option is helpful for those who are using Realtek HD Audio Manager on their PCs. You have to enable the front audio jack panel in Windows 10. These are the steps:
Open Realtek HD Audio Manager using Search box or its system tray icon
Click on the Device advanced settings option available on the left side
Under Connector Settings, turn on Enable Jack detection when device is plugged in.
If it is already turned on, turn it off, and see if your problem is resolved.
4] Troubleshoot Playing Audio
This is another fix you can try to get rid of the front audio jack not working problem. Here are the steps:
Open Settings app using Win+I hotkey
Click on Update & Security category
Select Troubleshoot available on the left section
Click on Additional troubleshooters on the right-hand section
Select Playing Audio under the Get up and running section
Click on Run the troubleshooter button.
Now Windows will automatically detect problems and provide you easy to follow fixes. You can also use the Search box and type audio troubleshooter to run the same troubleshooter.
Read: Headphones not working or detected.
If nothing works and you are able to use headphones using the back audio jack, then probably your front audio jack needs replacement.