Audio Driver is what makes you listen to audio come out of your speaker. It interacts with hardware and the Operating System. Now, that you know their importance, you would realize that it is important to have them on your computer. That's why, in this article, we are going to show how you can download Realtek, Conexant, AMD, HP, Lenovo, Dell, ASUS Audio Drivers for your Windows 11 or Windows 10 computer from different manufacturers.
Download Audio Driver for Windows 11/10
Let us see how to download Audio Driver from different manufacturers. Then, we need to install it on your computer and that's it. So, let us check some of the major brands and drivers. Here are the official links to download Realtek, Conexant, AMD, HP, Lenovo, Dell, ASUS Audio Drivers for your Windows 11/10 computer.
Download Realtek Audio Driver
First and foremost, we are going to see how to download drivers from one of the most popular manufacturers. What you need to do is go to realtek.com, download the executable or zip file, and install it on your computer. It is pretty easy.
Also Read: Download and Reinstall Realtek Audio Manager on Windows
Download Conexant SmartAudio HD (or Conexant Audio Drivers)
Conexant doesn't provide audio themselves, they don't host the drivers on their website. So, you need to download the driver from the website of your computer manufacturer. Conexant drivers are mostly found on a Lenovo Laptop or Desktop, and they even host the package on their website. All you need to do is visit support.lenovo.com and download the executable (.exe) file.
After downloading the file, you can check the Download folder on your computer, double-click on the file, and install it. It's pretty easy to do the same.
If you have a different manufacturer, then go to their website and see if they host the driver.
Read: Download AMD High Definition Audio Device Driver
Download AMD Audio Drivers
Downloading AMD Audio Drivers is not a one-click method, you need to install their utility as well. On the upside, the utility will help you find the most compatible driver for your system.
So, go to amd.com, select your product and download AMD Catalyst™. After installing the app, deploy the automatic detection tool and allow it to install the driver on your computer. This method will work like a charm for you.
Read: How & where to download drivers for Windows 11/10
Download and Install Audio Driver depending on your OEM
If you are not able to identify which driver you are using, no problem, the following, we have mentioned methods to download audio drivers depending on your computer's manufacturer.
Download HP Audio Drivers
Go to support.hp.com, enter your serial number, and click Submit. Then expand the Driver option and download it on your computer. Sometimes, you won't be able to find the driver there, so, install HP Support Assistant and use it to scan and install drivers.
Download Lenovo Audio Drivers
Go to support.lenovo.com and either enter your Serial Number or click on Detect Product button. Once you are on you are redirected to your system's page, click on Driver & Software, go to Manual Update > Audio, and download the audio driver. You can also, click on Automatic Driver Update > Start Scan to automate the scanning and downloading part. Either way, it will do the job for you.
Download Dell Audio Drivers
To download the audio driver for your Dell computers, go to dell.com, enter your Dell Service Tag, Dell EMC Product ID, or Model, or click Browse all catalogs to find your product. Once you have found your product, go to Drivers & Download tab, scroll down, expand Manually find a specific driver for your <laptop-name> and check if you can see the Audio driver (check the Category). If you can find your driver there, click on Show All. Finally, click on the Download button associated with your Audio Driver and you will be good to go.
Read: How to install Dolby Audio on Windows 11/10 computer
Download Asus Audio Drivers
Navigate to asus.com and go to your product using the serial number. Then, click on Drivers & Utility, You will be redirected to a link from where you can select the Operating System and then download the Audio Driver.
That's it!
Read: Where to download Printer Drivers and Software?
How do I download audio drivers for Windows 11?
In Windows 11/10, you can easily download audio drivers from the manufacturer's website. However, if you have uninstalled the driver, there is another method that you can use to get the driver back. Follow the given steps to do the same.
Open Device Manager.
Right-click on Audio inputs & outputs.
Select Scan for hardware changes.
Windows will automatically scan and download the driver.
Read: How to download & install MSI Motherboard drivers?
How do I install an audio output device in Windows 11?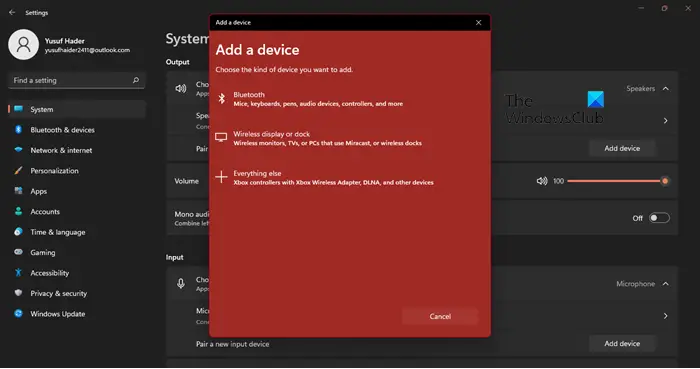 To add a new audio output device to your Windows 11 system, you need to follow these steps.
Open Settings.
Go to System > Sound.
Click on the Add device button placed next to Pair a new output device.
Then, select the kind of device you want to add and pair it.
When you add the device to your computer, its driver will be automatically installed.
How do I fix No Audio Device is installed?
If you see a No Audio Output Device is installed error in your Windows 11/10 system, then you should run Audio Troubleshooter in the Get Help app, update or re-install the audio device, and update the Intel Smart Sound Technology Audio Control device.
Read Next: Audio device is disabled in Windows 11/10.