Have you ever run into a situation where you want to raise the volume of a downloaded clip to make it audible, only to find that the Volume system icon is missing from the taskbar of your Windows 10 computer? The problem occurs when the behavior of the system icon selection setting is greyed out. The more general approach towards solving this problem is looking for a solution from the Settings program or the Control Panel but or manually setting icons on the notification area.
Volume icon missing from Taskbar
1] Turn Volume System Icon Off and On
From the WinX Menu, open Settings > Personalization > Taskbar. Here click on the Turn system icon on or off link.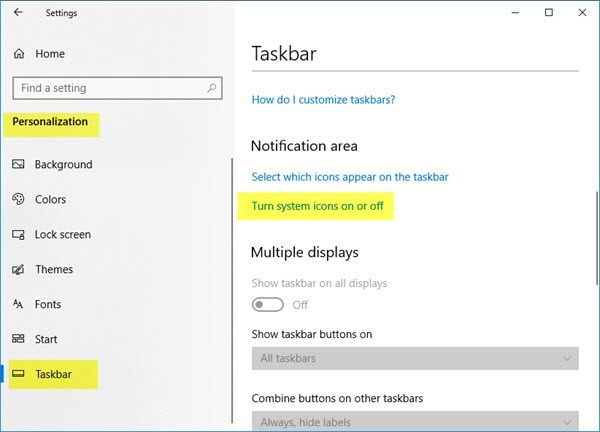 The Turn System Icons On or Off panel will open, where you can set icons you want to display on the Notification area. Just toggle the slider for Volume to the On position and Exit.
Here you will be able to turn any of the System Icons On or Off in the Windows 10 Taskbar.
To access this panel, you can also right-click on the Taskbar > Properties and click on the Notification areas: Customize button.
2] Restart Explorer
Restart Explorer and see if it helps.
3] Check Group Policy setting
If this does not help, if your version of Windows 10 has the Group Policy, Run gpedit.msc to open the Local Group Policy Editor and navigate to the following setting:
User Configuration > Administrative Templates > Start Menu and Taskbar
Now in the right pane, search for the following setting – Remove the volume control icon. When found, double-click on it to open the following panel.
Ensure that the policy setting is Not configured or Disabled.
This policy setting allows you to remove the volume control icon from the system control area. If you enable this policy setting, the volume control icon is not displayed in the system notification area. If you disable or do not configure this policy setting, the volume control icon is displayed in the system notification area.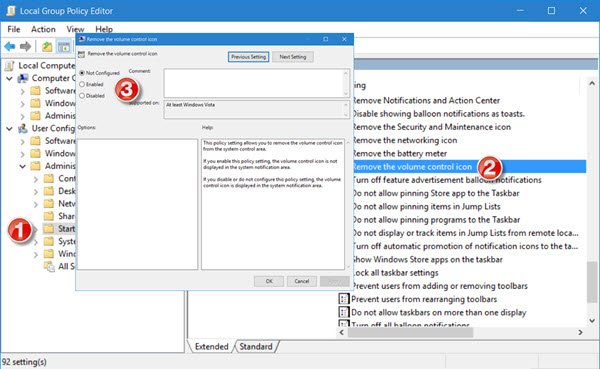 Click on Apply/OK and exit.
Hopefully, your Volume icon should be back on your taskbar.
See this post if Turn system icons on or off is grayed out. Towards the end of this post, you will see a registry setting which you may have to tweak.