If your Headphones are not working – maybe after installing an Update, it could be due to incompatible OS and drivers. Updates to several computer components are meant to fix stuff that is broken but sometimes results in breaking some other components. One such scenario is where a Windows Update breaks the headphone. The computer stops playing any audio using the headphones. This error is caused due to incompatible drivers.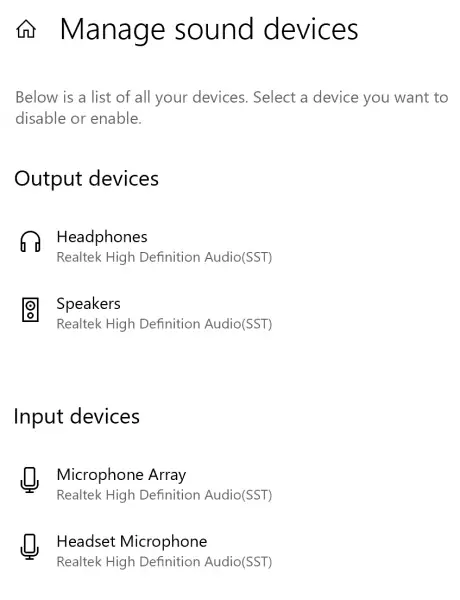 Headphones not working in Windows 11/10
Here are some working solutions that will help you if your Headphones are not working or being detected:
Manually set Headphones as the default device.
Make sure you use the right ports
Disable front panel jack detection
HD Audio Over AC97
Restart the Audio Service
Update or roll back your Audio drivers.
Use the Audio Troubleshooter.
Rollback or install a newer Windows Update.
Some of these may need admin permission to fix it. Assuming that the mute button is not active,
1] Manually Set Headphones as the Default Device
Sometimes, when a headphone is plugged in, it does not toggle the default audio device or default playback device. In this case, you can just set the default audio device to the headphones.
Right-click on the volume control icon on the system tray and select Open sound settings. It will open the Sound section in the Windows 10 Settings app.
Under the section of Output, select Headphones for Choose your default output device.
This should get the headphones working on your Windows 10 device.
2] Make Sure You Use the Right Ports
If it is a wired headphone, make sure you have connected the wire to the correct port. There are usually two ports—Audio out and Mic input. Often, you connect to the wrong port as it's easy to get used to, and we connect without looking at the port. So if that's the case, then connect to the right port.
Read: External Microphone being recognized as Headphones.
3] Disable Front Panel Jack Detection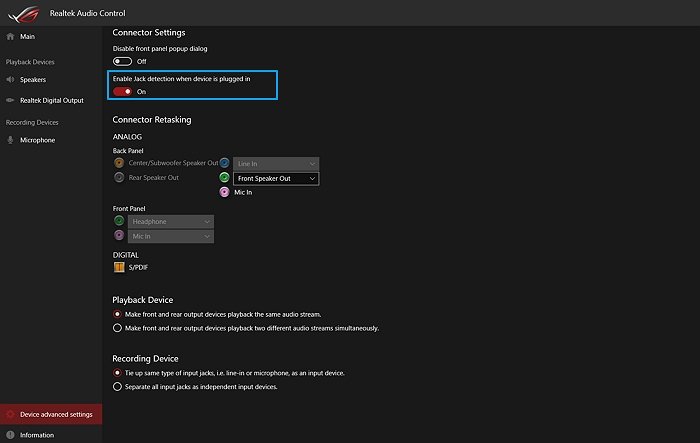 It is possible that the audio is being streamed towards the Front Panel of the cabinet. Even when you have changed the default audio, you can change the front panel jack detection feature if there is no change.
Open Realtek Audio Console and then click on Device configuration. Locate the toggle that allows you to disable the front panel audio jack detection.
You can also choose to make the front and rear audio streams different audio outputs. So if you want to hear different audio from different ports, you can do it.
4] Use HD Audio Over AC97
It's hardware wiring where you need to make sure the connection from the motherboard is correct. Some OEMs offer both HD Audio and AC97. If you have connected AC97, and it's not working, check your motherboard manual, and change it to HD Audio.
Another issue could be that the front panel audio connector has 2 connectors—one for AC97 and the second for HD audio. You can use only one of them. So if you have connected to both somehow, choose HD audio.
5] Restart Audio Service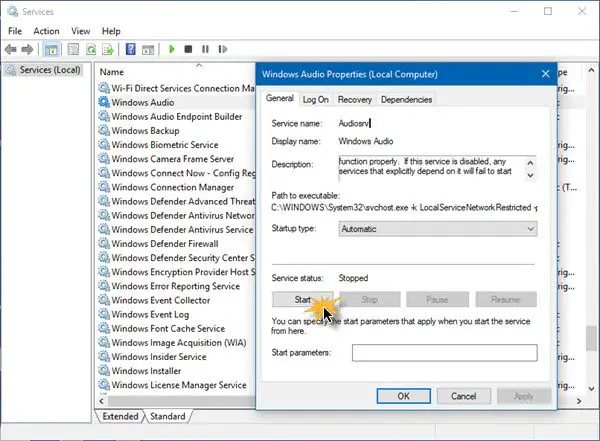 If you cannot listen to system audio as well, it's probably the Audio service that has the problem. You need to open the Windows Services and restart or enable the Audio Service.
Read: Headphone jack not working on a laptop.
6] Update or Rollback Your Audio & Bluetooth Drivers
If the update is recent, you can roll back that driver to an older version that does not trigger this issue. In case there was no update, it is possible that the outdated drivers need to be updated to the latest version. Install a new version of that driver if available. Make sure it is the correct device driver
The drivers you need to focus on are:
Bluetooth.
Sound, video, and game controllers.
7] Use the Audio Troubleshooter
Windows 10: Click on the Start button and go to Settings > Updates and Security > Troubleshoot. Select the Playing Audio troubleshooter from the list and run it.
Windows 11: Click on the Start button and go to Settings > System > Troubleshoot. Select the Playing Audio troubleshooter from the list and run it.
Follow the on-screen instructions, and this will fix your issue.
Further reading: Troubleshoot Windows Sound and Audio problems.
8] Rollback or install a newer Windows Update
If this issue has occurred after installing a Windows Update recently, you can uninstall recent Windows Updates and reboot your computer to fix this issue.
Alternatively, you can also check for updates to get a patch for this, which Microsoft may have released.
I hope this guide helped you in troubleshooting the issue.
Why are my headphones not working when I plug them into PC?
Make sure they are inserted correctly. If you have two jacks, match them using the color or text. If you insert the microphone wire into an audio jack, it will not work. Also, make sure the sound enhancements are unchecked if the sound is low or doesn't sound right.
Why Are the Bluetooth Headphones Not Working?
If everything else is fine, then it's Bluetooth compatibility. Your headphone Bluetooth version and the one on your PC or laptop are different, and the only option is to either change the headphone or get a new Bluetooth adaptor that matches the version of the headphone.
It is not strange. I have seen Bluetooth earphones not work with Macbook, and it has to do with the Bluetooth version.
Why Can I Hear Myself in My Headset?
It is because of the Microphone Boost. While it is used to improve overall Microphone performance, it might interfere so that you will listen to your own voice and echo. Another reason could be that if you have another microphone source connected to the same online meeting, you need to ensure the second source is turned off or on mute.
Now read: Front Audio Jack not working in Windows.