If you encounter the error code 0xe06d7363 when attempting to upgrade or update Windows 10 or Windows 11 device to a newer version/build using the Windows Update Assistant then you can try the solutions provided in this post to successfully resolve the issue.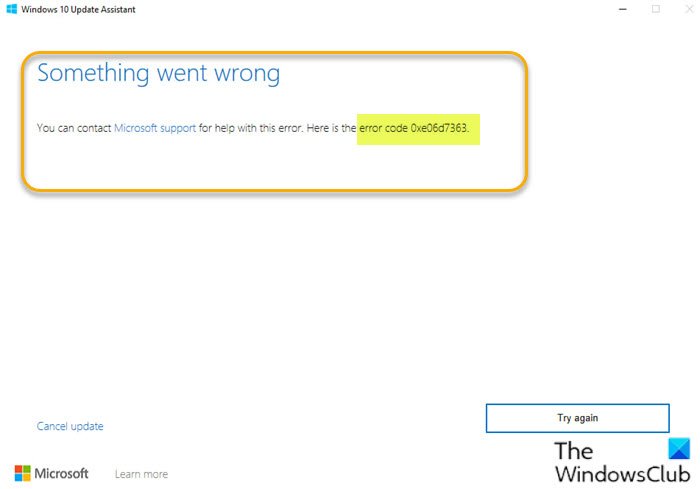 You may encounter this error even after the upgrade completes.
What does error code 0xe06d7363 mean?
Generally. error code 0xe06d7363 is a Windows Application error and one of The exception unknown software exception occurred in the application errors, which is a Visual C++ exception code generated by the Microsoft Visual C++ compiler. The error is displayed when a process/operation could not be launched or completed by an application.
Fix Windows Upgrade error code 0xe06d7363
If you're faced with this Windows upgrade error 0xe06d7363 issue, you can try our recommended solutions in the order presented below to resolve the issue.
Run Windows Update Troubleshooter
Clean Boot PC and run the upgrade
Cleanup leftovers of the last build
Download ISO and perform in-place upgrade
Clean Install Windows
Contact Microsoft Support
Let's take a look at the description of the process involved concerning each of the listed solutions.
1] Run Windows Update Troubleshooter
This solution to Windows Upgrade error code 0xe06d7363 requires you to run the Windows Update Troubleshooter, and then check for updates and perform the version upgrade from there.
2] Clean Boot PC and run the upgrade
This solution requires you to perform a Clean Boot to start Windows by using a minimal set of drivers and startup programs, and then run the version upgrade in that state and see if it completes successfully. Otherwise, try the next solution.
3] Cleanup leftovers of the last build
If you're encountering this error after the upgrade to the newer version/build, it's likely remnants like obsolete unneeded .dll, .exe portions of API's from the last build is triggering this error.
To cleanup leftovers of the last build on your Windows PC, you need to create a batch file and then run the .bat file. Here's how:
Press Windows key + R to invoke the Run dialog.
In the Run dialog box, type notepad and hit Enter to open Notepad.
Copy and paste the syntax below into the text editor.
fsutil resource setautoreset true c:\&fsutil usn deletejournal /d /n c:&Dism.exe /online /Cleanup-Image /StartComponentCleanup&sfc /scannow&Dism.exe /Online /Cleanup-Image /RestoreHealth&sfc /scannow&Dism.exe /Online /Cleanup-Image /StartComponentCleanup /ResetBase&winsat formal&pause
Save the file with a name and append the .bat file extension – eg; UpgradeCleanup.bat and on the Save as type box select All Files.
Now, you can run the batch file with admin privilege (right-click the saved file and select Run as Administrator from the context menu).
This manual operation essentially cleans up the component store(WinSxS) and checks your system for missing Windows files & folders, replaces them if possible.
Bear in mind that this procedure gets done by auto maintenance, but after a successful Windows version upgrade, you can manually run the batch file and Windows Update cleanup to have your Windows installation in pristine condition.
4] Download ISO and perform in-place upgrade
This solution entails you directly download the latest version of the Windows ISO image file from the Microsoft website.
Once you have downloaded the ISO to a location (preferably the desktop) on your device, mount the ISO image, then double-click the setup.exe file to start the in-place upgrade process.
5] Clean Install Windows
A viable solution is to clean install Windows if the Update Assistant isn't working or the in-place upgrade fails.
6] Contact Microsoft Support
If all else fails, you can always contact Microsoft Support for assistance.
Hope this helps!
Why are my Windows updates failing to install?
In most cases, Windows Update may fail to update or install on your Windows 10/11 PC because its components are corrupted. These components include the services and temporary files and folders associated with Windows Update. Among other Windows update error solutions, you can reset these Windows update components to resolve the issue.