In this post, we will talk about the best free ISO mounter software for Windows 11/10. These software are pretty useful to access the content of an ISO image (or optical disk image) file without having any need to burn ISO to some CD or DVD. A virtual drive is created for the input ISO image in File Explorer. You just need to open that virtual drive to access or use the data or files present in the ISO image.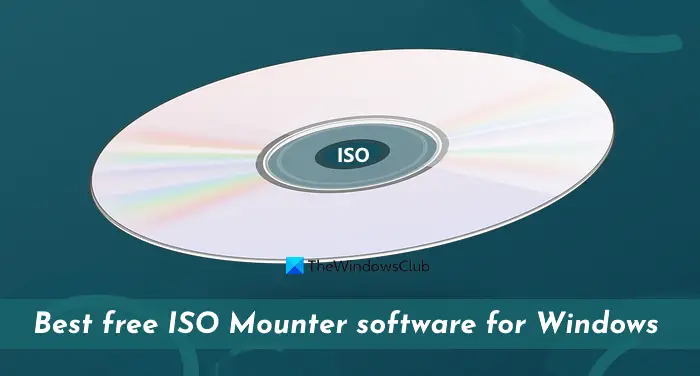 Though Windows 11/10 already provides a built-in feature to mount and unmount an ISO file, for those looking for some third-party tools to mount ISO images, this post is helpful. Apart from mounting ISO images, these tools also support other image files like IMG, BIN, ISO, etc. To unmount an image, you can use the Windows right-click context menu option (Eject) or the option provided by these tools.
Free ISO mounter software for Windows 11/10
In this post, we have created a list of 5 free software to mount and unmount ISO image files with ease. These are:
Virtual CloneDrive
WinCDEmu
gBurner Virtual Drive
PassMark OSFMount
KernSafe TotalMounter.
1] Virtual CloneDrive
Virtual CloneDrive lets you mount ISO, IMG, BIN, UDF, and other format image files. You can use it to create up to 15 virtual drives which is a nice feature. When you don't want to use it, you can simply exit the tool or disable it using its Settings. It also integrates with right-click context menu so that you can simply right-click on an ISO file and mount it. It also stores a history of recently mounted image files.
This link will help you download this software. During the installation, you should choose custom installation so that you can select which image files you want to associate with it. The benefit of associating image files with it is that you just need to double-click on an image file to mount with this tool.
When you launch this tool, it automatically creates a single virtual drive. To create more drives, you can right-click on its system tray icon and access Settings. There you can select the number of drives that you want to create using the drop-down menu.
You can also enable/disable history, show/hide tray icon, show/hide sheep icon in a virtual drive, and enable/disable the option to eject unmounts image file using Settings.
2] WinCDEmu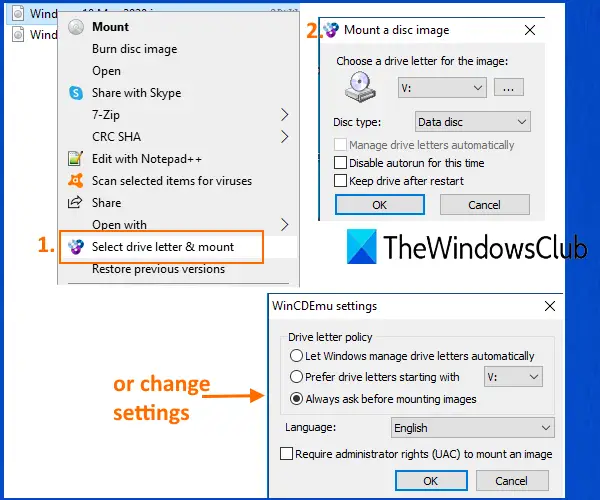 WinCDEmu is an open-source tool to mount ISO files. You can also use it to mount CUE, NRG, CCD, IMG, and MDS/MDF image files. The best part of this tool is you can create unlimited virtual drives. It also lets you select the disc type for mounting the ISO file. For example, you can create CD-ROM, DVD-ROM, DVD-RAM, HD-DVD-R, BD-R, BD-RE, Data disc, etc.
It also lets you choose a drive letter for mounting an image file or you can leave it to automatic mode. This tool can also be used to create an ISO image for a folder using right-click menu.
After installing this tool, you can right-click on an image file, and then click on the Select drive letter and mount option. After that, a small box will open that helps to select a drive letter and disc type. Press the OK button and the virtual drive will be ready to use.
You can also access the Settings of this tool using the Start menu. The Settings box lets you select the preferred drive letter or let Windows manage the drive letter. Or else, you can leave it to the always ask option so that you can select drive letter before mounting the image.
3] gBurner Virtual Drive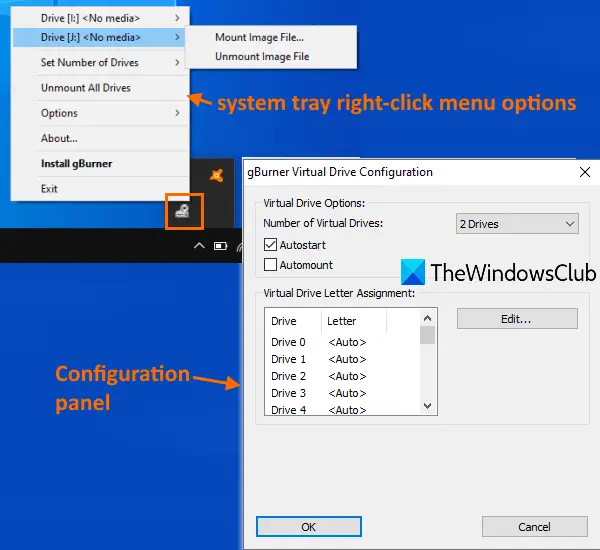 gBurner Virtual Drive is another useful ISO mounter software. You create a maximum of 16 virtual drives using this tool. It can mount ISO, BWI, BIN, MDF/MDS, GBI, LCD, CIF, C2D, NRG, DMG, GI, IMG, PDI, VCD, FCD, C2D, and other format image files.
Grab this tool and install it. Launch the software and it will sit in the system tray in the Taskbar. You can right-click on its tray icon to access all the options. You will be able to set the number of drives and then use the mount option for those drives. Unmounting a single drive and unmount all drives together options are also present there.
If you want, you can also access the Configuration panel of this tool by accessing the Options section of this tool. The Configuration panel also lets you select the number of drives, assign a letter to a virtual drive, and enable/disable auto-start of this software.
4] PassMark OSFMount
PassMark OSFMount software lets you mount BIN, ISO, IMG, VMDK, VHD, NRG, AFF, AFD, and other format files. You can create multiple virtual drives and view the list of all those drives on its interface. This tool can also create virtual RAM disks. It is basically helpful to mount an image file to a virtual RAM disk instead of a virtual disk.
Download this tool using this link and install it. Open its interface and press Mount new button. You can also use the File menu to use the same option. Now a separate window will open. Select the Disk image file option. You can also tick mark Mount as RAM drive if you want to mount the image file to RAM.
After that, click on the browse button to select an ISO image, and press the Next button. In the next step, it automatically selects the mount entire image as a virtual disk option. Go to the next step and select options as per your need. For example, you can enable the option to mount a drive as removable media, set drive type (HDD, CD, etc.), drive letter, etc.
Press the Mount button and your virtual disk drive with mounted image will be ready. Use similar steps to create more virtual disks. It also lets you dismount a single drive or all the drives at once using the available buttons or options.
5] KernSafe TotalMounter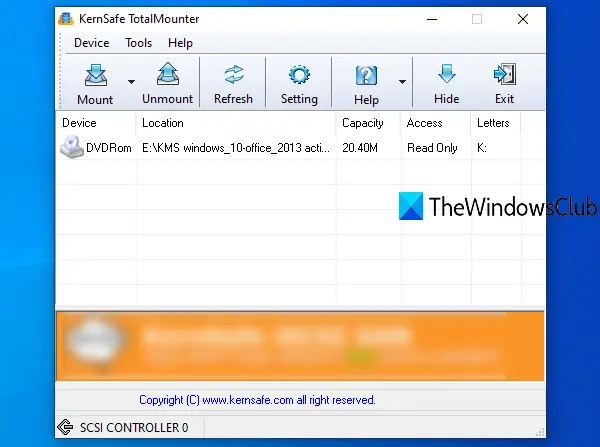 KernSafe TotalMounter (free basic plan) supports NRG, IMG, ISO, CDI, BIN, RAW, and other image types. It lets you create virtual CD/DVD-ROM, CD/DVD-RW, virtual encrypted disk, and iSCSi disks. You can also unmount a single drive, all drives, or selected drives.
Get this tool and install it. On its interface, use the Mount button, and select the type of virtual drive that you want to create. After that, you can select the image file from a folder. As soon as the image is opened, it is mounted automatically, and a drive letter is assigned to it. This way, you can create more virtual drives.
When you no longer need the added virtual drives, you can unmount them using the given button.
Hope these free ISO mounter software will be helpful.
What is the best Free ISO Creator?
AnyBurn is one of the best free ISO creator software. You can use it to create an ISO image from folders, CDs, DVDs, and BD (Blu-ray Disc). In addition to that, you can also download a Free ISO Creator tool to easily create an ISO image file from a folder of your choice. You can get this tool from freeisocreator.com.
Can you mount ISO in Windows 11?
Yes, Windows 11 comes with a built-in ISO Mount feature to access and use the data stored in an ISO image file. You can either double-click on an ISO file or right-click on the ISO file and use the Mount option. This will mount the ISO file as a virtual drive to access its contents.
PS: Love freeware? Take a look at our list of free Windows Software.