If Windows Defender on Windows 11/10 gives you trouble while opening it for a scan, you might get some help from this article. The error code 0x800b0100 might occur due to some unknown reasons, but you can fix it with the help of this guide. To be precise, the entire error message says something like this-
An error has occurred in the program during initialization. If this problem continues, please contact your system administrator. Error code: 0x800b0100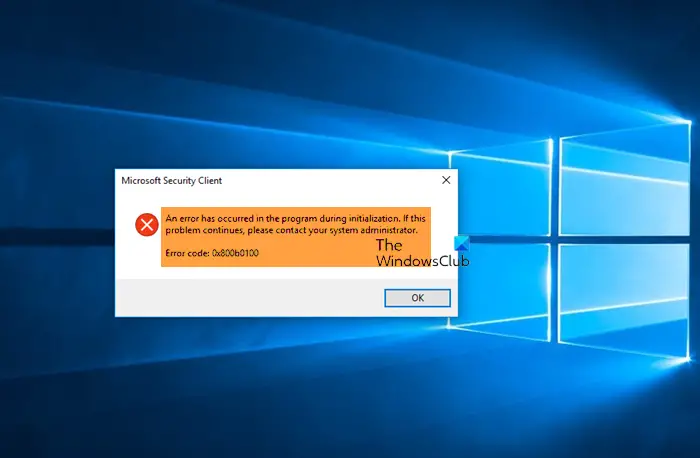 Different folks have encountered this issue at various times. The most common situation is that they sensed some lag in their system and tried to open the Windows Defender to scan it. If you are one of the victims, the following troubleshooting guides might be handy for you.
0x800b0100, An error has occurred in the program during initialization
To fix Windows Defender Error Code 0x800b0100, follow these suggestions-
Restart Windows Defender Services
Reset Defender settings to default
Run the System File Checker tool
Run DISM to repair system image
Use Fresh Start option in Windows 10
Perform a repair upgrade
1] Restart Windows Defender Services
If your computer has malware, chances are they have already disabled all the Windows Defender related services. You need to verify if all the services are running or not.
Open Windows Services Manager and locate the following four Services:
Windows Defender Antivirus Service
Windows Defender Antivirus Network Inspection Service
Windows Defender Advanced Threat Protection Service
Windows Defender Firewall.
You may Stop and Start them or simply use the Restart option, available in the right-click context menu.
FIX: The Threat Service has stopped in Windows Defender
2] Reset Defender settings to default
You can use our freeware FixWin to reset Windows Defender to default settings.
3] Run the System File Checker tool
System File Checker is a command-line utility that helps you find potentially corrupted system files and fix them, respectively. You need to execute the following command in an elevated Command Prompt window.
sfc /scannow
4] Run DISM to repair system image
DISM or Deployment Image Servicing and Management is a command-line tool that lets you fix conventional system related issues like this one. It can detect various hardware drivers as well as software-related problems and fix them accordingly. The best thing is that you do not need to download any software to get it running as it is a command-line tool, as mentioned earlier. That means you need to open an elevated Command Prompt window and enter some commands. To run DISM to repair Windows System Image execute the following command:
dism /Online /Cleanup-Image /RestoreHealth
You can run SFC and DISM, one after one. If you are confused about which one you should run, do follow this guide where we elaborated whether you should run DISM or SFC first.
5] Use Fresh Start option
The Fresh Start option will give you a brand-new system with all the problems excluded. It:
Keeps all your data,
Removes all third-party apps,
Force Updates Windows to the latest version.
Alternatively, you can use Reset This PC option.
6] Perform a Repair upgrade
You may need to repair Windows using Installation Media. This solution will help you repair your system from top to bottom, and it is reliable too. However, you need the Windows 10 ISO and create a bootable USB drive to get started with this process.
These solutions should help you to get rid of the error code 0x800b0100 in Windows Defender.
Related reads: