When I browse through forums I often find this question asked many times – I am unable to turn on Windows Defender manually or Windows Defender won't or will not turn on and start in Windows 11, Windows 10, Windows 8, or Windows 7. If you face this issue, then this post may help you.
Can't turn on Windows Defender in Windows 11/10
If you are unable to start Windows Defender, then one of these suggestions is sure to help you:
Check if you have another security software installed
Check

the date or time

on your PC
Run Windows Update
Check Internet Zone settings
Check Group Policy setting
Check Registry setting
Check the status of Service
Scan PC with portable antivirus software
Check the value of AllowUserUIAccess.
Let us see the suggestions in detail.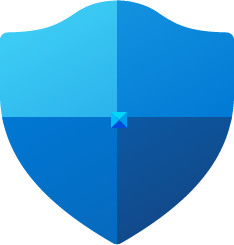 1] Check if you have another security software installed
One of the most common behaviors of Windows Defender is that if it detects a third-party antivirus software, then Windows Defender will shut itself off. Windows is designed to detect the presence of security software installed, and we often get to see the notification in the Action Center. One of the common issues we have seen in the past is when there are multiple security software installed. It often creates a conflict between them and in the end, it creates more trouble than doing any good. Frequent freezing, crashing to applications are some of the common issues which occur when you install more than one antivirus software.
So to avoid this situation, Windows Defender will turn itself off when it detects another security program. Likewise, if this security application has a Firewall, then Windows Firewall will also stop working. So in case you want Windows Defender to work, then you will have to uninstall your third-party security software and reboot the system.
Often users may be unaware if security software is indeed installed or not because when you buy a new laptop, mostly it comes with a trial version of security software like Norton, McAfee, etc. Then when you install applications like Flash or Java, it might prompt you to uninstall free security scanner when most of them don't notice. So it's best to search your PC if you're not sure if security software is installed or not. Once it' removed you may need to turn it manually back on.
Type "Windows Defender" in the search box and then press Enter. Click Settings and make sure there is a checkmark on Turn on real-time protection recommend.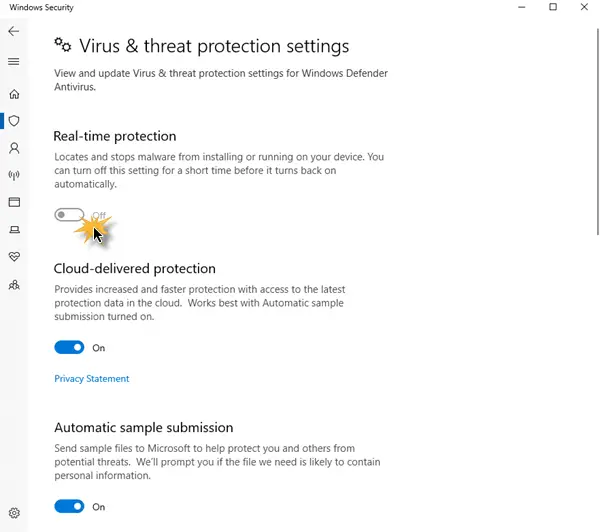 On Windows 10, open Windows Security > Virus protection and toggle the Real-Time Protection switch to On position.
2] Check
the date or time

on your PC

The other issue that could cause Windows Defender not to work properly is the incorrect date or time on your Windows machine. Make sure you have set your Windows clock & date set properly and then try to turn your Windows Defender back on and see if it works fine. It's strange, but most of the Windows operating system functions work, based on the system date and time. So an incorrect date or time could trigger abnormal behavior in your Windows OS.
3] Run Windows Update
Another important thing that could cause issues is, if you Windows is not up to date, in terms of Windows Update. This could cause issues in Windows Defender or any other Windows core application. When it comes to any security software, it always needs the latest signature updates and other Windows core updates to keep your PC secure. So I would highly recommend running a complete Windows Update, then go into Windows Defender and run an update from there as well. Then see if your Windows Defender is working fine.
Read: Cloud-delivered protection is off, Your device may be vulnerable
4] Check Internet Zone settings
The above-discussed scenarios are the most common ones. Apart from these, there could be some minor issues that could affect the working of Windows Defender. It could be an incorrect Zone setting in Internet Explorer, which you can fix by resetting Internet Explorer to factory settings. Again, if you are using a Proxy server, Windows Defender will not be able to update.
In such cases, you need to make some small changes to your Proxy server.
Press Windows + X and select Command Prompt (Admin)
Type in the following and hit Enter:
NETSH WINHTTP SET PROXY 1.1.1.1:8080 or NETSH WINHTTP SET PROXY MYPROXY.NET:8080
Now reboot the system and see if it works.
5] Check Group Policy setting
Open Group Policy Editor and navigate to the following setting:
Computer Configuration > Administrative Template > Windows Components > Windows Defender Antivirus.
SIn the right pane, double-click on Turn off Windows Defender Antivirus.
Next, select Not Configured, click the Apply and OK button.
6] Check Registry setting
Open Registry Editor and navigate to the following setting:
HKEY_LOCAL_MACHINE\SOFTWARE\Policies\Microsoft\Windows Defender
Locate DisableAntiSpyware key. If this key is not present, create a new and DWORD (32-bit) Value.
Set its Value data to 0 and exit.
7] Check the status of Service
Run services.msc to open Services Manager. Ensure that the Windows Defender service is started and set to Automatic.
8] Scan PC with portable antivirus software
Finally, it could be a malware itself that's causing Windows Defender not to work properly. You could download and use Windows Defender Offline Tool or any other standalone antivirus software and run a complete scan.
9] Check value of AllowUserUIAccess
If under Windows Security settings, the option for "Virus & threat protection" has disappeared, then Andrew suggests the following:
Run Registry Editor as Administrator and go to:
Computer\HKEY_LOCAL_MACHINE\SOFTWARE\Policies\Microsoft\Windows Defender\Policy Manager
Set value of AllowUserUIAccess to 1.
These are some common reasons why Windows Defender does not start.
PS: Windows Defender is turned off or not working offers some additional troubleshooting suggestions, which may also interest you.
You may also want to check out these posts which help troubleshoot Windows Defender problems: