If you encounter the REFS_FILE_SYSTEM Blue Screen of Death on your Windows 10 or Windows 11 PC, all indication is that a file system error has occurred. The stop error bug check has a value of 0x00000149. In this post, we provide the most suitable solutions to this issue.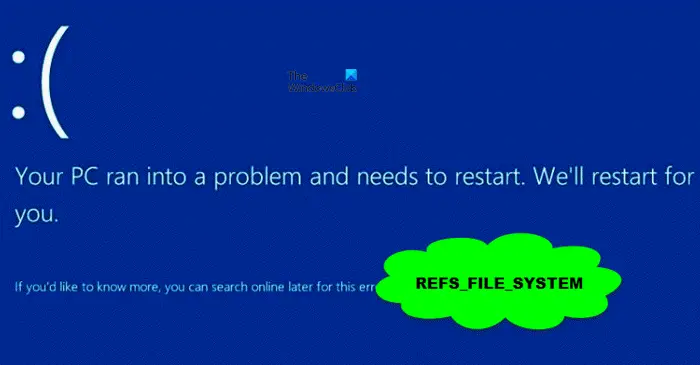 This is an uncommon BSOD and you're most likely to encounter this issue due to one or more of the following reasons:
Missing system/image files.
Corrupt device drivers.
Memory or

storage issues

.
Bad areas in RAM or HDD
Low storage space.
Third-party application.
Fix REFS_FILE_SYSTEM Blue Screen error
If you're faced with this REFS_FILE_SYSTEM Blue Screen error on your Windows PC, you can try our recommended solutions below in no particular order and see if that helps to resolve the issue.
Run the Blue Screen Online Troubleshooter
Run SFC and DISM scan
Update drivers
Troubleshoot in Clean Boot state
Run CHKDSK
Run Disk Cleanup
Run Memory Test
Perform System Restore
Before you try the solutions below, check for updates and install any available bits on your Windows 10/11 device and see if the error reappears.
Let's take a look at the description of the process involved concerning each of the listed solutions.
If you can log in normally, good; else you will have to boot into Safe Mode, enter Advanced Startup options screen, or use the Installation Media to boot to be able to carry out these instructions.
1] Run the Blue Screen Online Troubleshooter
You can begin troubleshooting the REFS_FILE_SYSTEM Blue Screen error on your Windows 10/11 computer by running the Blue Screen Online Troubleshooter from Microsoft. The wizard comes in handy and can fix less severe BSOD errors in no time.
2] Run SFC and DISM scan
As the error indicates system file errors, you can run SFC scan to resolve the issue. The DISM scan is intended to fix the system image in severe cases where the SFC scan is unable to fix the issue.
3] Update drivers
Most of the BSOD errors have the same root cause mainly with drivers installed on your PC – it is either the device drivers are defective, incompatible or is outdated. In this case, you can either update your drivers manually via the Device Manager, or you can get the driver updates on the Optional Updates section under Windows Update. You may also download the latest version of the drivers for your PC from the hardware components manufacturer's website.
4] Troubleshoot in Clean Boot state
Third-party software conflicts can lead to this error. In this case, you can troubleshoot in Clean Boot state and see if the issue at hand is resolved. Otherwise, try the next solution.
It is also suggested that you uninstall any third-party antivirus software you have installed on your Windows PC.
5] Run CHKDSK
This BSOD issue may also occur due to bad sectors on the hard drive. In this case, you can run CHKDSK and see if the operation resolves the issue. If not, try the next solution.
6] Run Disk Cleanup
Junk files unnecessarily occupy disk storage and in the process, the drive runs in low space which can trigger this error along with slow performance. In this case, you should try and run Disk Cleanup.
7] Run Memory Test
Bad RAM can potentially render your Windows 10/11 computer unstable and thus trigger Blue Screen Of Death errors. So if you added a new RAM stick, remove it and check if that is causing the error. If not, then you need to run a memory test. Depending on the test result, you may need to replace the affected RAM.
8] Perform System Restore
If nothing has worked for you so far, you can restore your system to an earlier point when the system was working correctly.
Hope this helps!
Read: How to disable or enable ReFS or Resilient File System on Windows.
What failed refs.sys?
PC users are most likely to encounter the refs.sys errors due to hardware problems, outdated firmware, corrupt drivers, or other software-related (eg. Microsoft Office update) issues. The refs.sys file is also known as a NT ReFS FS Driver file, which is classified as a type of Win64 EXE (Driver) file.
How do I fix Blue Screen NTFS?
The Blue Screen NTFS error is caused by problems with bad sectors on the HDD. Also, the error may be caused by corrupt or outdated devices drivers. PC users who encounter this error can easily fix the NTFS_FILE_SYSTEM Blue Screen on their Windows PC.
Related post: Fix RDR_FILE_SYSTEM Blue Screen.