The system file Ntfs.sys may get damaged or corrupted and consequently lead to a Blue Screen of Death error that prevents you from booting into Windows 11/10. The stope code could be NTFS_FILE_SYSTEM or SYSTEM_SERVICE_EXCEPTION. In this post, we provide the most suitable solutions to resolve the SYSTEM SERVICE EXCEPTION (Ntfs.sys) Blue Screen error on Windows 11/10.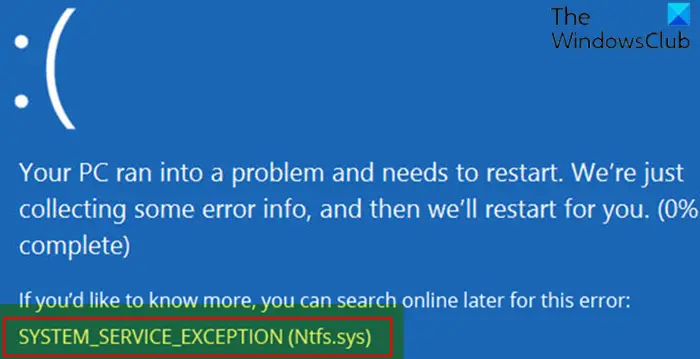 The most likely culprit to this error could be a corrupt NTFS driver. Ntfs.sys is a system file associated with the NTFS system. Bad sectors on the hard drive or incompatible device drivers, depletion of non-paged pool memory, etc, can also result in this BSOD error.
Ntfs.sys Failed BSOD Error
If you're faced with this SYSTEM SERVICE EXCEPTION (Ntfs.sys) Blue Screen, then one of these suggestions is likely to help you:
Update device drivers
Uninstall third-party security software
Run SFC scan
Run CHKDSK
Run Memory Test
Let's take a look at the description of the process involved concerning each of the listed solutions.
If you can log in normally, good; else you will have to enter the Advanced Startup options screen, or use the Installation Media to boot and more importantly, for this BSOD specifically, you need to boot into Safe Mode with Networking to be able to carry out these instructions.
1] Update device drivers
Faulty or outdated drivers may cause this Ntfs.sys Failed error as well. In this case, you can either update your drivers manually via the Device Manager, or you can get the driver updates on the Optional Updates section under Windows Update.
2] Uninstall third-party security software
BitDefender and/or Webroot are known to cause this particular issue. In this case, to fix this issue, you'll have to remove all third-party antivirus programs from your PC using the dedicated removal tool to remove all files associated with your antivirus program.
If removing the antivirus fixes this error, you can now install the same antivirus again, or you can switch to an alternative AV software or better still stick to Windows 10 native AV program – Windows Defender.
3] Run SFC scan
This BSOD error may also occur due to missing or corrupt system files. You may run SFC (System File Checker) utility to check for any system files' corruption and fix it.
4] Run CHKDSK
This BSOD issue possibly occurs due to system error or having bad sectors on the hard drive. In this case, you can run CHKDSK and see if that helps.
5] Run Memory Test
The non-paged pool, containing the virtual memory addresses, always remains in the physical memory as long as the corresponding kernel objects are allocated. It can never be paged out into pagefile when the system runs out of free physical memory.
If the non-paged pool memory is depleted, you may encounter this error. In this case, you may add new physical memory to the system to improve the non-paged pool memory available to the kernel. If you have already added a new RAM stick, remove it and check if that is causing the error. If not, then you need to run a Memory Daiagnostic test to check and fix the issue at hand.
Hope this helps!
Related post: Fix NTFS FILE SYSTEM Blue Screen error.