Avira AntiVir is one of the best free antivirus software for Windows 11/10 designed to protect your device from malicious programs. However, at some point, as experienced and reported by some PC users, you may notice the program is causing a high CPU utilization. In this post, we provide solutions to the most common causes of the avira.servicehost.exe high CPU usage on your PC.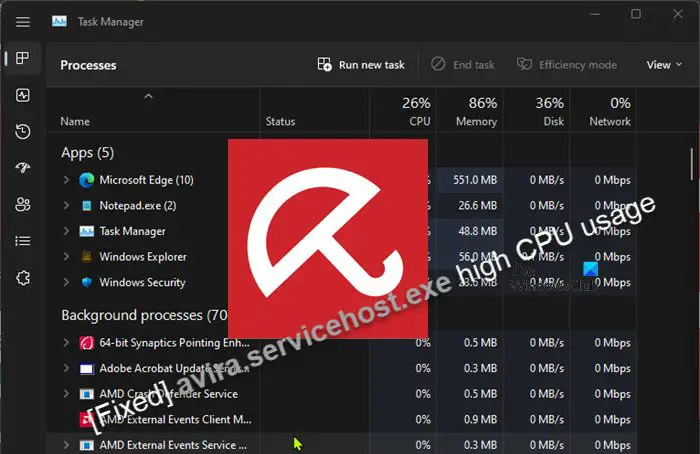 The Service Host (svchost.exe) is a shared-service process that serves as a shell for loading services from DLL files. Microsoft introduced a unique svchost.exe for each of the default pre-installed Windows Services on PCs with more than 3.5GB of RAM. Services are organized into related host groups, and each group runs inside a different instance of the Service Host process. In this way, a problem in one instance doesn't affect other instances. Service Host groups are determined by combining the services with matching security requirements.
Can I turn off Service Host Local System?
If Service Host Local System is consuming high CPU usage, you can disable it, but this will disable some automatic programs in the system. Corrupted system files may cause these issues. So, you can try to run SFC /scannow in the elevated command prompt to check and repair the corrupted system files and see if that helps before you try disabling it.
Fix avira.servicehost.exe high CPU usage
If in Task Manager you see avira.servicehost.exe high CPU usage on your Windows 11/10 device, then the suggestions we have outlined below can help you resolve the issue to ensure the overall performance of your system is not impacted for the best computing or PC gaming experience.
Initial checklist
Update Avira AntiVir
Exclude large folders from scanning in Avira
Uninstall any other AV solution (if applicable)
General troubleshooting for program process high CPU usage on PC
Switch to an alternative AV solution
Let's have a look at how these fixes can be applied!
1] Initial checklist
Sometimes, high CPU consumption can indicate malware or trojan attack, or even operating system malfunction. So, before you proceed any further, we suggest you scan your computer with antivirus software installed on your PC and if need be, you can use any of the free Standalone On-demand Antivirus Scanners. You can also run Windows repair utilities like the SFC scan and CHKDSK. If the problem started after a recent Windows update or some suspicious software installation, you could uninstall the update or use a system restore point to revert your computer to the previous state.
Troubleshooting in a Clean Boot state can help in cases like this which can be caused by software conflicts. Restarting the avira.servicehost.exe process in Task Manager might also help, and the basics of all, restarting your PC.
Read: Antimalware Service Executable (msmpeng.exe) High CPU, Memory, Disk Usage
2] Update Avira AntiVir
The avira.servicehost.exe high CPU usage you're experiencing on your Windows 11/10 computer could be due to a bug in the security software which updating the software should fix assuming the developer is aware of the bug and has released a patch. So, you can manually check for the software update and install any available bits to ensure you're running the latest version on your system.
On some rare occasions as reported by some affected PC users, the Avira Antivirus might not be able to update automatically or manually due to several reasons, but the primary and most prominent one is in some cases after a system restart, the RebootPending.txt file permanently remains in the Avira Antivirus's installation directory. This will cause your system to expect to restart once again after the startup and will end up blocking the automatic updates of the Avira Antivirus software.
In this case, to have the software update as usual, you will need to delete the RebootPending.txt file from the program's installation directory by following these steps:
Click on the Avira icon on the system tray to open up the Avira user interface.
Next, click on Security. on the left navigation pane.
Next, click on Protection options.
Under System protection, click on the Settings icon > General > Security.
Now, uncheck the Protect files and registry entries from manipulation option.
Click on the Apply > OK button.
Next, press the Windows key + E to open File Explorer.
Navigate to the directory path below:
C:\ProgramData\Avira\Antivirus\CONFIG
At the location delete the RebootPending.txt file.
Now, return to the Avira interface and checkmark the Protect files and registry entries from manipulation option once again.
Click on the Apply > OK button to confirm and save the changes.
Restart your PC.
You should now be able to update Avira on the next system startup. However, if this isn't the case or updating the software didn't solve the problem, then you can continue with the next fix.
Read: Your Antivirus protection has expired. What next?
3] Exclude large folders from scanning in Avira
Real-time virus scanners are known to be inherently heavy on the CPU, as they have to hash and compare every file you open to an antivirus database. However, based on user experience, Avira is one of the lighter scanners, so you could try excluding large folders that you always deemed safe from scanning in Avira. To perform this task, follow these steps:
Click the Avira umbrella icon on the right side of the taskbar in the system tray to open the app.
Click the cogwheel in the bottom left corner of the software UI to open the configuration menu.
Select PC Protection > Real-Time Protection > Exceptions.
Now, enter the processes or files and folders you want to be ignored from the scanning process, or browse for your exceptions.
Click Add to move your selection to the exception window.
Click Apply and then OK to confirm the changes to exit the configuration menu.
Read: Windows files and folders you may exclude from Antivirus scans
4] Uninstall any other AV solution (if applicable)
Two antiviruses running simultaneously might see each other as malicious and their real-time protection may cause conflicts during scanning. Using multiple antivirus programs will even further weaken your computer's performance in addition to hogging system resources which can lead to high CPU usage. So, if you have other third-party AV other than Avira installed and running on your system, you can uninstall the AV using its dedicated removal tool or you can use any of the free Uninstaller Software for Windows.
5] General troubleshooting for program process high CPU usage on PC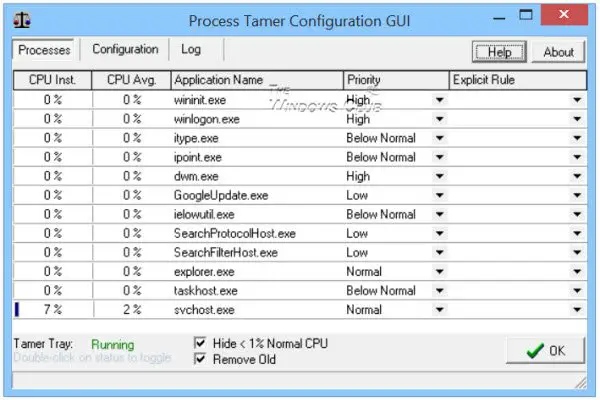 Although you might think you have sufficient memory on your system, a lot of Windows processes, including the avira.servicehost.exe, can from time to time consume a bunch of computer resources. Sometimes, this behavior is normal as programs like video editors or IDEs are known system resource hogs. However, if the formerly lightweight program starts to consume CPU time and/or memory out of the ordinary, it can indicate some deeper issues. So, you can see if any of the suggestions in the post on how to fix 100% Disk, High CPU, Memory, or Power usage in Windows 11/10 helps you.
6] Switch to an alternative AV solution
Most antivirus programs require or demand a lot of resources. However, experiences vary according to users. So, if at this point the issue persists, you may have to consider switching to an alternative AV solution for your Windows 11/10 PC. The best antivirus is the person that uses the PC – if you're not accessing odd websites, or downloading torrents with cracks, hacks, and other similar programs, you'd be just fine with the occasional scans that you can manually initiate.
I hope this post helps you!
Read next: Fix MRT.exe High Disk & CPU usage on Windows
How do I fix avira.servicehost.exe has encountered a problem or stopped working?
Below are some of the error messages (with the applicable fix) that you can encounter on your Windows 11/10 PC that are related to avira.servicehost.exe: