In today's post, we will cover the known issues that can cause your Windows File Explorer to show high memory or CPU usage. By following these instructions, you are sure to be able to resolve your problem in Windows 11 or Windows 10.
Explorer.exe High Memory & CPU usage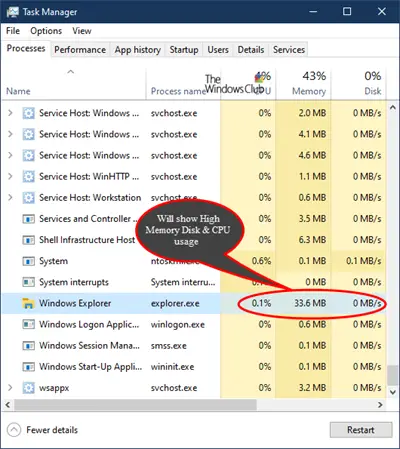 The explorer.exe high memory, disk or CPU usage issue can significantly affect the performance of your Windows 11/10 PC. The possible troubleshooting procedures that you can try in no particular order to fix this issue are as follows:
Run System File Checker
Run ChkDsk
Run a malware scan.
Check installed Add-ons
Disable Cloud clients.
Run Disk Cleanup
Troubleshoot in Clean Boot State.
Now, let's delve into the details for the recommended solutions.
1] Run System File Checker
Run sfc /scannow and at the end, reboot if the system file checker asks for it. The System File Checker will on reboot, replace corrupt system files if any are found.
2] Run CHKDSK
The high CPU, Memory, Disk usage problem can also occur due to disk errors or corruption. In this case, you can try to fix the issue by initiating a ChkDsk scan.
3] Run a malware scan
If you're having this issue on your PC, run a full system anti-virus scan. Sometimes explorer.exe high CPU usage issue can occur if your Windows 10 PC is infected by malware, which can cause certain processes to be running in the background without your knowledge, and that can cause high CPU usage on your PC.
Read: Windows Explorer High Power Usage
4] Check installed Add-ons
Installed Add-ons are usually the culprit! Check if you have installed any helpers or add-ons to your explorer. Uninstall or disable them. Often, even 3rd-party shell extensions can cause Explorer to crash on particular actions. Several programs add items to the right-click context menu. To see them in detail, you may download the freeware utility ShellExView.
It will let you view & disable suspect 3rd party shell extensions. Using the trial & error method, you may disable/enable the extensions to try and identify if any of them are causing a problem. ShellExView can also be used for solving context-menu problems in Explorer, like, say, if the right-click is slow.
5] Disable Cloud Clients
Cloud storage services such as Dropbox or OneDrive can also be the culprit for this explorer.exe high CPU usage issue. These cloud services can sync files automatically in the background and that can lead to the explorer.exe high CPU usage problem.
In this case, you can try to disable OneDrive and uninstall Dropbox temporarily and see if that solves the problem.
6] Run Disk Cleanup
Explorer.exe high CPU usage issue can likely be caused by old and temporary files created by Windows – and sometimes these files can interfere and clog your system.
In this case, you can run the Disk Cleanup Tool.
7] Troubleshoot in Clean Boot State
The explorer.exe high CPU usage issue can also likely occur due to third-party applications running on your Windows PC. Many applications and services tend to start automatically with Windows, and that can cause this and many other problems.
In this case, you can fix this issue by carrying out a Clean Boot operation. In Clean Boot State all startup applications and services will be disabled allowing you to troubleshoot the problem manually.
I hope these solutions help!
How do I stop Windows Explorer from using so much RAM?
If Explorer is using high memory, the first thing you can do is restart the explorer.exe process using the Task Manager. If that does not help, use ShellExView to check installed addons and run an SFC scan.
Other posts about processes using high resources: