In our past, we have shared with you many solutions regarding errors faced while downloading, installing, and updating Windows Store Apps. You can checkout solutions for errors 0×80070005, 0×80240437, 0x8024001e, 0x8024600e, 0x80073cf9, Something happened, and your purchase couldn't be completed, Something happened & Windows Store is no longer working. Recently, we came around with an error code 0x80244018 while installing apps from theWindows Store.
Something Happened And This App Couldn't Be Installed, Error 0x80244018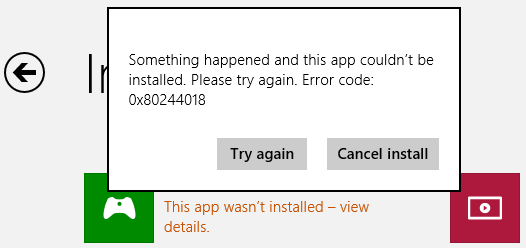 Error 0x80244018, WU_E_PT_HTTP_STATUS_FORBIDDEN occurs when the server fails to fulfill your request.
In order to fix Microsoft Store error code 0x80244018 you may try the following:
Run SFC scan
Reboot in Clean Boot State and then try to install the app
Reboot & change internet connection.
If this does not help, you may need to check if it is happening due to incorrect or corrupted Internet settings.
Fix Microsoft Store error 0x80244018
Here is how to resolve this issue:
1. Press Windows Key + R combination, type put inetcpl.cpl in the Run dialog box and hit Enter to open Internet Properties.
2. In the Internet Properties window so opened, switch to Connections tab and click LAN Settings under the heading Local Area Network (LAN) Settings: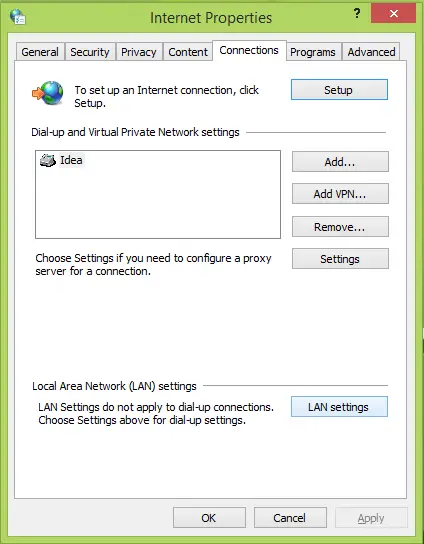 3. In the Local Area Network (LAN) Settings window shown below, put a checkmark against the option Automatically detect settings. Click OK and then click Apply followed by OK in Internet Properties window.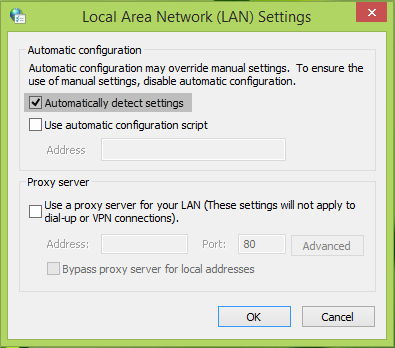 Reboot the machine once, your problem should be fixed after the restart and you can install Windows Apps without any hitch.
Hope this helps!
Similar: Fix 0x80244018 Windows Update Error.