Windows 8 introduced to us the concept of Universal Apps. Users can access the Windows Store and install their favorite apps. But there may exist some scenarios when you will just be unable to install or update Windows Apps. Different error codes may give different issues and thus requires a different procedure to get fixed.
We have already a post where some general troubleshooting steps have been outlined which could help you if you are Unable to Install Apps from Windows 8 Store. We have also seen how to fix Error 0x80073cf9. Sure you can always try a reset the app's cache to resolve such downloading and installing issues; but today we will see specifically, how to fix Error code 0x8024600e which you may receive when trying to install or update Windows Store Apps.
Something happened and this app couldn't be installed, Error Code 0x8024600e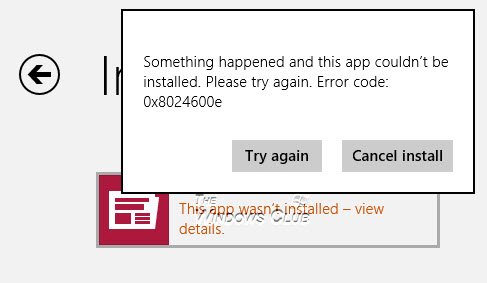 This is the error message you may receive! Error 0x8024600e however states the same error description as 0x80073cf9, but requires different treatment. In this article, I'll tell you the way to fix it. To fix this error I tried some of the casual fixes like deleting my Microsoft account, creating a new one, renamed the Software Distribution directory, created AUInstall and AUInstallAgent directories, tried System File Checker, refreshed Windows 8 installation – which by the way uninstalled all my programs – but nothing worked.
I also noticed that Internet Explorer on my Windows 8 was also unable to download any files. From this, I concluded that the error was related to the Temporary Internet Files directory. So I fired up the Registry Editor, and as expected, I found the registry key missing which handles the Temporary Internet Files directory.
I restored the missing key and eventually, this worked like a charm, as it also fixed the error code 0x8024600e issue. This is what I did!
Fix Microsoft Store Error Code 0x8024600e
1. Press Windows Key + R combination, type put Regedt32.exe in Run dialog box, and hit Enter to open the Registry Editor.
2. Navigate to this registry key:
HKEY_CURRENT_USER\Software\Microsoft\Windows\CurrentVersion\Explorer\User Shell Folders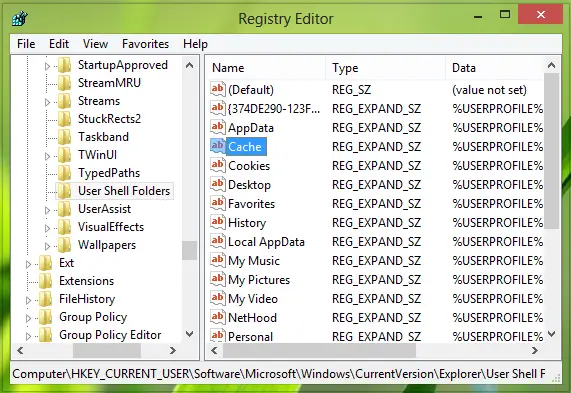 3. In the right pane of this location, look for the string named Cache. Double click on it in order to modify it, you'll got this: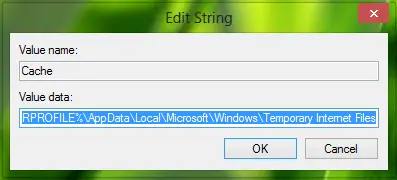 4. In the above box, put the Value data as:
%USERPROFILE%\AppData\Local\Microsoft\Windows\Temporary Internet Files
This is actually the default Value data. If you're facing error 0x8024600e, either you'll find the Cache key missing or it might have different data than default one.
After inputting the default Value data, click OK. Reboot and your problem should be fixed hopefully.
Good luck!
More Apps troubleshooting posts you may want to check out: