Normally one doesn't need to go out of the way to update device drivers in Windows 11 or Windows 10 as Windows Update offers all the important driver updates as well. But if you are looking for a way to update your drivers using free software, then you could take a look at WinZip Driver Updater Free.
WinZip Driver Updater Free for Windows PC
WinZip Driver Updater comes to you from the makers of the WinZip compression software. Once you have downloaded and installed it, click on its program icon to open it.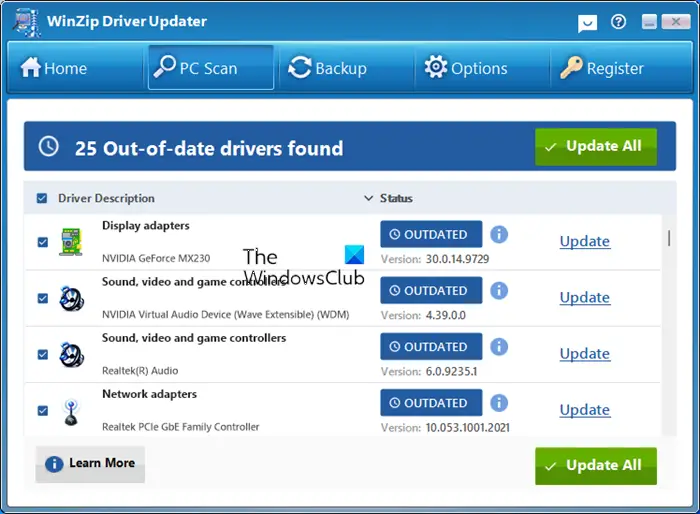 On the first run, the program will list all the drivers installed on your PC that are outdated and have newer versions released.
Now you do not have to go and update all the drivers.
If you are facing issues, say with your sound, we suggest you update your Audio driver only.
Click on the Update link and you will be shown the details of the driver update that is available.
Note down its version number and compare it with the driver version that is installed on your PC.
Once you are comfortable, go ahead and click on the Update button.
The tool not only downloads the device driver but also creates a system restore point as well as backs up the existing driver before proceeding to install the new version. I think this is what I liked, as, many times, driver updates are known to create issues. But here, there was a fallback option being created.
Once the download and installation are completed you may be asked to restart your computer.
If all goes well, good! But if the changes are not to your expectations, you may roll back the driver.
To do that, click on the Backup tab and click on the Start restore button. I tried this, and things went smoothly for me.
If you wish, you can also back up one or all of your system drivers using this free driver software.
You can download WinZip Driver Updater from its homepage here. You can use the free version without registering it. The only limitation of the free version is that you have to click on the Update button manually for each driver and that is not a bad thing in my opinion.
I don't use a driver updater software but decided to take this one out for a spin. It gave me relevant drivers and on installing some, and restarting my PC I did not face any issues. Also, this software did not offer to install any other software.
Related reads: How to update Bluetooth | Network | Graphics drivers
Is WinZip Driver Updater virus?
The legit WinZip Driver Updater software is not a virus and comes to you from the makers of WinZip. If you are in doubt, I suggest you check the Properties of its executable or run a virus scan with your antivirus software. At most, some may classify it as a PUP/PUA as this program is known to push itself piggybacking on some other software.
Read: How to Uninstall, Disable, Roll back, Update Device Drivers using Device Manager.
What does a WinZip Driver Updater do?
WinZip Driver Updater free version offers to update your outdated device drivers. I have tested it and it is a legit program. But if you have no use for it, you can uninstall it easily.
Read: How to update Drivers using Command Prompt.
How do you get rid of WinZip Driver Updater?
You can uninstall WinZip Driver Updater from the Control Panel or Windows Settings. Open Control panel > Programs and features > Uninstall a program and double-click on WinZip Driver Updater to uninstall it. It has got a notorious reputation as it is known in some cases to piggyback on the installation of the software.
Windows Driver & Optional Updates do a good job at updating drivers, and while one does not really need to use a driver updater software – but if at all you do wish to use a free driver updater software, I recommend you use this one and see.
Read next: Troubleshoot & fix Device Driver Problems on Windows.