The most popular way to put up some suspicious code running on a device is by tricking in the user to install a suspicious program on the targetted device. Lack of awareness among the user base regarding these kinds of threats leaves a device vulnerable to a certain kind of threat always. But it looks like Microsoft has been working hard in the background in order to address this issue. They have just announced the availability of a sandboxed version of Windows 10 running inside Windows 10 just to isolate the suspected software to run inside it saving the main system from the potential threats.
Windows Sandbox makes your computer secure
Windows Sandbox is a virtual, disposable environment that can be enabled. This means that, if you suspect any software that is suspicious, you can run it compounded in an isolated environment and make sure that it would not interfere with any normal processes and would not compromise any useful files.
As mentioned,
"Windows Sandbox is a new lightweight desktop environment tailored for safely running applications in isolation."
Once this Sandbox is closed, all the software, residual files, and other data are permanently deleted.
Windows Sandbox has the following properties:
Part of Windows – everything required for this feature ships with Windows 10 Pro and Enterprise. No need to download a VHD!
Pristine – every time Windows Sandbox runs, it's as clean as a brand-new installation of Windows
Disposable – nothing persists on the device; everything is discarded after you close the application
Secure – uses hardware-based virtualization for kernel isolation, which relies on Microsoft's hypervisor to run a separate kernel which isolates Windows Sandbox from the host
Efficient – uses integrated kernel scheduler, smart memory management, and virtual GPU
One would need to meet the following minimum requirements in order to run Windows Sandbox:
Windows 10 Pro or Enterprise build 18305 or later
AMD64 architecture
Virtualization capabilities enabled in BIOS
At least 4GB of RAM (8GB recommended)
At least 1 GB of free disk space (SSD recommended)
At least 2 CPU cores (4 cores with hyperthreading recommended).
Read: Windows Sandbox failed to start.
How to enable Windows Sandbox on Windows 10
To enable and run Windows Sandbox on Windows 10, the following need to be done:
Ensure that you are running Windows 10 Pro or Windows 10 Enterprise Editions
Enable Virtualization
Open Windows Features on and off panel
Enable Windows Sandbox here
Run the executable file in the Sandbox environment.
Let us look at this in more detail.
First, you need to make sure that you are running either of Windows 10 Pro or Windows 10 Enterprise Editions.
Then you need to enable Virtualization to let another instance of Windows 10 running in Sandbox mode.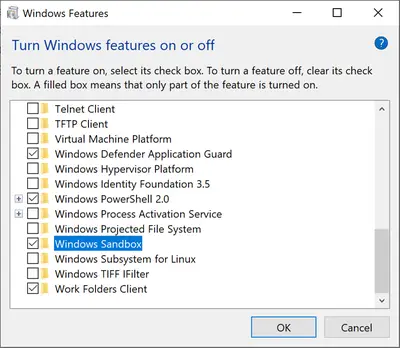 After that, search for Windows Features on and off on the Search Box and select the appropriate entry.
From the list, you get in the mini window, check Windows Sandbox and finally click on OK.
Now, search for Windows Sandbox in the Cortana Search box and select the appropriate entry to run it in an elevation.
From your main computer (host) copy the executable file and paste it inside the Windows Sandbox environment.
Finally, run the executable file in the Sandbox environment and use it as you would normally.
When you are done, just close the Windows Sandbox application and every data regarding that and the temporary environment will be deleted.
Just for the sake of safety, make sure that no modifications were made to the host because of the executions in the Sandboxed environment.
Read:
Contact Microsoft for feedback related to Windows Sandbox
You can use the traditional Feedback Hub if you have any issues or suggestions.

Fill in the appropriate details and for the feature category, select Windows Sandbox under Security and Privacy.
If you have any issues related to the execution of and within Windows Sandbox, select Recreate my problem.
Select Start capture to reproduce the issue and when done, select Stop capture,
This is how you can send feedback to the appropriate team.
Read next: How to configure and use Windows Sandbox. You can also use Sandbox Configuration Manager.