You can enable and use Windows Sandbox in VMware guest operating system running Windows 11/10. However, you cannot use a nested virtual machine on Windows unless you have and enable certain functionality related to your processor. That is the reason, why the Windows Sandbox option is grayed out in the Windows Features panel at times.
If the Windows Sandbox feature displays some error like – you do not have SLAT (Second Level Address Translation), or you do not have required virtualization capabilities, then this tip will resolve this issue within moments.
Enable Windows Sandbox in VMware Workstation
If you can use VMware in your Windows machine, that means the virtualization is already enabled in your BIOS settings. Therefore, there is no need to check that. Instead, you need to enable another option in VMware Workstation that is responsible for creating a nested virtual machine or Windows Sandbox. As VMware doesn't allow you to use another virtualization program in a guest operating system by default, this functionality is mandatory.
Make sure the VMware app is running, and the virtual machine is powered off. Then select the virtual machine on your left-hand side and click the option that says Edit virtual machine settings.
Next, go to the Processors section and select the Virtualize Intel VT-x/EPT or AMD-V/RVI option.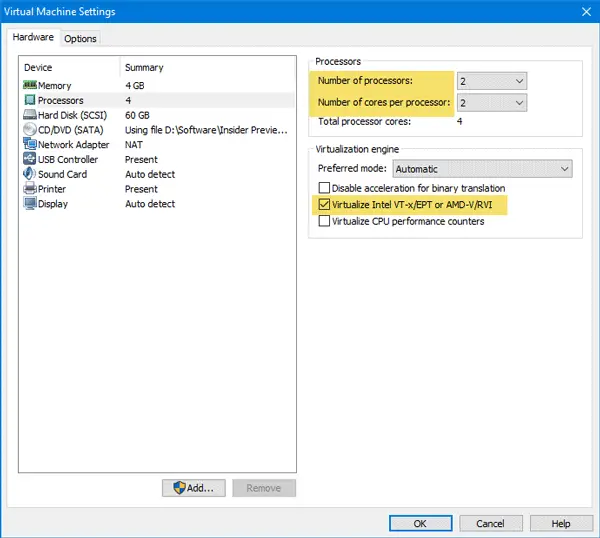 Also, make sure the Preferred mode is set as Automatic. Apart from that, you need to have at least 2 CPU cores (4 cores recommended), and Windows 10 Pro or Enterprise build 18305 or later.
After saving your changes, sign into your Windows virtual machine, and try to enable the Windows Sandbox feature from Windows Features section. It should get enabled without any problem.
How to check if your CPU supports SLAT
If you have followed the steps above, but are still facing issues and asked for the SLAT requirements, follow these steps.
You need to download a tool called Coreinfo, which is available on the official Microsoft website here. After downloading, extract the contents and place it on the Desktop. Now open Command Prompt with administrator privilege and enter these commands one after one-
cd C:\Users\your_username\Desktop\Coreinfo
coreinfo.exe -v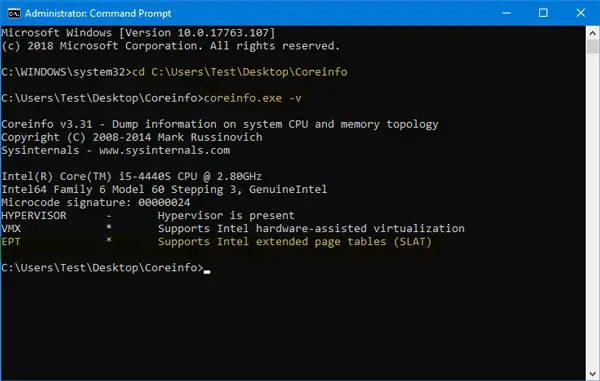 If the EPT line is mentioned something in the negative about SLAT support, you cannot use Windows Sandbox in a virtual machine's guest OS.
Windows Sandbox is a very important feature as you can try new software in a Sandbox for security reasons.