VMware Workstation Player lets you run your earlier operating systems on Windows 11/10 virtually. With VMware, you can run the older OS on the new hardware without any problems at all. Virtualization is very beneficial for us. It lets us test and debugs different applications on different platforms. It lets us try different platforms on a single platform without much fuss. When we are virtual, we are safe in terms of viruses, trojan attacks, etc.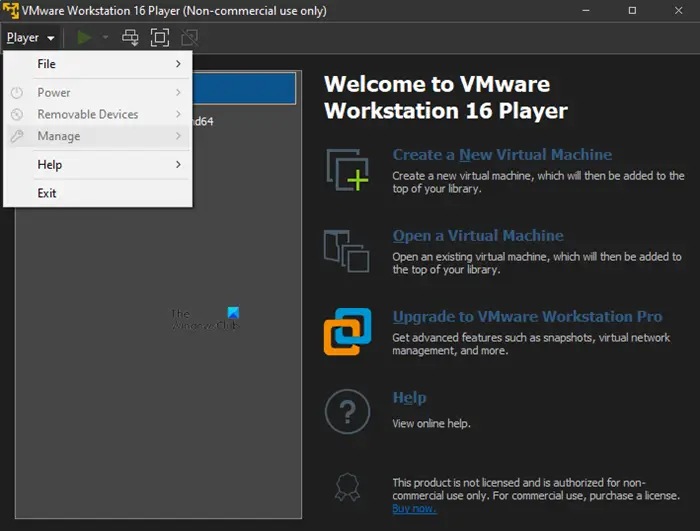 VMware Workstation Player for Windows 11/10
VMware Workstation Player (formerly known as Player Pro) is a desktop virtualization application that is available for free for personal use.
What basically VMware does is that it creates a different Virtual PC with the allotted Hard Disk and RAM of your PC. That virtual PC is small in file size, and it is portable, but you'll need an external hard disk to carry it along. There are four key terms of VMware: Create-Run-Evaluate-Share. It simply means that you can create and share your virtual world with VMware in just seconds.
Running Windows 7 on VMware was a great experience. If you install a genuine Windows 7 in VMware, you can have all the features such as Drag and Drop, Printing, Network Access, etc. With the new features, the process of virtualization on Windows has become a lot easier. You can even run Chrome OS on Windows OS. Well, the software may not have the Metro-styled design, but still, it is elegantly designed with an awesome interface.
Read: How to install Windows 11 on VMware Workstation Player.
If you are new to virtualization, even then you can easily use this tool without any problem. When you set up your virtual PC, the wizard will completely guide you through the entire process.
This tool doesn't bind you to the limits of virtual PCs you can create, but everything depends on your Machine and Hardware, so let's check the minimum and recommended system requirements for a single VMware virtual drive.
| | |
| --- | --- |
| Minimum | Recommended |
| 1 GHz Processor Speed | 2 GHz Processor Speed |
| 1 GB RAM | 2 GB RAM |
| 4 GB Free Hard disk Space | 8 GB Free Hard disk Space |
Click here to download it and enter the world of virtualization on your new operating system. VMware Workstation Player is free for personal, non-commercial use
Do share your experience of virtualization using this freeware, in the comments section below.
TIP: Understanding how Hyper-V will work on Windows may also interest you.