Windows 11/10 supports client Hyper-V; a flexible, robust, and high-performance client virtualization technology that enables IT pros and developers to run multiple operating system instances simultaneously on their Windows computer.
Hyper-V requires a 64-bit Windows 11/10/8 system that has at least 4GB RAM and SLAT or Second Level Address Translation. SLAT is a feature of the CPU. It is also called RVI or Rapid Virtualization Indexing. Intel refers to it as EPT or Extended Page Tables and AMD as Nested Page Tables.
Check if your computer supports Hyper-V
SLAT is present in the current generation of 64-bit processors by Intel & AMD; but you may want to re-check if your system supports SLAT. Hyper-V will not install if you don't meet the requirements.
To do so, download CoreInfo from SysInternals and place it in your System32 folder. Coreinfo is a command-line utility that shows you the mapping between logical processors and the physical processor, NUMA node, and socket on which they reside, as well as the cache's assigned to each logical processor.
Next, open the Win+X menu by moving your mouse to the bottom left corner and right-clicking. Select Command Prompt (Admin). Type coreinfo -v and hit Enter. The -v command will dump only virtualization-related features including support for second-level address translation.
If you need more information you can visit this link on TechNet.
Read:
Enable Hyper-V on Windows 11/10
Power users will find Hyper-V very useful as it provides services and management tools for creating virtual machines and their tools.
To enable Virtualization support, open Control Panel > Programs > Programs and Features > Uninstall a program > Turn Windows features on or off.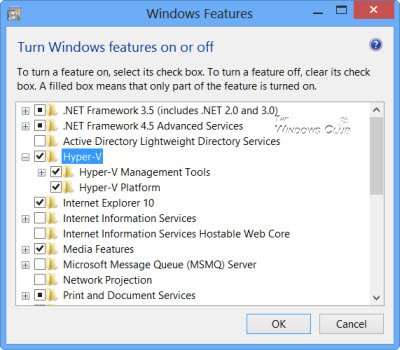 Check the option Hyper-V.  Hyper-V Management Tools include GUI and command-line tools. The Hyper-V Platform will provide services that you can use to create and manage virtual machines and their resources. Click OK.
Windows will search for the required files, apply the changes and finally request you to restart the computer.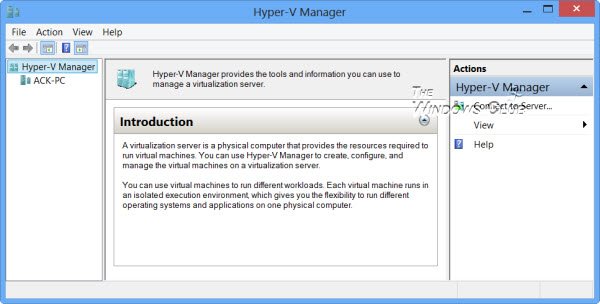 When you restart your computer you will be able to see that Hyper-V has been enabled on your Windows 11/10.
Windows Home user? This post will show you how to install and enable Hyper-V on Windows 11/10 Home.
Now read: