Some users have been reporting that the Windows Sandbox environment is not connecting to the Internet. Due to this issue, using applications that require an Internet connection becomes a painful experience and fully defeats the use-case scenario of the Windows Sandbox feature. There can be a number of causes for this issue, but the most prominent one is where the computer is connected to a VPN network.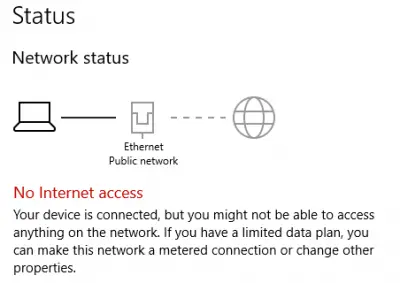 Windows Sandbox does not have Internet connection
Windows Sandbox is a new feature which is meant to carry out operations in a sandboxed or isolated environment. If you face an issue where Windows Sandbox is working on your PC, but the Internet inside the Sandbox is not working, then perhaps one of our suggestions will help you tun on the Internet inside Sandbox.
Disable VPN Connections.
Bridge the required connections.
Run Network Troubleshooter.
Re-enable Windows Sandbox feature.
1] Disable VPN Connections
Open Windows Settings app. Navigate to the following path: Network & Internet > VPN.
Select the VPN network that your computer is connected to and select Disconnect.
After that, open the Windows Sandbox environment and you should be able to access the Internet in the isolated environment.
If you are using any third-party VPN software, exit that application.
2] Bridge the required connection
You can try to bridge the connections between the WiFi Adapter/Ethernet adapter and the vEthernet Hyper – V Virtual Adapter and see if that helps.
3] Run Network Troubleshooter
You can try to run various troubleshooters related to the Network. This could also fix your issue.
4] Reenable Windows Sandbox feature
Look for Turn Windows features on and off in the Windows Search box and select the appropriate option.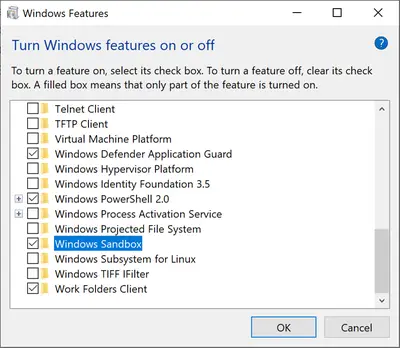 From the populated list, uncheck the option for Windows Sandbox. Select OK.
Let the processing be done and reboot your computer.
You can now again enable Windows Sandbox.
All the Best!