Unable to disable Windows Defender? If Windows Defender does not turn off even when you have installed 3rd party Antivirus or an Internet Security Suite, this post may help you.
If you have another antivirus software installed, Windows 11/10 will turn off Windows Defender. But what if Windows Defender continues to run along with your security software? We have already covered how to manually disable Windows Defender. Now let us see what you can do if you find that Windows Defender will not turn off.
I noticed this issue on my computer. I did restart my Windows PC to see if this was an aberration. But no, the Defender icon was back, sitting right next to my antivirus software.

Windows Defender will not turn off
1] Check Control Panel
The first thing you want to do is open Control Panel > Security. Here, you may see some messages. My Windows was telling me that my Firewall was not active. But it was, I had checked it up. My security suite was fully functional.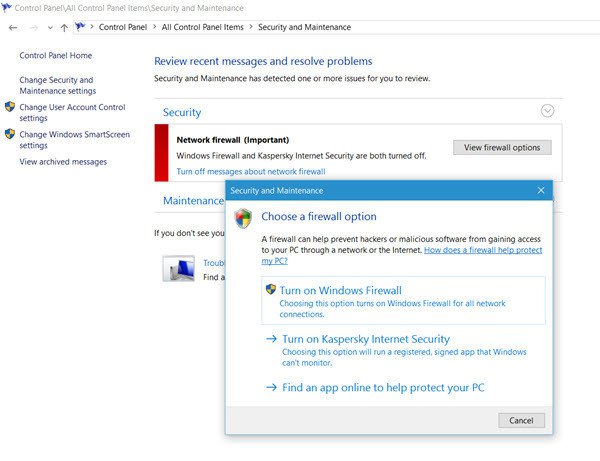 I clicked on View firewall options and opted to Turn on Kaspersky Internet Suite. It did not help.
2]  Disable/Enable Real-time protection
Next, I opened Settings > Update & Security > Windows Defender. I saw that the Real-time protection was turned On. I moved the slider to the Off position, but it did not help. The Windows Defender icon would not go away.
On the restart, I was back to square one.
3] Check in Clean Boot State
Enter Clean Boot State and see if the problem persists. If it does not, then it means that some software is causing this to happen. Try to isolate it and then uninstall the offender.
4] Run SFC and DISM
Maybe your Windows Defender files have been corrupted. Run System File Checker and DISM and see if it helps.
5] Check Group Policy settings
If there is some Group Policy in force, then too, this can happen. This is something you will have to check for yourself.
Just for your information, the Group Policy related registry keys are located at:
HKEY_LOCAL_MACHINE\Software\Policies\Microsoft

HKEY_CURRENT_USER\Software\Policies\Microsoft

HKEY_CURRENT_USER\Software\Microsoft\Windows\CurrentVersion\Group Policy Objects

HKEY_CURRENT_USER\Software\Microsoft\Windows\CurrentVersion\Policies
6] Check this Defender setting
It was then that I remembered that I had tweaked Windows Defender to offer protection against PUPs too. I reversed the tweak and restarted my Windows computer. Bang! The Windows Defender icon had disappeared.
Now Read: How to remove Windows Defender icon.
See these posts if: