Windows 11/10 now display the Windows Defender icon in the Notification Area of your taskbar. In this post, we will see how to hide, disable or remove the Windows Defender icon from the System Tray when you have enabled Windows Defender – as well in a situation, where the Windows Defender Notification Icon still shows, even when you have a 3rd-party antivirus software installed.
How to remove Windows Defender Icon from Notification Area

Earlier, in Window 10, Windows Defender ran silently in the background, without displaying the system tray icon, and you would see the icon and be informed only if there was something that needed your attention. But now it displays all the time.
If you open the Taskbar, under the Process tab, you will see a Windows Defender notification icon process – MSASCuiL.exe. You can right-click on it to end the process, but when you restart your computer, it may appear back.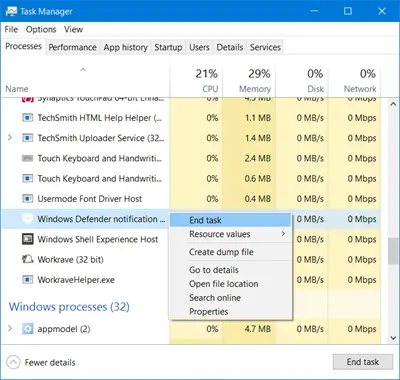 What you need to do is, open the Startup tab and disable the Windows Defender notification icon entry. To do this, select the entry and press the Disable button.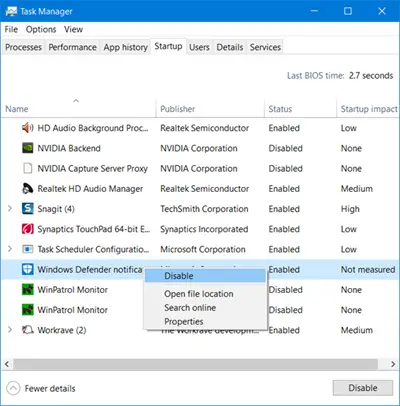 The Windows Defender icon will be removed.
Read: Windows Defender will not turn off even when 3rd party AntiVirus is installed.
Windows Defender notification icon displays even with 3rd party Antivirus installed
Now here is the case which happened to me. I have a 3rd-party security suite installed, and yet the Windows Defender icon used to be always displayed in the Notification Area.
Windows Defender was turned off and so was the Periodic Scanning feature – yet the icon would not go away.
I could see the Windows Defender notification icon process in the Task Manager as a running process, but it was not being displayed under Startup tab of the Task Manager.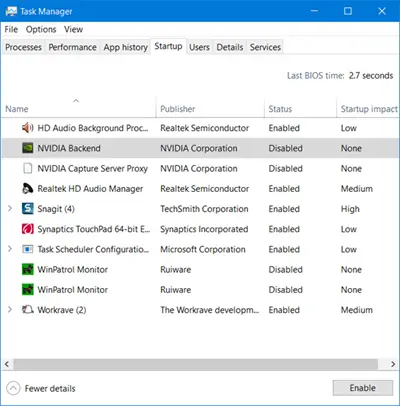 So how could I disable the icon? What could I do?
Well if you face this issue, from the WinX Menu, open Settings > Personalization and select Taskbar in the left pane. Scroll down and click on Select which icons appear on the taskbar link, to open the following window.
Here you will see Windows Defender notification icon. Toggle the switch to the Off position and you will see the Windows Defender icon disappear from the System Tray.

This is what helped me, and hope it helps you too.
If this does not help you, open Registry Editor and navigate to the following key:
HKEY_CURRENT_USER\SOFTWARE\Microsoft\Windows\CurrentVersion\Run
Create a new string value, name it Windows Defender and set its value as follows:
"%ProgramFiles%\Windows Defender\MSASCuiL.exe"-runkey
Restart your computer.
The icon should have been disabled.
Related: How to hide or show Windows Security icon on Taskbar via Settings, REGEDIT or GPEDIT.