Microsoft has integrated Windows Defender, the anti-malware software, in Windows 11/10/8/7/Vista, and while it is easy to turn off or disable Windows Defender, it is not possible to uninstall Windows Defender.
If you install any other 3rd-party antivirus software, it will automatically disable itself. If the 3rd-party antivirus stops functioning for some reason, it will automatically activate itself. This is good. Nevertheless, if you feel the need to disable it completely, you may do so via its Settings, Registry, GPEDIT as well as disable its Services.
Disable Windows Defender in Windows 11/10
You can disable or turn off Windows Defender via:
Windows Defender UI
Windows Defender Security Center UI
Group Policy
Windows Services Manager
Registry Editor
PowerShell
Command line
Using free tool.
Let us see how to do it.
1] Using Windows Defender Security Center
Windows 11/10 users have to do this. Open Settings > Update & Security > Windows Security.

Here make sure Real-time protection and Cloud-based Protection is turned off.
In Windows 11/10 you will have to open Windows Defender Security Center > Virus & Threat Protection > Virus & Threat Protection settings and toggle the switch against Real-time protection.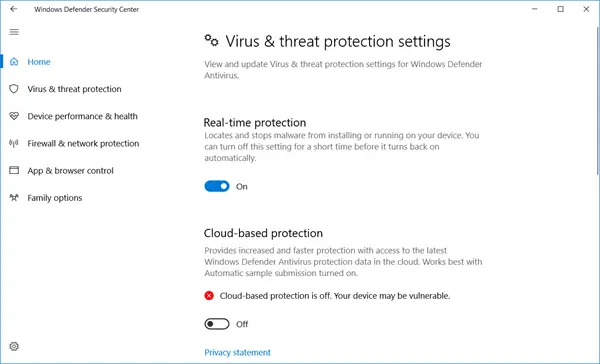 2] Using Windows Defender Settings UI
To disable Windows Defender in Windows 8, Windows 7 and Windows Vista, open Windows Defender > Tools > Options.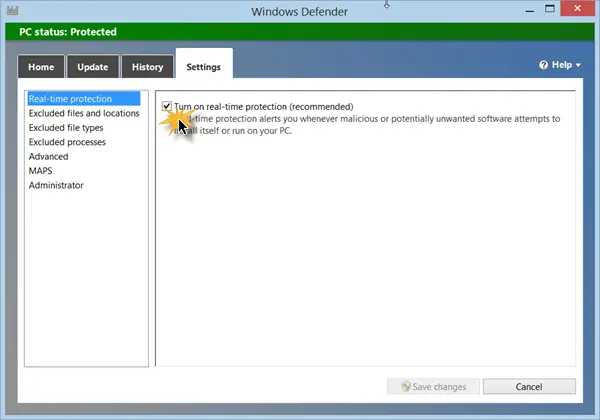 Now uncheck Use Real Time Protection checkbox and also Use Windows Defender under Administrative Options check box. Click on Save.
There is one more thing all Windows users can do.
3] Disable Windows Defender Service using Service Manager
Type services.msc in taskbar search bar and hit Enter to open Services Manager.
Change the startup type of the Windows Defender Service from Automatic to Disabled.
Also, disable the WdNisSvc or Windows Defender Network Inspection Service.
4] Using Registry Editor
UPDATE: It appears that Microsoft has disabled this DisableAntiSpyware Registry key and so this may not work now.
Run regedit and navigate to the following key:
HKEY_LOCAL_MACHINE\SOFTWARE\Policies\Microsoft\Windows Defender
Set the value of DWORD called DisableAntiSpyware to 1 to disable Windows Defender.
5] Using Group Policy Editor
If your Windows has Group Policy Editor, Run gpedit.msc and navigate to and Enable the following setting:
Local Computer Policy > Computer Configuration > Administrative Templates > Windows Components > Windows Defender > Turn off Windows Defender.
If you enable this policy setting, Windows Defender does not run, and computers are not scanned for malware or other potentially unwanted software. If you disable or do not configure this policy setting, by default Windows Defender runs and computers are scanned for malware and other potentially unwanted software.
Reboot your computer.
6] Using PowerShell command
Use the following Powershell command to disable Windows Defender:
Set-MpPreference -DisableRealtimeMonitoring $true
To re-enable it:
Set-MpPreference -DisableRealtimeMonitoring $false
7] Using Command line
To disable it in an elevated CMD use:
sc config WinDefend start= disabled
sc stop WinDefend
To re-enable it use:
sc config WinDefend start= auto
sc start WinDefend
8] Using a free tool

Defender Control is a freeware that lets you disable Windows Defender permanently on Windows 10.
Uninstall Windows Defender
Though I have not tried this personally, there is one way being recommended on the internet. It is said to have worked, for some. This was known to work in Windows XP – but not in Windows 7 and later. Create a system restore point and the Run the following from an elevated command prompt:
msiexec /uninstall windowsdefender.msi /quiet /log uninstall.log
I must add that I do not advise trying to uninstall Windows Defender, as uninstalling/deleting Windows Defender in Windows is known to cause other irritants later on since it is well-integrated with the OS.
Ported from WVC
In Windows 10/8, Windows Defender is far improved and now includes complete anti-malware protection.
See this post if you want to know how to start Windows Defender manually and this one if Windows Defender will not turn off even when 3rd party AntiVirus is installed.