Computers get slower over the time, no matter which brand you are using. Knowingly or unknowingly, we usually cram our PCs with dozens of programs, tools, files and folders; which gradually slows down the machine. The slowdown actually comes into our notice when it become worse. One actually need to optimize Windows for better speed and performance.
Why is my computer so slow
While there are several different reasons behind your slow computer, we thankfully have many tools which help us speeding our PC and improving its performance. WhySoSlow is one of such programs from resplendence. This is a free software which analyzes your system thoroughly and gives you the exact details about the reasons slowing down your machine.

WhySoSlow analyzes the complete system including the speed, temperature, and load on CPU, Kernel and App responsiveness, memory load, and hard page defaults.
The program is pretty simple and needs no technical knowledge to understand. The main overview of the program shows tabs like:
Status – Where you can check the status of your PC. Click on the 'Analyze' button in the bottom ribbon and the program will start analyzing your PC disks, drivers, processes as well as fragmented files. This is a quick process and takes around a minute to create the detailed report. You can save the report if you want.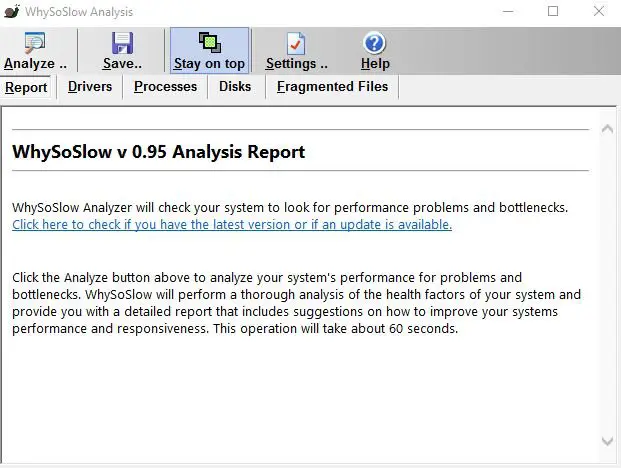 Hotkeys – Hotkeys for emergency task manager and status panel. You can also add many more hotkeys according to your own preferences. The software also includes a feature of the AntiFreeze application where you can launch an emergency task manager in case your system becomes unresponsive and you can't launch the standard task manager.

Alarms – This feature displays a warning alert in your task-bar when the temperature of your CPU crosses the threshold. You can also add other alarms like excessive memory load, below minimum disk space, high kernel responsiveness and much more.  
Tools – Under this tab you can check various tools that come with this program. You can analyze your PC, configure Power, disk fragmentation and drive optimization, reset default configuration and more. These tools are directly linked to your control panel and opens the relevant window when you select an option. 
WhySoSlow Settings
Here you can select if you want to run this program which startup, display a tray icon, to keep or remove the application from task bar. You can also select if you want to suspend the CPU time consuming process or can set a certain time limits to suspend any running processes.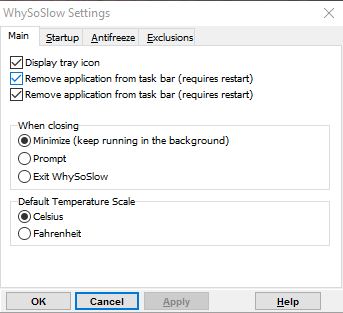 Exclusions: You can also exclude certain process from suspension while activating emergency task manager.
WhySoSlow is a useful freeware that will tell you why your Windows computer is running so slow. It checks your hardware, startups, etc and makes a report.
WhySoSlow free download
You can download the beta version from here. Do try it and leave your feedback.
Looking for tips to Speed Up your PC? See these posts: