Glarysoft Disk SpeedUp is a completely free tool to analyze, defragment and optimize disk space in quick time and enhance your computer performance. The freeware is easy to use, without any toolbar or adware and boasts an intuitive interface.
The user-friendly interface offers basic functions:
Analyze the disk
Defrag the disk
Defrag and optimize the selected disk/file/folder
Automatic defrag (when PC is idle)
Automatic shutdown (when defrag completed and schedule preset)
Disk SpeedUp offers better visuals as the Defrag map is more intuitive. It also offers more data and graphs. Apart from this, the tool features advanced settings to meet advanced requests.
Disk SpeedUp – Defragment and Optimize Hard Disk
When the download of the application is complete, installing it will take a minute. Initially, you will see the main application window split into 2 tabs dedicated to
Defragmenting tasks
Configuring settings
If you observe the image closely, you will find all drives along with their capacity limit, free space and fragmented space and status are shown in the list. You can select any of the features and perform an analysis to evaluate the defragmentation status.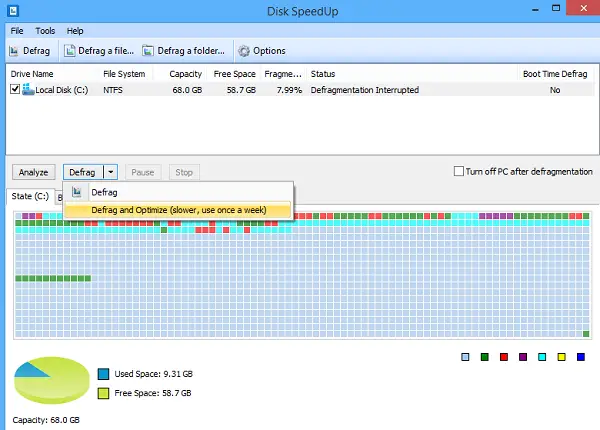 The results of the operation performed are shown in the Report tab, which includes the file name, the number of fragments, the size, and the path of the files.
Boot Time Defrag is a feature that permits a user to defrag the main hard drive before Windows even starts, which under normal conditions cannot be defragmented since they're in use while Windows is running.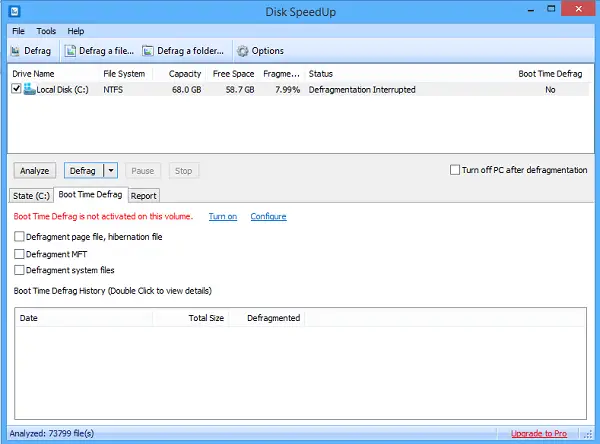 The handy utility also allows you to schedule the program to run on a daily, weekly or monthly basis.
For optimizing purposes, first, select the hard drives you want to optimize and then choose Defrag and Optimize from the File menu. Thereafter, go to Tools > Options > Optimize.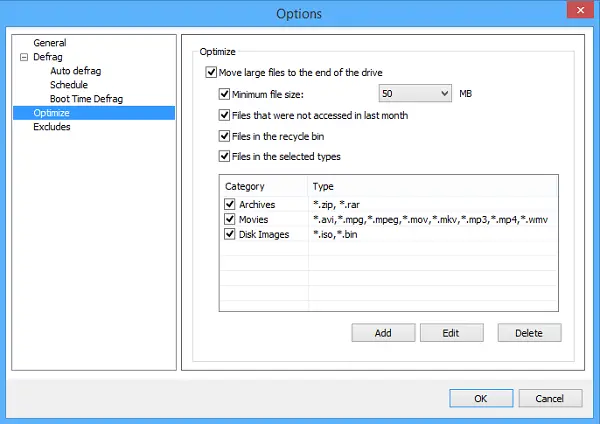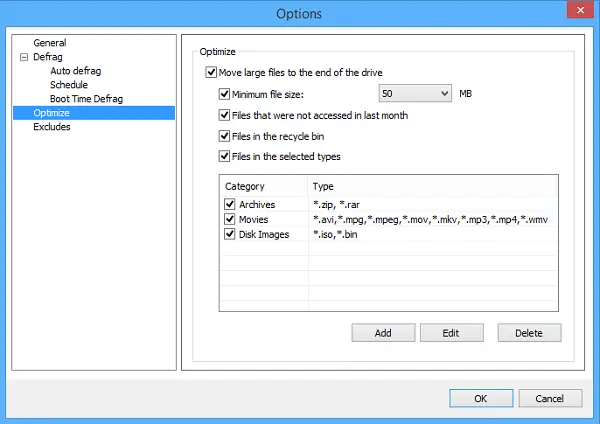 The menu option holds the optimization settings that you can change. Under Move large files to the end of the drive you will notice the following four options:
Minimum file size: This option can be altered to one of ten file sizes from 10-100 MB.
Files that were not accessed in last month: Any file that has not been accessed in a month is automatically moved to the slower portion of the hard drive.
Files in the Recycle Bin: All files under the Recycle Bin will be moved.
Files in the selected types: Below this option, you will find other useful options like Archives, Movies, and Disk Images.
Disk SpeedUp is a useful defragmentation software for Windows. It doesn't hang up or crash. It has a small download size and is pretty easy to install quickly and start defragmentation of files/folders as well as whole hard drives. The only shortfall is it doesn't work from the right-click context menu in Windows Explorer. It is available as a free download from its home page.