Some users are facing a weird display issue, where the Text is pixelated or is not displaying properly. According to some, the issue occurred after an update. In this post, we are going to talk about this in detail and see what you need to do if the font is pixelated or blurry on your Windows computer.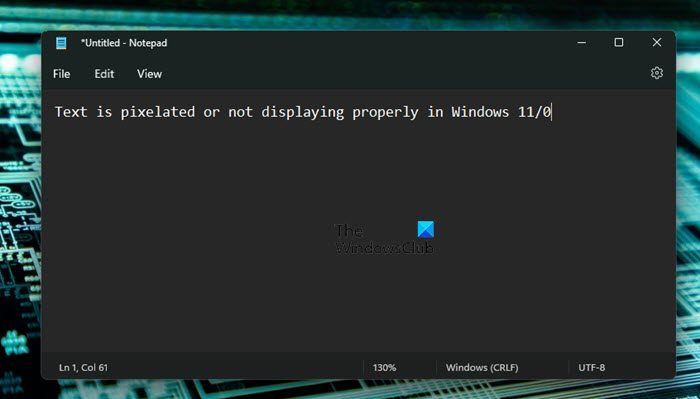 Fix Text is pixelated or not displaying properly in Windows 11/0
If Text is pixelated or not displaying properly on your computer, follow the solutions mentioned below.
Use Default resolution and scaling
Update Graphics Drivers
Reinstall Graphics Drivers
Configure Performance Options
Replace the HDMI cable
Let us talk about them in detail.
1] Use Default resolution and scaling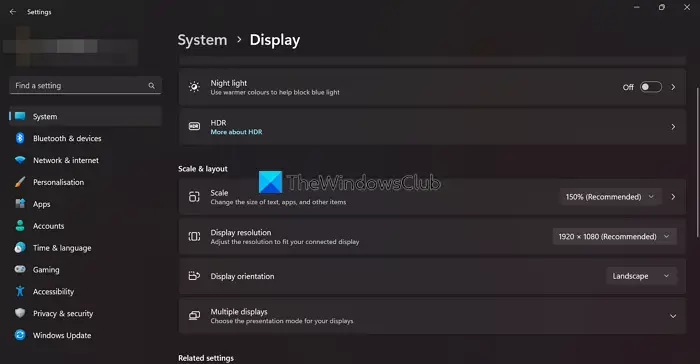 If the texts that you see are pixelated, first of all, check if you are using a lower resolution. When you use a lower resolution, Windows crops quite a lot making the images pixelated. If you want to resolve the issue, go ahead and switch to the default resolution. To change the settings, you need to follow the steps mentioned below.
Open Settings by Win + I.
Go to System > Display.
Check if the Display Resolution is set to the default resolution. If not, you need to change the resolution.
Now, check the Scale option and ensure that the default value is set.
After changing the resolution and scaling, check if the issue is resolved.
2] Update Graphics Drivers
Sometimes, incompatible caused due to outdated graphics drivers can make texts and sometimes, even images, look pixelated. More often than not, users who have updated their Operating System recently subscribe to this issue, however, even if you haven't updated your OS recently, there is no harm in keeping your GPU drivers up-to-date. You can use any of the following methods to update your Graphics Drivers.
You can install Driver and Optional Update or use tools like AMD Driver Autodetect, Intel Driver Update Utility or Dell Update utility to update your device drivers. NV Updater will keep NVIDIA Graphic Card Driver updated.
3] Reinstall Graphics Drivers
In case, the issue persists even after updating the Graphics Drivers, there is a high chance that the driver installed on your computer is corrupted. Now, we don't care how it happened or who did it, what we care about is that you can resolve the issue by reinstalling the same driver. First of all, follow the prescribed steps to remove the corrupted driver.
Open Device Manager.
Expand Display Adapter.
Right-click on your driver and select Uninstall device.
Click Uninstall again.
Your screen will go blank for a little.
Microsoft automatically installs a generic driver after you have uninstalled your current driver. In that case, you need to go to the manufacturer's website and install the latest version of the driver. Once you are done reinstalling the Graphics Drivers, check if the issue is resolved.
4] Configure Performance Options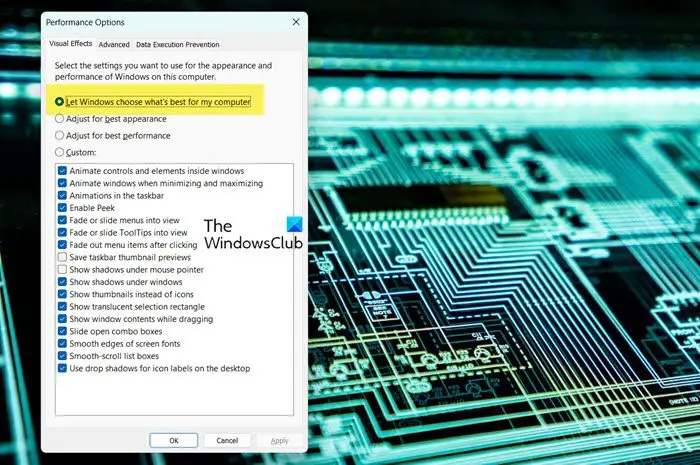 There is a bug that makes texts pixelated if the user has selected Adjust for best appearance in the Performance Options. Until there is an update available, we recommend you switch back to the default option. To do the same, hit Win + S, type "Adjust Appearance and performance of Windows", select "'Let Windows choose what's best for my computer" and click Apply > Ok. Finally, reboot your computer and check if the issue is resolved.
5] Replace the HDMI cable
This might not be applicable for laptop users, but if you are on a desktop or have connected your device to an external monitor, replace your HDMI cable because if the cable has malfunctioned, you will encounter the said issue. So, buy a new cable, or use a spare one, whatever you do, just connect a different cable and see if the issue is resolved.
Hopefully, you are able to resolve the issue using the solutions mentioned in this post.
Read: How to fix Stretched Screen display problem on Windows
How do I fix Font issues in Windows 11?
Blurry Pixels can be resolved by configuring the properties of the app or changing the overall DPI settings. We recommend you check our post to see what to do when Fonts are blurry on a Windows computer. Hopefully, you will be able to resolve the issue pretty easily.
How do I fix pixelated text on my computer?
Pixelated text issues can be resolved by following the solutions mentioned in this post. You should start with the first solution and then move your way down to resolve the issue easily. You will be able to resolve the issue pretty easily.
Read: Fix Blurry apps & fonts automatically using Windows Display Settings.