Fonts appear blurred? Text appears blurred, blurry, fuzzy? Fix Blurry Fonts problem or Blurred text issue in Windows 11/10. Disable DPI virtualization or Lower the overall Windows DPI setting and see if it helps!
Many users these days own devices with a high DPI display. DPI stands for Dots per Inch and is used to describe the resolution of the displays. Some users, while running various desktop applications on their Windows 10/8/7 computers have reported the problem of seeing blurred, blurry, fuzzy fonts or text while running desktop applications like Google Chrome, Firefox, Internet Explorer, Microsoft Office, Windows Photo Viewer, Windows Media Player, Windows Store apps and even the Windows Firewall. Some have also reported seeing truncated text.
Fix Blurry fonts in Windows 11/10
If you are facing a blurry fonts problem on your Windows 10 or Windows 8.1 device, there are three things you may want to try.
Disable DPL virtualization
Lower the overall Windows DPI setting
Use Windows 10 DPI Fix Tool.
Let's see how to do this.
UPDATE: Windows 11/10 can now also fix Blurry apps automatically.
1] Disable DPI virtualization
If you are facing a problem for a particular application like say, Chrome browser, then open its Program Folder, right-click on its chrome.exe file and select Properties.
Select the Compatibility tab. Here check Disable display scaling on high DPI settings.
Click Apply/OK and check if your issue has been resolved.
If it does not help, or if you are facing this problem for most of your programs, you may want to consider, lowering the Windows DPI setting, system-wide.
2] Lower the overall Windows DPI setting
To do this, from the WinX Menu, open Control Panel > Display applet.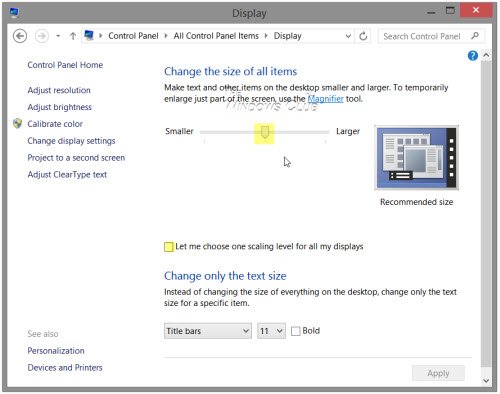 Under Change the size of all items section, you will see a slider. To be able to operate this slider, first check the Let me choose one scaling level for all my displays option. Once you have done this, move the slider to 100% or to a position that suits you.
If you do this, you must realize that on very high-DPI display, this may make fonts, text and screen elements very small, and at times difficult to read.
High-DPI displays allow the display to produce crisper text and graphics, but since some application developers do not take advantage of this feature, these issues arise.
Fix: Blurry File Open dialog box in Chrome and Edge.
3] Use a Free Windows DPI Fix Tool
See if this free tool Windows DPI Fix helps you fix the problem of blurry fonts, text, and images.
Additional readings to help the issue of blurry fonts: