When it comes to printing a picture from a Windows 10 PC, the color settings matter a lot. Those who are into editing photos, change their PCs color settings to make sure the printout looks like the actual colors.
Here is another fact – those settings might not be appropriate for PC display, and it is pretty easy to notice that there is something off about the display. Some of you might even notice the weird tint which is not easy to get rid of. It is possible that you may only notice this when you look at some other PC and then wonder what's wrong. In this guide, we will show you how you can restore the display color settings to default in Windows 11/10.
Restore default Display Color settings
1] Set Colour Management Settings to Default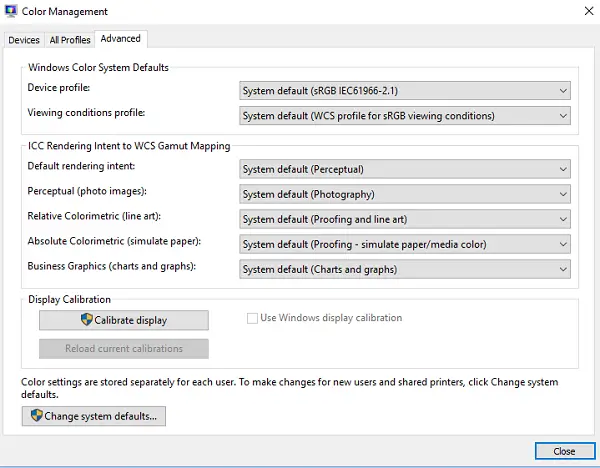 Type color management in the Start search box, and open it when it gets listed.
In the color management screen, switch to the Advanced tab.
Make sure to set everything to default. You need to set options to default for both Windows Color System and ICC rendering intent to WCS gamut mapping.
You can also choose to reset it for everyone by clicking on the change system defaults.
Lastly, try calibrating your display as well.
2] Set Graphics Properties to Default
It's a very simple solution and seems to have worked for many. Right-click on your desktop and select Graphics properties where most section will have restore defaults.
3] Use NVIDIA Color Settings for Desktop
If you have an NVIDIA graphics card installed on your PC, you can use the control panel to reset the color settings. Launch the NVIDIA control panel from the system tray, and then switch to Display > adjust desktop color settings. Select the display, and then choose the NVIDIA Settings, and then change things accordingly to get the right combination. You can always leave it to default.
Here is a Pro tip!
Windows lets you create multiple users. So if somebody else wants to use your PC, you can create an account for the person or give him guest access. That way nobody will be able to change the settings of your account.
Related: Change Screen Resolution, Color Calibration, Calibrate ClearType Text.