If you are not satisfied with the way your monitor shows color then there are some free Color or Monitor calibration tools that you should download on your Windows PC. With the help of these color calibration tools, you can change your computer's color temperature, white balance, and other things to enhance your viewing experience.
 Monitor Calibration Tools for Windows 11/10
These are some of the best free color calibration tools for Windows 11/10.
QuickGamma
Natural Color Pro
DisplayCAL
W4ZT
Lagom LCD Monitor.
The list is in no particular order as all of them have different features appealing to different audiences.
Let us look at them in detail.
How to calibrate your monitor
Learn how to calibrate your monitor using these free Color or Monitor calibration tools for your Windows 11/10 PC.
1] QuickGamma
QuickGamma is a free and simple to use tool. It allows you to have an exact measure of what you need from your display.
When you download and install the software on your computer, you will be greeted with a scale that depicts GAMMA and BLACK LEVEL. Before changing the gamma you should know that the standard gamma level of a normal display is 2.2.
This software can be downloaded from their official website.
Read: Computer Monitor has a Yellow tint on the screen.
2] Natural Color Pro
A Samsung's product, Natural Color Pro, is a universal software that works well on all types of screens. Be it CRT, CDT, LCD, or LED it works perfectly fine on all of them.
When you install this software on your computer, it will ask you to restart, in order to read your display. This way the calibration will be accurate.
With NC Pro you can change your screen's brightness, Gamma, and contrast of your screen. There is a lot more to the software than that. So, to know more you should download the software from here.
Read: Monitors showing different colors in dual monitor setup.
3] DisplayCAL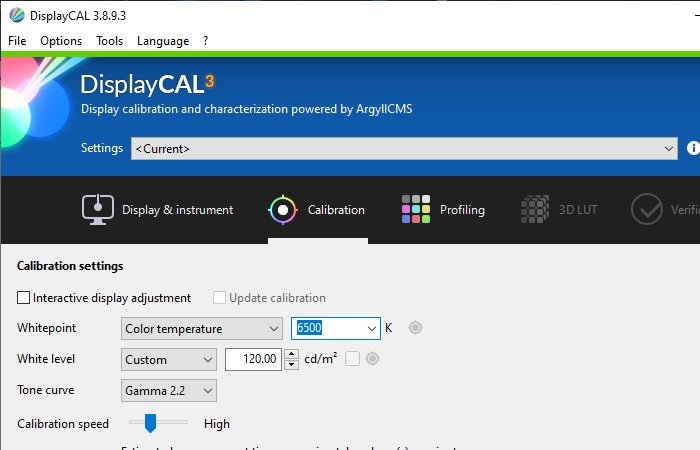 If you want a simple solution to do some simple amendments to your monitor to improve its color calibration.
It doesn't let you customize every single thing about your display, but you can change color temperature, chromaticity coordinates, White level, and some other things such as Tone Curve.
This is one of the very few software that works perfectly on OLED and Plasma monitors. They have optimized their software in a way that it takes into account all the variable pixels of OLED screen and changes things accordingly, unlike other apps that work perfectly with LCD screens but not with OLEDs.
This application can be downloaded from DisplayCAL's official website.
Read: How to Calibrate the display for HDR video.
4] W4ZT
W4ZT is a simple but effective application that can help you in calibrating your screen. It doesn't have all the features that most of the software on this list has, but they are more than enough.
With W4ZT you can change the brightness, contrast, and gamma of your screen. They also have a sample of colors and gamma, so, from there you can equate your screen to be as close to reality as possible.
This application can be downloaded from their official website.
Read: How to restore default Display Color settings.
5] Lagom LCD Monitor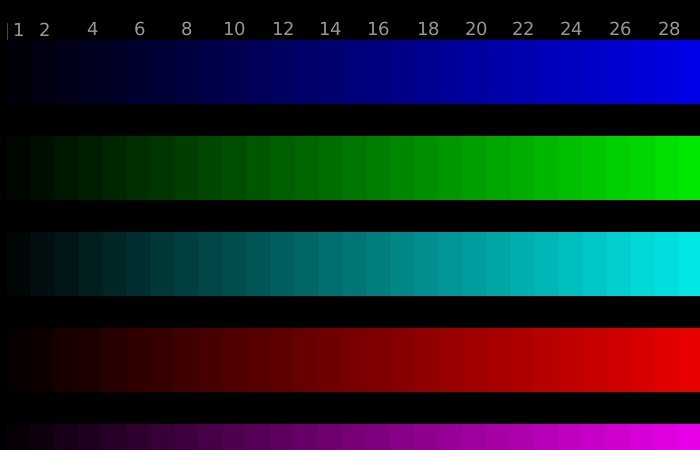 If you don't want to download any third-party software then Lagom LCD Monitor is what you need. Lagom LCD Monitor has both an Online and Offline tool, so you don't have to install this application on your computer.
You can change Contrast, Display Setting, Sharpness, Gamma Calibration, and many other display-related settings.
The only caveat is that, if you have an LED monitor then this tool is not for you as it doesn't do a good job in analyzing variable pixels.
You can access Lagom LCD Monitor from their official website.
Conclusion
A bad screen can destroy the fun of using a computer. Even though you can not change your screen completely, there are certain tools by which you can alter the display calibration to improve your viewing experience.