If you have a multiple monitor setup and your monitors are showing different color variations on Windows computers then this article will show you how to fix that issue. Although there is no such quick fix of this problem, you can try out these suggestions to get the same color scheme on a multiple monitor setup.
If you have a dual monitor setup and they are showing different color depths, you may get some problems while editing images or videos. Also, you can get issues while watching videos on multiple monitors. To fix that problem, you need to follow these tricks.
Monitors showing different colors in dual monitor setup
1] Make sure that the manufacturers are the same
If you use monitors from different manufacturers, it is likely that both will show different color variations and the color depth may be different on different monitors.
2] Use same display settings
Almost all manufacturers include some basic settings or options to change brightness, contrast, sharpness, etc. You also get options to use different modes such as Standing mode, Gaming mode, etc. You need to make sure that you have the same settings on all the monitors. If you have enabled Game Mode on the 1st screen and Standing Mode on the 2nd monitor, you will get a different color on different screens.
3] Use the same type of ports to connect all monitors
This is one of the most common issues for this problem. If you use different ports (DVI, VGA, HDMI) to connect different monitors, you may get high or low color depth. According to some, you should not use the VGA port. Instead, you should use either DVI or HDMI port to connect all monitors.
4] Display Color Calibration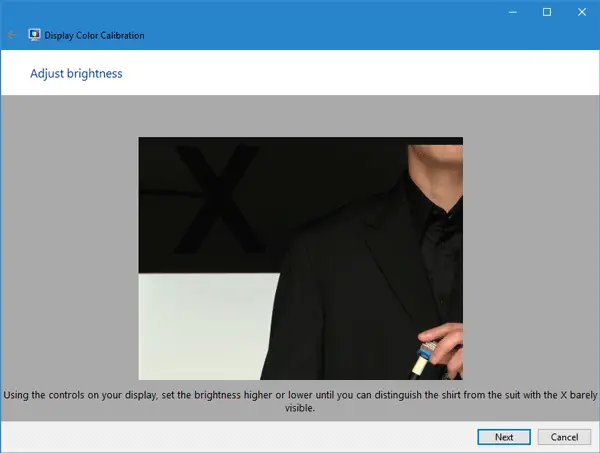 Display Color Calibration is a simple yet very useful tool provided by Microsoft with Windows operating system. You can search for DCCW in the search box and follow the wizard to set up your monitors. You need to do the same with every single screen. It will let you check the proper brightness, contrast, etc. based on the monitor.
Read: Desktop turns pink or purple.
5] Use the same color profile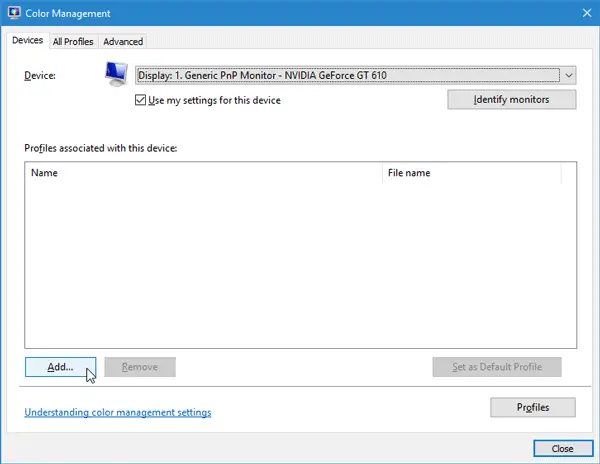 By default, all monitors use "System default" color profile. However, if you think that the Color profile is the culprit, you can change the color profile and check whether it fixes the problem or not.
To change the color profile, search for Color Management in the search box. Once it opens, select a monitor, check the box that says Use my settings for this device, click on Add button and choose a color profile. Do the same with other monitors.
Hope these tips help you get the same color on different monitors.
Read: How to Enable HDR for Apps using ICC Profiles.