HDR stands for High Dynamic Range. You may have heard this term floating around somewhere, maybe in one of the commercials for a high-end television or the newest smartphones. Without going into detailed specifications of what the term entails and taking a pinch from what its name indicates, it serves the purpose of enhancing images on a monitor.
In an Insider build, Microsoft has enabled the support of HDR for certain specific apps, apps that are a part of ICC (International Color Consortium). This HDR functionality will not be found to be automatically enabled on these select apps, users have to manually do so. Thus, today we will be showing you how to enable the HDR functionality on ICC-enabled apps in Windows 11/10 – which will be available in the stable versions soon.
What is HDR? Why you may need it?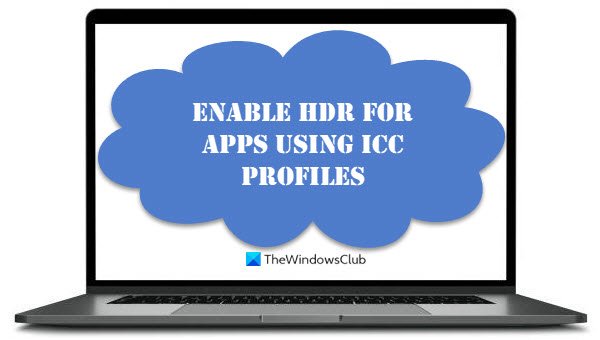 As much gravitas as the term has in its name, HDR serves a very niche feature. It is important for you to know what that purpose is and figure out for yourself if you genuinely need it. Windows has enabled the HDR mode for some of the most commonly used creative apps like Adobe Photoshop, Adobe Lightroom Classic, and CorelDraw.
The contrast in a media file gives an account of the dark and light-colored profiles. The dynamic range does the job of describing the difference between those two extremes and the details that can be displayed in between them. HDR works towards broadening the contrast in an image, and it does so by supporting and enhancing more vibrant colors. This new feature is going to let these apps get accurate colors and access to the complete color profiles of your display. Users should note that they will only be able to use the HDR mode on their computer provided they have HDR-compatible monitors.
Conventionally, there have been preset ranges and boundaries set to the details of a color profile. HDR seeks to expand that by giving information about brightness and color over a wider range. Displays that are compatible with HDR can show images composing colors wider than the standard gamut (or spectrum) of colors, which for the ICC enabled apps had till date been the sRGB color.
To brief it all down, HDR-enabled technologies can help you visualize brighter(or even darker), more colorful, and more detailed content, that is when it is put to use properly. Use it properly, and you can display both, objects that are too dark and are too light together, in fine quality.
So, if you are an individual who requires images that possess a great deal of precision and detail in terms of their color profiles (be it for your professional or personal purposes), or just someone who appreciates photos in a dynamic range, this feature may prove to be very useful for you. As mentioned earlier, Windows users do not have this feature pre-enabled even on the few apps that support it right now. We will now walk you through the steps you have to follow to enable HDR on ICC-enabled apps.
Read: Monitors showing different colors in dual monitor setup.
Enable HDR for Apps using ICC Profiles in Windows 11/10
The option to enable the HDR functionality is called Legacy Display ICC color management, and it is pretty easy to turn on:
Close the app in which you want to enable HDR (if you have it running in your background)
Right-click on the app's icon.
From the list of options, select Properties.
You will then see a couple of tabs on top. Select the Compatibility tab.
Under the 'Settings' section, check the Use legacy display ICC color management option.
Apply these settings and exit the window.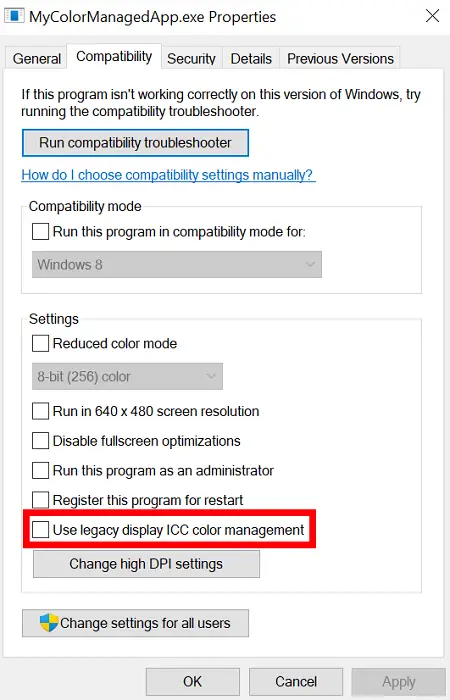 You can follow a similar trajectory and unfollow the HDR setting if they don't find it to be useful. Open up the app properties as has been done above and uncheck the Use legacy display box that was checked before.
It is possible for some of the users to not be able to see the option to enable HDR. If that is the case, it may be because this feature does not support the Windows build that your computer is running on. The HDR functionality was introduced in computers running on Build 21382 and later versions. It is, however, expected that this feature will be made generally available for all Windows PCs in the 21H2 update.
Speaking of the 21H2 update, there are a couple more useful features that will be introduced thereon including Auto HDR for gaming on PCs. The Auto HDR features will take games sporting DirectX 11 or DirectX 12 SDR and kick them up a notch in terms of color and brightness to HDR. In their own words, this is going to offer users a new, unique gaming experience that will allow them to make complete use of their monitors' capabilities.