There may be an instance wherein you see that your desktop fonts and images are stretched out either vertically or horizontally. The stretched desktop display makes the font appear larger and indistinct in such a way that it stretches the entire screen contents to fit the monitor. This, in fact, distorts the entire screen making it hard to read the desktop contents.
It is also worth noting that the desktop screen basically looks stretched when the desktop pixels are uneven and broken that stretches the image either horizontally or vertically.
The cause of the stretched display problem can be either the faulty configuration of screen resolution usually caused by some random key hits or the use of some faulty graphics drivers. In this article, we discuss some solutions to fix the problem.
Stretched Screen problem on Windows 11/10
1] Restore the recommended pixel display
Right-click on the desktop and click on Display Settings from the context menu.
In the Windows 10 Settings page, under the customize your display option, go to  Advanced display settings.
Under the Resolution option, make sure the pixel resolution is set to the recommended level. If not change the resolution to the recommended value from the drop-down menu.
Also, note that any pixel resolution set to the value below 1260*768 will stretch the image causing distortion.
Click on OK to apply the setting changes.
Restart the system.
In Windows 11, you will see these settings here-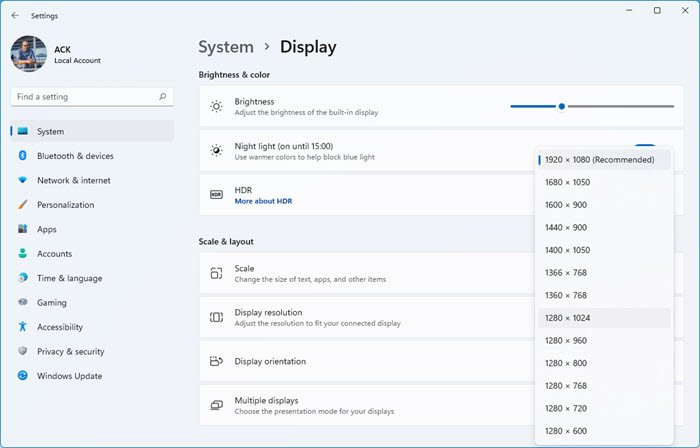 Open Windows 11 Settings > System > Display and change the Display resolution to the Recommended one from the drop-down menu.
If the problem persists then you may want to update or uninstall the graphics driver to resolve the issue.
2] Update the graphics card driver
Update the graphics driver and see if the problem is not resolved.
3] Uninstall the graphics card driver
Maybe you need to uninstall it and then install the driver. To do so, open the Run window by pressing Windows key + R.
Type the program name devmgmt.msc and click on OK
Click on Display adapters and expand it. Now locate the graphics card and right-click on it.
Click on Uninstall device from the drop-down menu.
Check the option with Delete the driver software for this device and click on OK.
Restart the system and allow the system to reinstall the driver.
Let us know if this helped you.
Read: What is Monitor Ghosting?