According to some users, Spellbreak is crashing or freezing on PC. It is a good shooting video game, yet, gamers are facing compatibilities issues while playing the game. If you want to know how to fix it, then this is the article for you, we are going to see some solutions to fix this issue.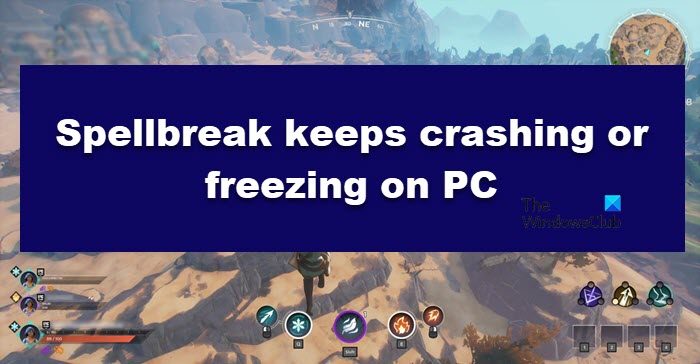 Spellbreak is a free-to-play, class-based third-person shooter video game developed by Proletariat for Microsoft Windows, PlayStation 4, Xbox One and Nintendo Switch.
Why Spellbreak is crashing?
There are many basic things that can lead the game to crash. Graphics Driver is the first one. The outdated Graphics driver can simply cause freezing/crashing issues. More often than not, overclocking does not offer smooth gameplay but rather crashes it.
Programs running in the background and corrupted game files are some other reasons behind the issue in question. We are going to talk about all of them in detail and will help you resolve the issue.
Keep in mind that if your computer is not meeting system requirements then also, Speelbreak is going to crash. So make sure that your computer has it all. We have mentioned the system requirements below, so, you should both minimum and recommended requirements. It is a must to meet the minimum requirement, but we would recommend you to meet the recommended one.
Read: How to force quit a Full-Screen Program or Game in Windows 11/10 
Spellbreak keeps crashing, disconnecting or freezing on Windows PC
If Speelbreak keeps crashing, disconnecting or freezing on your Windows 11/10 PC, start the troubleshooting process by checking for updates. If updating does not help, then try the listed solutions.
Check your Internet connection
Verify the game files
Update your Graphics Driver
Disable overlays
Stop overclocking
Troubleshoot in Clean Boot
Without any further ado, let's start!
1] Check your Internet connection
Check if your Internet connection is working properly. If possible change the connection and see.
2] Verify game files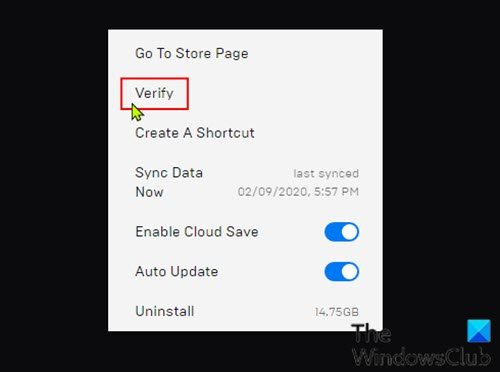 Missing or corrupted game files are the most common reason for this issue. However, they can be easily fixed using your launcher. Here's what to do to make sure they are not corrupted or missing.
Launch Epics Game launcher.
Go to the Library.
Under the Spellbreak title, click on the settings icon.
Click on the Verify options and wait for the process to be completed.
Restart your computer once the processing is done. If it is still giving you the hard time, move on to the next solution.
3] Update your Graphics Driver
Checking the Graphics Driver's status is the first step recommended to make sure that there is no compatibility issue. Outdated Graphics drivers can freeze or crash your game. Following are the ways to update your Graphics Driver:
Some of you may want to use free Driver Update software or tools like AMD Driver Autodetect, Intel Driver Update Utility or Dell Update utility to update your device drivers. NV Updater will keep NVIDIA Graphic Card Driver updated.
Fingers crossed, this will resolve the issues.
4] Disable Overlays
Overlays make the gaming experience, it's a known fact, they provide you additional features. Steam, Discord, and GeForce have pretty well-known Overlays. However, make sure that they are disabled while playing the game as enabling overlays comes with the additional baggage on your resources and hence can make the game crash.
5] Stop overclocking
Amping CPU/GPU overclock does work for those who want better gameplay. However, sometimes it does the total opposite. If you were using overclocking software, try disabling it and then see if the issue is resolved.
6] Troubleshoot in Clean Boot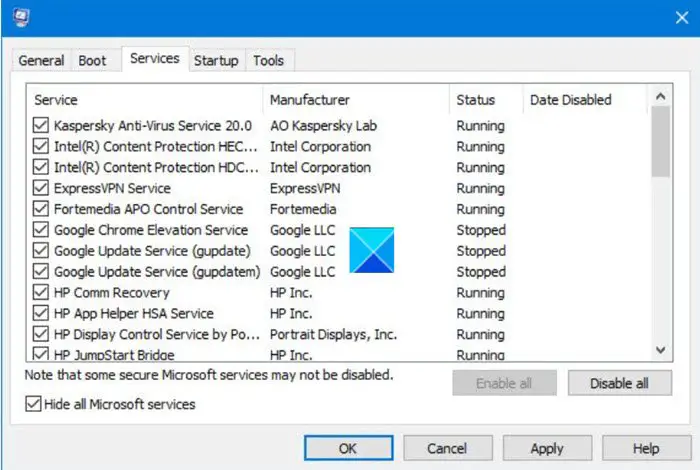 Programs working in the background can interfere with your game, and as a result of which, your game may crash. We will be performing Clean Boot and find out the exact cause of this issue, then we are going to remove that program and your issue will be resolved.
Click Win+R to open the Run Dialog box.
Type Msconfig and click on the Enter button.
In the Service tab, tick the box next to Hide all Microsoft services.
Untick all the boxes as they may interfere with your game except that of Spellbreak or any other important programs such as your GPU.
Now click the Ok button.
You should then open the game and see if the issue persists. In case, your issue is resolved, try enabling processes manually to find out the culprit. Then, all you have to do is remove that program and your issue should be resolved.
Hopefully, you are able to resolve the issue with these solutions.
Read: Fix Game Stuttering with FPS drops in Windows 11/10 
What are Spellbreak System requirements?
Your PC must have the listed requirement for smooth gameplay.
Minimum
OS: Win 7 64
Processor: Intel Core i3-2100T 2.5GHz / AMD Phenom 9600B Quad-Core
Graphics: AMD Radeon R7 240 2GB or NVIDIA GeForce GT 640
System Memory: 4 GB RAM
Storage: 20 GB Hard drive space
DirectX 11 Compatible Graphics Card
Recommended
OS: Win 10 64 or later
Processor: Intel Core i5-2300 2.8GHz / AMD FX-6300
Graphics: AMD Radeon R9 280 or NVIDIA GeForce GTX 960 2GB
System Memory: 8 GB RAM
Storage: 20 GB Hard drive space
DirectX 11 Compatible Graphics Card
If your computer is compatible, Spellbreak should run just fine.
Also Read: List of Best Games in Microsoft Store for Windows PC.