Let us say that you have a Program or a Game open in the full-screen always-on-top mode, where even your Taskbar is not visible and the application freezes and you find yourself in a position where there is seemingly nothing you can do excepting restarting your Windows 10 computer. What can you do?
Force quit a Full-Screen Always-On-Top Program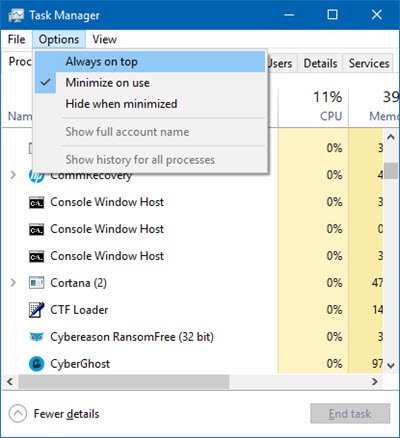 Here's how you can force terminate a hung or not-responding full-screen always-on-top application or game. Since you do not have access to the Taskbar, you will have to follow these suggestions to kill the frozen application.
1] the First click on the frozen application you want to close and then press the Alt+F4 keys together and leave them after the application closes. Does this help?
2] Press Ctrl+Shift+Esc to launch the Task Manager.
Now although the Task Manager opens it will be covered by the always-on-top full-screen program.
Next press Alt+O to open the Options menu.
Finally, press Enter to select Always on Top.
When you do this, the Task Manager will get the preference to stay on the top.
You will now be able to use it to kill the process or application by right-clicking on the process and selecting End task.
If your Task Manager is set to open in the Compact Mode, press More details to open it in Details Mode.
3] If this does not work for you, you can use a free tool to forcefully terminate a full-screen application or game.
This post will show you how to force close a Program that Task Manager cannot terminate.