Task Manager Efficiency Mode is a new Windows 11 feature that's designed to limit the usage of system resources (primarily CPU) by background processes that are either idle or not used actively by application programs. It is similar to the Eco mode which is introduced by Microsoft in Windows 10.
When idle processes continue to use system resources, fewer resources are allocated to the applications that need them, which results in slower foreground responsiveness, shortened battery life, louder fan noise, and higher temperatures. Efficiency Mode attempts to fix this issue by reducing the CPU priority and power consumption of individual processes. It also helps in identifying programs that may already be running in efficiency mode, such as Microsoft Edge, which runs on Efficiency mode by default.
What is Efficiency mode in Windows Task Manager?
Efficiency mode is a new Windows 11 feature that allows users to run idle background processes on low priority basis while consuming less CPU energy to increase foreground responsiveness, improve battery life, lower thermal noise, and reduce stress on the CPU. It is similar to the Eco mode, which is available in the Windows 10 OS. Both of these features are part of Microsoft's Sustainable Software initiative.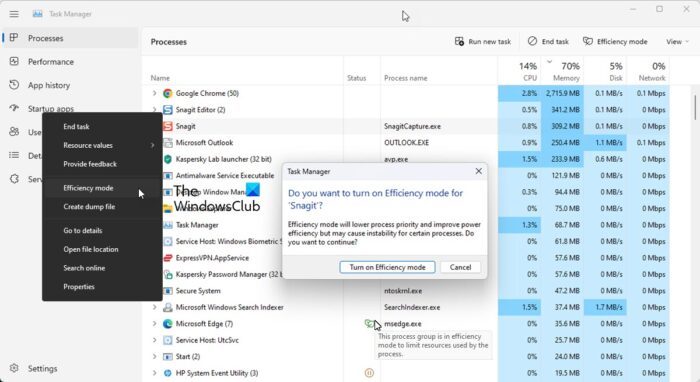 In this article, we will see how to use Efficiency Mode in Windows 11 to reduce resource utilization. This feature is available in the new Task Manager of Windows 11 and is part of the Windows 11 2022 version 22H2 update.
How to use Efficiency Mode in Windows 11
All Windows processes have a 'priority', which is used to determine their importance and the amount of CPU allocated to them. When efficiency mode is turned on for a process, its base priority is reduced to prevent it from interfering with other active processes that have a higher priority. The efficiency mode also puts the process in 'EcoQoS' mode to enable it to run in a power-efficient manner. With EcoQoS, the process consumes the least amount of CPU energy. This ensures that a 'thermal headroom' is saved for other important processes that need to run first.
How to enable Efficiency mode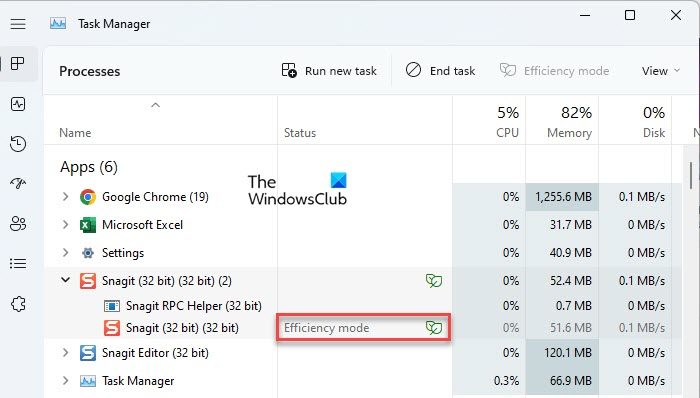 Here's how you can enable Efficiency Mode on your Windows 11PC:
Open Task Manager.
Go to the Processes tab.
Expand the process tree for the desired app by clicking on the expand/collapse (>) icon.
Select a process and click on the Efficiency Mode option on top of the Task Manager window. Alternatively, you can right-click on the desired process and select Efficiency Mode.
Click on the Turn on Efficiency mode button in the confirmation window that appears.
This will enable Efficiency Mode for the selected process.
You can also check which processes are using the Efficiency Mode by looking at the 'Status' column. Those processes which have this feature enabled will show an 'Efficiency Mode' label next to them. The parent process will also show a leaf icon in case any of its child processes have the Efficiency Mode turned on.
Note: For some processes, the Efficiency Mode option may be greyed out. These are core Windows processes and changing the default priority of such processes may negatively impact your PC.
How to disable Efficiency mode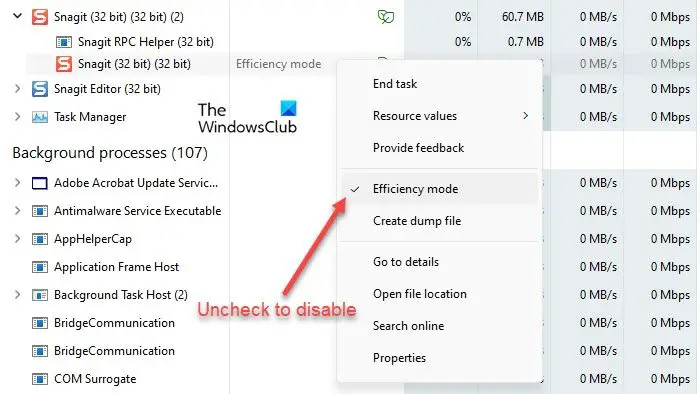 The Efficiency mode option in the Task Manager works as a toggle button. So you can turn it off for any process by simply selecting the process and clicking on Efficiency mode in the command bar of the Task Manager window. You can also do this by unchecking the Efficiency mode option in the context menu of the process.
This is how you can use Efficiency Mode in Windows 11 to reduce resource utilization. Hope you find this post useful. Keep following this space for more Windows tips and tricks.
How do I reduce the number of processes running in Windows 11?
Efficiency mode is designed to reduce CPU stress and extend the battery life of Windows 11 devices. If you have several processes running on your system, placing some of the idle background processes in efficiency mode may improve your system's performance. However, for a few processes, you may not notice any significant change. Some programs may even crash – like it did for me with SnagIt. So you'll have to check at your end, if efficiency mode works with which process.
How do I turn off efficiency cores in Windows 11?
You can turn on or off Efficiency mode in Windows 11 for individual apps or processes through Windows Task Manager. Right-click on the Start button to launch the WinX menu and select the Task Manager option. Then go to the Processes tab. Expand the process tree for an app by clicking on the expand/collapse (>) icon. Select the desired process and then click on the efficiency mode option in the command bar area. You can also right-click on a process and select the Efficiency mode option to turn it on for the process.